AUSTRALIAN MADE FLARE AND MUDFLAP KITS
To suit the 300 Series LandCruiser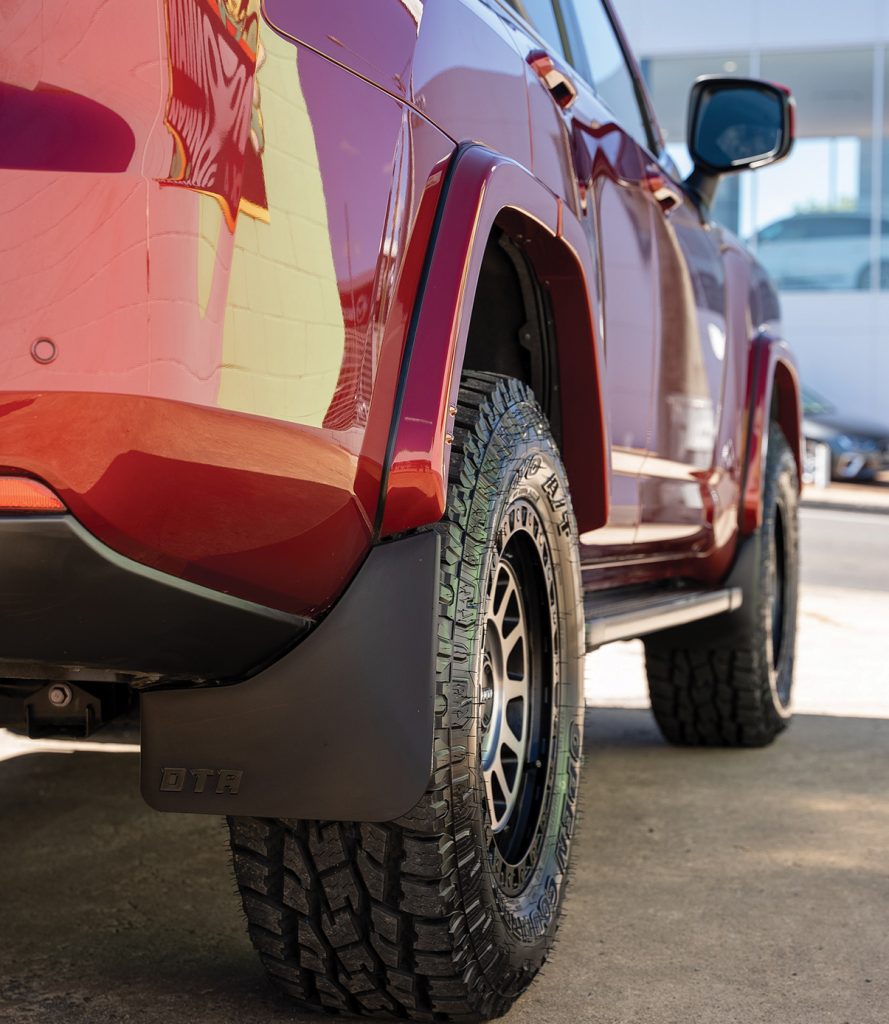 Mick Tighe 4×4 and Outdoor says that upon seeing the new 300 Series LandCruiser, it was immediately quite clear that adding plus-size tyres or bigger wheels would cause them to stick out beyond the vehicle's exterior.
To address this issue, in early 2022 the team embarked on a journey to design and manufacture a Flare and Mudflap kit under the new manufacturing arm of the Mick Tighe 4×4 and Outdoor company, known as Overland Tourers Australia (OTA).
Fast forward to 2023, and OTA's Flare and Mudflap kits are now on the market; designed, manufactured, and packaged right here in Australia.
The kit is said to offer a seamless 35mm offset to suit the new VX, GX, GXL, Sahara, and GR Sport Toyota LandCruiser 300 Series models.
Whether your vehicle is stock, chopped, or you are looking to legally upsize your tyre size, OTA says its "300" Flares and Mudflaps have a solution to suit your needs.
It explains that the flares and mudflaps have been designed to be easy to install, utilising the stock mount points and hardware and as such minimising the need for drilling and modification.
OTA says this means that you can easily return your car to its stock appearance if desired, without the use of glue or stick-on, thus eliminating the risk of damage to your car's paint.
Both the flares and mudflaps were designed in unison, providing further protection without sacrificing aesthetic appeal.
The flares are made from recycled ABS Plastic, which is a tough, durable, weather-resistant material that comes in a smooth black, easy-to-paint finish, providing a high-quality aesthetic, says OTA.
On the other hand, the mudflaps are made of UHMWPE, offering impact, abrasion, and shock resistance, as well as non-corrosiveness, UV stability, and long-lasting durability. They are also finished in a smooth black that blends with the 300 Series' existing accents.
The kits can be shipped Australia-wide via the Mick Tighe 4×4 and Outdoors website, which has been recently upgraded.
Additionally, the kits are included in JMACX's new 300 Series GVM Upgrade Kits, and OTA is also actively seeking wholesale partners across Australian states, stating that distributor inquiries are welcome.
For more information, visit www.micktighe4x4.com.au/products/ota-300-flares-x-mudflaps