BIG RED GEAR RAMPS UP
The Brown and Watson International brand has revealed a new website, new lighting, and more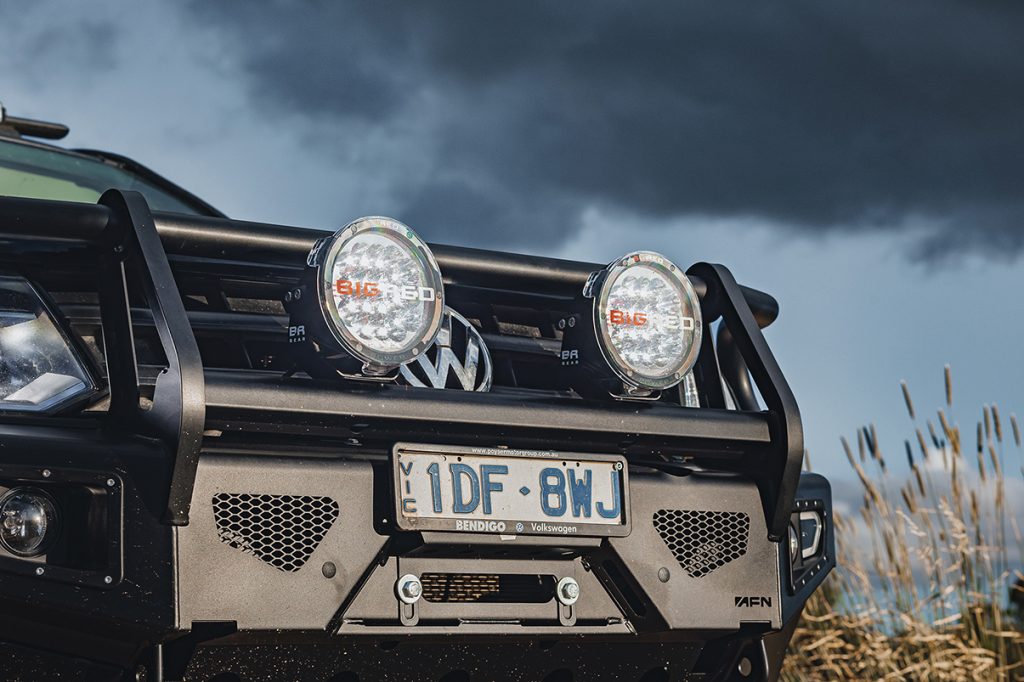 Big Red Gear says there is some great news for buyers who appreciate great quality LED automotive lighting at an affordable price point, with Big Red Gear launching a new website, new merchandise, a new work lamp range and hinting at even more products to come.
Originally launched in 2015, Big Red Gear says it quickly struck a chord with buyers seeking reliable and high performing lighting that didn't cost the world, making the range perfect for people looking to build a tough rig on a budget rather than a mall cruiser.
It says its new website is easier to navigate and provides hassle-free 24/7 ordering of the Big Red range, and also introduces a new live support/chat function to assist prospective buyers with any queries they may have.
Visitors to the website will also notice the addition of a tough looking new Kangaroo logo which has reportedly already proven popular in merchandise sales. The site also includes an FAQs page and blog posts that will be regularly added to as the year progresses.
Range expands with new LED work lamps
A recent addition to the Big Red Gear product line-up is an LED work lamp range that includes a 4" square unit, 6" lamp and 6" flush lamp, 3.2" flush lamp, 3.2" and 2.75" pod lamps and rock lights, plus additional mounting accessories to provide extra fitment options beyond flat mount.
Big Red Gear says the work lamps are ideal for many applications, from 4x4s and commercial vehicles through to agricultural and construction machinery, and feature high performing LEDs that comfortably light-up workspaces.
The new work lamps join an existing range of LED driving lamps (5", 7" and 9"), along with a growing selection of LED light bars that include 10", 20", 22" and 40" variants.
Big Red Gear also provides the opportunity to bundle lighting products with its 'Big Adventurer Kit' (two x 9" LED driving lamps, one x 22" LED light bar and two x plug and play wiring harness) and its 'Outback Travel Kit' (two x 7" LED driving lamps, one x 40" LED bar and two x plug and play wiring harness).
Big Red Gear says the bundles offer buyers a cost effective and convenient way to handle their vehicle's forward lighting needs in a simple kit.
Other available Big Red Gear products include air compressors, with additional equipment including globes and 12V accessories to join the product range this year.
As an added bonus, Big Red Gear says it provides free shipping on all orders over $100.00 and states that all of its products are also backed by Brown and Watson International, and come complete with warranty and a skilled Australian based aftersales support team.
Spreading the word
Visitors to various 4×4 shows and automotive events around the country this year can expect to see Big Red Gear's increased presence in the industry, with stands and displays showcasing the expanded product line-up and the Big Red Gear 'Big Red Roo' mascot. It says these events are the perfect way to touch and feel the products and chat to product experts about the range.
There will also be a stronger social media and digital presence from Big Red Gear going forward, with the brand engaged in several exciting sponsorship partnerships and some grass roots brand ambassador arrangements. Big Read Gear encourages you to stay tuned to its social platforms for more exciting news.
To see the new website and for more information, visit www.bigredgear.com.au