BLACKHAWK 4X4 UPPER CONTROL ARMS
Optimally suited to 4WD vehicles which have been lifted by 30-70mm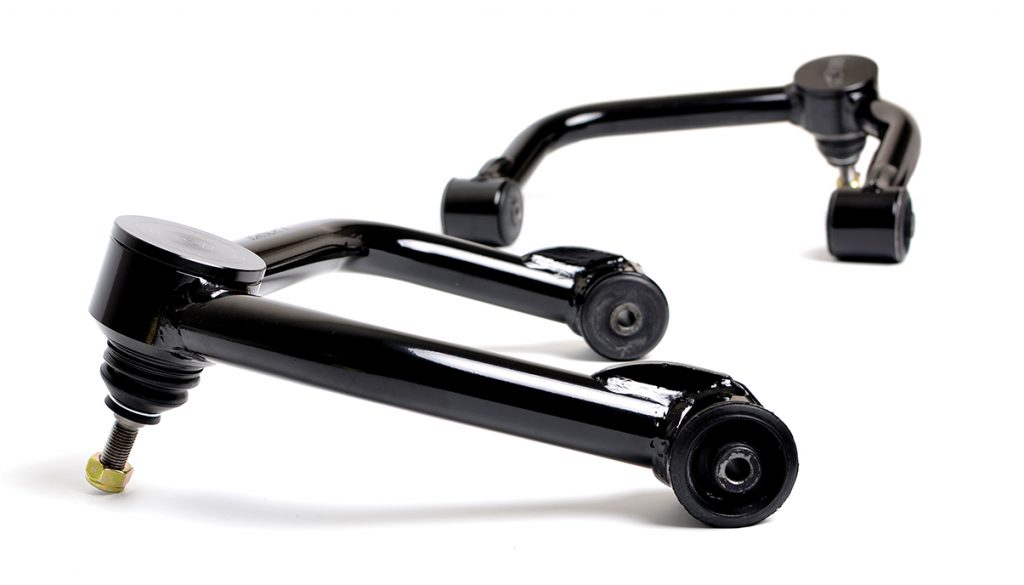 Blackhawk4x4 says it has designed a precision engineered Upper Control Arm bolt-in system to suit a wide range of 4WD vehicles being driven on and off Australian roads.
Blackhawk4x4 explains that well-designed Upper Control Arms as a bolt-in system have five key points that make them worth the investment for the fitter and the end customer.
• They take the factory ball joint and rubber bushing, for longevity.
• Will give you a caster and camber improvement, for 30-70mm lifts.
• Reprofiled arms for clearance with larger tyre diameters.
• Shock and strut clearance to allow more wheel travel, up and down.
• Angled ball joint cup to work with the extra travel.
Blackhawk4x4 says that when your customer drives away with the wheel alignment set to improve handling, steering response, and tyre wear, compared to being outside of the factory alignment setting, they will be far happier as opposed to just telling the customer that "it drives ok," stating the results will speak for themselves while giving you one very happy customer.
By being equipped with the right Upper Control Arm replacement information, Blackhawk4x4 says you will be able to detail all of the features and benefits that enable your customer to make an informed decision, based on your technical experience. Blackhawk4x4 explains that it provides all this information to the trade.
The heavy duty Blackhawk4x4 range of Upper Control Arms have been designed with ease of fitment and ongoing serviceability in mind. The company says these replacement suspension components are a necessity for various IFS models that have been lifted by 30mm or more.
The Upper Control Arms restore camber and caster lost on IFS vehicles once they have been lifted, by correcting the position of the Ball Joint.
Without restored camber and caster settings, Blackhawk4x4 explains that lifted IFS vehicles will eventually show excessive tyre wear and experience both ride and steering issues.
With greater radius and tube sizing to suit each specific 4WD application, the designs allow clearance of the coils during articulation, with the outer radius also adjusted to allow for the fitment (in some cases) of 35" tyres without having the issue of the tyres rubbing on the arms with full lock applied steering.
All Blackhawk4x4 Upper Control Arms are manufactured with Heavy Duty 32mm OD (6mm wall thickness) STKM11A Carbon Steel DOM Tube for optimum strength and minimal additional onboard weight.
Blackhawk4x4 explains that the design of its Upper Control Arms is not complicated, with the Ball Joint and Bushing apertures designed to take OE specification componentry.
This ensures that if you have a Ball Joint or Bushing issue in an out of the way area, where locating spares can be a problem, you can replace your affected part with a standard OE specification factory or aftermarket unit.
Blackhawk4x4 states its Upper Control Arms are designed with caster and camber improvements and are optimally suited to 4WD vehicles lifted by 30-70mm. They have been finished in black E-Coating for maximum durability, rust prevention and discreet installation.
Further, it says engineering of the Blackhawk4x4 Upper Control Arms is a breeze with all the engineering documentation available for a quick, easy, street legal process.
For more information or stockist details, call 03 8687 1700 or visit www.blackhawk4x4.com