BURSON AUTO PARTS TOP FUEL TITLE GOES DOWN TO THE WIRE
The 2022/2023 Burson Auto Parts Australian Top Fuel Championship reached its exciting conclusion at Darwin in June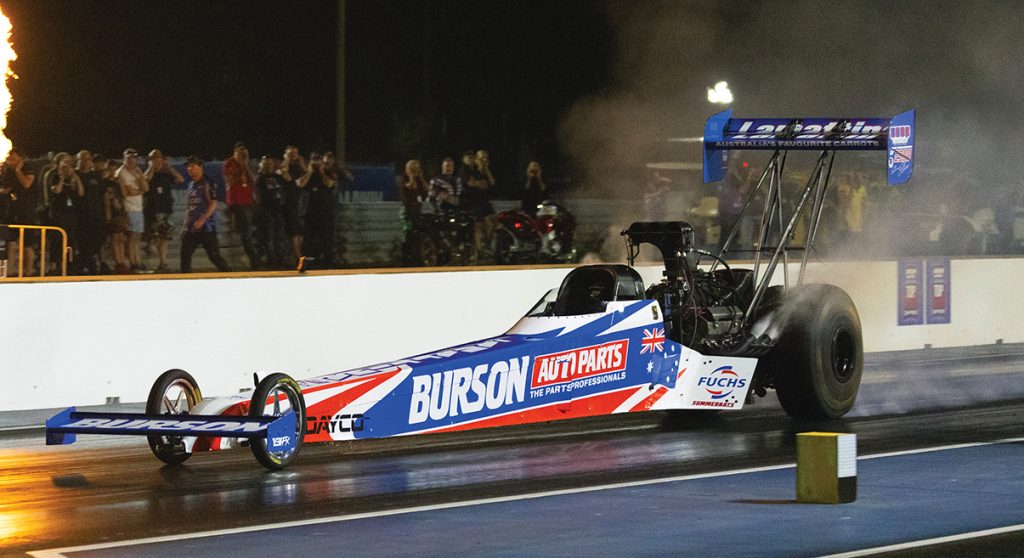 It was a motorsport fan's feast in Australia's Top End in June with enthusiastic crowds welcoming the Burson Auto Parts Top Fuel Championship at Nitro Up North.
The event was held alongside the Australian Supercars Championship and the Australian Superbike Championship at the Darwin Triple Crown event.
The final round for the Top Fuel title saw a three way fight between Damian Harris, Peter Xiberras and Phil Read, with Damien ultimately emerging victorious to claim the Stan Sainty Cup for the Rapisarda Autosport International team.
The overall 2023 Nitro Up North event winner was Peter Xiberras, with his PremiAir Team also celebrated as the title runners-up.
For the Burson Auto Parts-sponsored Lamattina Top Fuel Racing team, the event delivered a fourth place in the title chase for team owner Phil Lamattina (behind third-placed Phil Read), and a C-Final win for his team mate, Shane Olive.
In qualifying, both Lamattina Top Fuel Racing team cars struggled to find traction, qualifying in fourth and fifth position.
As a consequence, Phil and Shane had to race each other in round one.
This inter-team side by side battle saw team owner Phil fractionally victorious with his 4.16s pass compared to Shane's 4.27s run.
The second round saw Shane take a solo run, but the Burson Auto Parts fueller shook and turned the tyres at the sixty-foot mark.
In his round two race, Phil again out-pedalled rival Wayne Newby to the finish line for the win, in the process jumping Wayne in the championship for a season ending fourth place.
Unfortunately, Phil's round two heroics meanwhile didn't yield an Elapsed Time (ET) quick enough to qualify for the A-Final.
Shane had progressed into the C-Final against Kyle Putland, and the Burson Auto Parts team delivered the run of the event – a 3.95 second win – the lowest ET and highlight of the Nitro Up North event.
It was an emotional result for the Burson Auto Parts team who have fought fuel system gremlins over the entire season.
A change in fuel pump for this event served to address the majority of the issues and helped to produce a fine send off for the team.
Team Owner, Phil Lamattina, is proud of all that Shane Olive and the Burson Auto Parts team have achieved in their two seasons of Top Fuel competition.
"A huge thank you to Burson Auto Parts for supporting the team, making it happen, and sticking by LTFR and Shane," Phil said.
For more from Burson Auto Parts, visit www.burson.com.au