HAMER 4X4 RELOCATES
An expansive new facility at 104 Fox Drive in Victoria's Dandenong South is now home for Hamer 4×4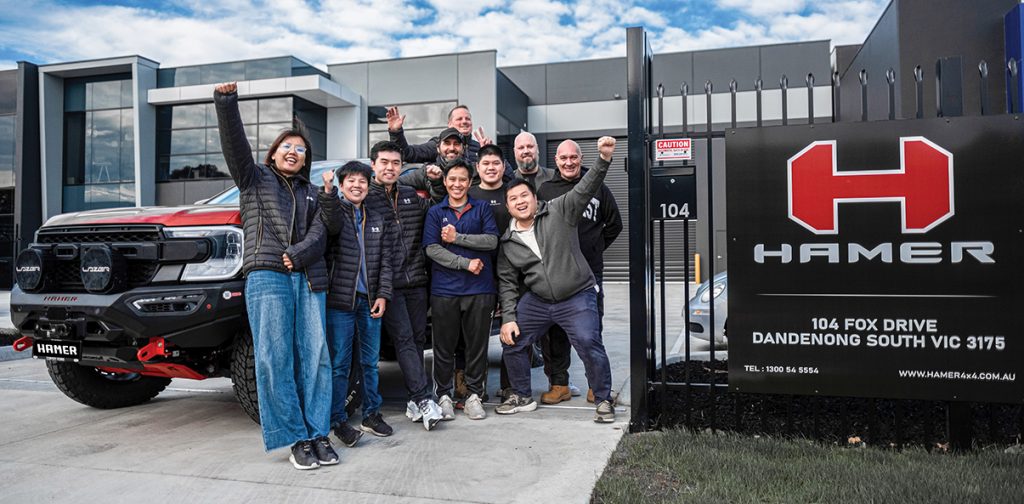 Hamer 4×4 reports that it has achieved a remarkable milestone in its expansion efforts in Australia, moving into a larger, brand-new facility.
The company says this milestone showcases its unwavering commitment to meeting the soaring demand for premium 4×4 accessories.
The recent move to a larger facility has been driven by the ever-increasing demand for Hamer 4×4 accessories over the past several years; with the company stating this relocation was crucial to accommodate customer requirements and establish a more extensive research and development department.
The new facility, spanning an impressive site area of 1699m2, includes a spacious warehouse of 1020m2, a stylish showroom of 86m2, well-equipped office spaces totalling 122m2, a convenient mezzanine area of 52m2, 19 parking spots, and a cutting-edge workshop featuring three state-of-the-art hoists.
This comprehensive setup empowers Hamer 4×4 to elevate its operations and provide superior service to its valued customers.
Hamer 4×4 says that a distinguishing feature of its products is their sleek design, which seamlessly integrates with the vehicle's body.
The company reports that it takes pride in ensuring that its Bars do not protrude, preserving the car's functionality while adding a touch of sophistication.
Moreover, Hamer 4×4 says its accessories incorporate high-end lights that enhance their allure and functionality.
The expanded workshop is a pivotal component of the new facility, equipped with advanced tools and equipment which allows Hamer 4×4 to scan new vehicles, explore and test innovative product concepts, and maintain rigorous quality control, all under one roof in Australia.
The workshop's increased capacity allows for the simultaneous fitting of accessories on up to six vehicles at a time, significantly reducing wait times and ensuring efficient service, says Hamer 4×4.
Furthermore, this expansion establishes direct communication between Hamer 4×4 and end-users, an invaluable asset for comprehending their needs and expectations.
With customer feedback vital in developing future products, Hamer 4×4 says this guarantees it can consistently surpass customer expectations.
Beyond the existing range of bullbars, rear bars, sidesteps, and sports bars, Hamer 4×4 has plans for new products on the horizon.
Soon, the company will introduce canopies, suspension lift kits, and lighting kits, expanding its product offering and providing customers with an even broader selection to enhance their vehicles.
The relocation to the more spacious facility marks a significant leap forward for Hamer 4×4, enabling the company to keep pace with the ever-growing demand for its accessories.
With a more extensive workshop, state-of-the-art equipment, and an unwavering focus on customer feedback, Hamer 4×4 says it is well-positioned to continue delivering innovative products and unparalleled service to adventure enthusiasts throughout Australia.
For more information, visit www.hamer4x4.com