LOW-PROFILE REAR FUNCTION LAMPS
LED Autolamps' 174 Series offers a sleek, modern range of rear function lamps

Earlier this year, LED Autolamps was excited to release its latest 174 Series low-profile rear function lamps, with the range packed full of features and flexibility that are sure to impress.
With a slick, clean, modern design that enhances any vehicle or trailer application, they feature a coloured or clear lens and a chrome inner reflector while inactive, but once lit up, you can rest assured other motorists know your intentions.
The lamps measure 175mm wide, 100mm high and 30mm on its side profile, and are 148mm bolt point to point, making them a perfect fit for vehicle, trailer, or caravan applications.
LED offers the following four designs in the range:
• P/N: 174AMB, Rear Indicator Lamp with Amber Lens and End Caps
• P/N: 174RMB, Stop/Tail Lamp with Red Lens and End Caps
• P/N: 174ARMB, All in one Stop/Tail/Indicator with Tinted Lens and Grey End Caps
• P/N: 174WMB, Reverse Lamp with Clear Lens and White End Caps
Vehicles and trailers will experience extreme operational environments across their lifetime, demanding a product that can keep you moving with no stress.
The 174 Series has been vibration tested and come built-in with solid-state circuit technology, meaning no moving parts. They are also comprehensively tested to extreme IP67 dust and water ingress standards.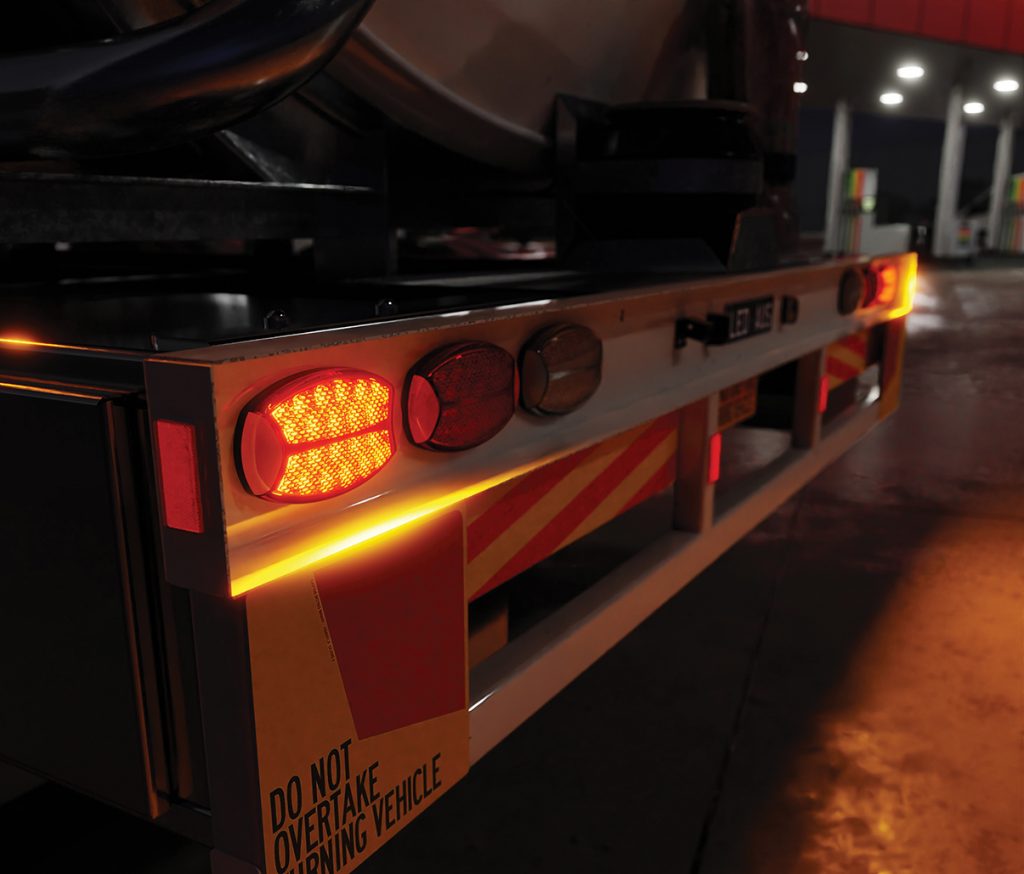 Utilising the strength and durability of high-impact polycarbonate plastics for the lens, base, and end caps, LED Autolamps says the lamps are manufactured to the highest standard possible, ensuring the most extended operational life achievable from the light.
The 174 Series lamps offer a handy 12-24 voltage range for multiple applications and an exceptionally low current draw, which is essential when considering battery system requirements.
LED Autolamps says twenty-two high-powered SMD LEDs directed through enhanced optics coupled with a chrome inner reflector ensure the greatest light efficiency, shining brightly in all functions and exceeding the stringent ECE standards for road approval; and also include ECE R10 compliance for electrical interference.
The lamps have been tested and approved for vertical or horizontal mounting using the supplied bolts or with screws if required, giving you flexibility and choice regarding installation. The 174 Series have been designed to be fit for purpose with ease of mounting in mind and will not disappoint, says LED Autolamps.
The company explains that its entire operation, as part of the ECCO Safety Group, is certified to ISO9001:2015, while its main production facility is certified to IATF16949:2016 standards.
But, more importantly, it says you are guaranteed conformity of production, exceptional service, technical expertise, supply reliability, and dedicated after-sales care.
LED Autolamps offers a five-year peace of mind warranty and says it will guarantee to give you years of trouble-free service.
The 174 Series is supplied in a secure white box and are available to order now.
For further information, visit www.ledautolamps.com for your local distributor or call LED Autolamps on 1800 815 000.