MCC4X4 PHOENIX BAR AND WHEEL CARRIER BAR
To suit Toyota Landcruiser 300 Series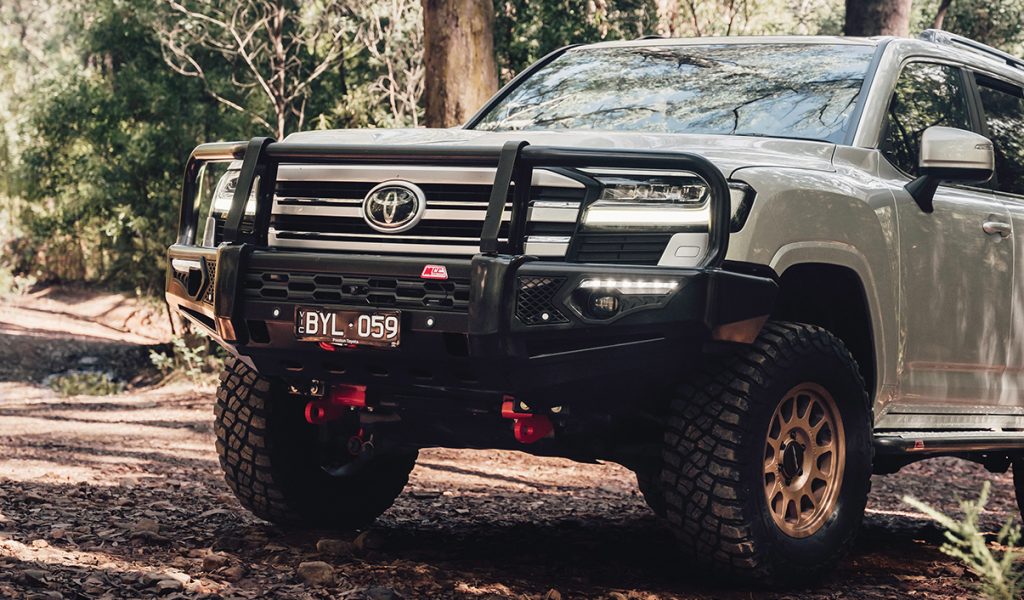 MCC4x4 has launched a new bull bar and wheel carrier bar for the Toyota Landcruiser 300 Series.
Phoenix Bull Bar
MCC4x4 says the Phoenix Bull Bar is crafted with exceptional attention to detail and quality. Constructed from heavy-duty steel, MCC4x4 says it offers outstanding protection for your Landcruiser against various off-road hazards.
Further, it states the bull bar's robust construction ensures it can withstand harsh impacts, including animal strikes and minor collisions, reducing the risk of damage to your vehicle.
Designed with off-roading enthusiasts in mind, the MCC4x4 Phoenix Bull Bar features an innovative design that maximises ground clearance without compromising protection.
The bull bar incorporates a winch mounting system, allowing you to effortlessly install a winch for challenging recoveries.
Its integrated recovery points provide additional versatility for off-road adventures, ensuring you can safely navigate through demanding terrains with confidence.
The bar comes with Fog lights and incorporates LED Daytime Running Lights with additional air inlet to improve airflow to the intercooler.
MCC4x4 says the Phoenix Bull Bar not only offers exceptional functionality, but it also enhances the visual appeal of the Toyota Landcruiser 300 Series.
With its sleek and modern design, it says the bull bar seamlessly integrates into the vehicle's front-end aesthetics, complementing its rugged nature; and the stylish powder-coated finish adds a touch of sophistication while also protecting from rust and corrosion, ensuring durability even in the harshest environments.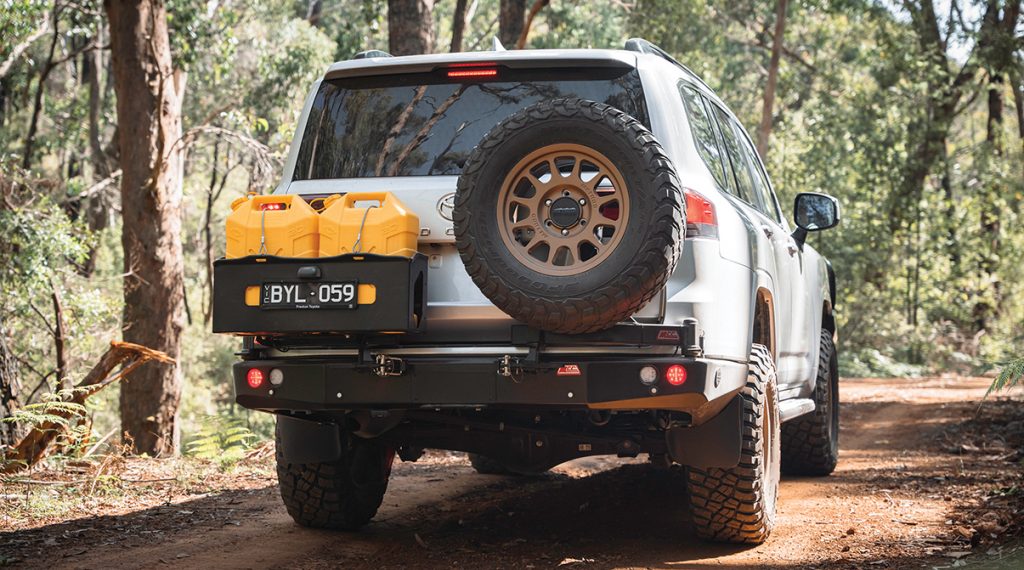 MCC4x4 022-02 Rear Wheel Carrier
The MCC4x4 Rear Wheel Carrier is a durable and practical accessory designed to maximise the functionality and convenience of your vehicle, says MCC4x4.
Built with high-quality materials and offering a range of features, MCC4x4 says this accessory provides secure spare wheel storage and easy access to your rear cargo area during off-road adventures or long trips.
Crafted from heavy-duty steel, the MCC4x4 rear wheel carrier is reportedly engineered to withstand the toughest off-road conditions.
MCC4x4 says its sturdy construction ensures that your spare wheel remains secure, even in rugged terrains, providing you with peace of mind on your journeys.
The MCC4x4 rear wheel carrier also features a reliable mounting mechanism that securely holds your spare wheel in place.
It comes with LED Parker/Indicator lights, a non-slip step plate, black powder coating, removable carrier arms, hi-lift jacking points, and is a rated towbar Ute model*.
The MCC4x4 rear wheel carrier allows you to personalise your vehicle's appearance and it comes in four configuration options: rear bar only; dual jerry can holder and single wheel holder; single wheel and single jerry can holder; and dual wheel holder.
MCC4x4 says its rear wheel carrier is a reliable and durable accessory that enhances the functionality and convenience of your vehicle.
With its robust construction, easy installation, secure spare wheel mounting, and customisable designs, MCC4x4 says this accessory is an excellent addition for off-road enthusiasts seeking practicality and peace of mind on their adventures.
For more information, visit www.mcc4x4.com.au
*SUV Rear Bar. The Bar is compatible with original tow bar and some other aftermarket tow bars