NARVA EXPANDS POPULAR EX2 LED RANGE
Light bar and RGB options have been added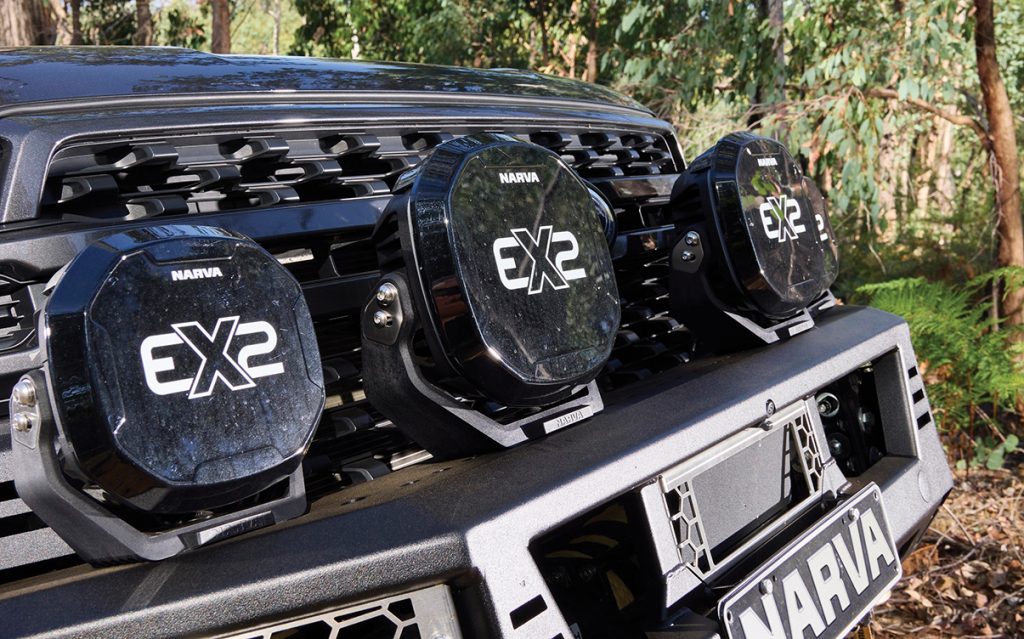 Several new LED light bar options have been added to Narva's EX2 range, providing owners who want to give their vehicles a unique and stunning look even greater choice, while not compromising on lighting performance or durability.
Initial EX2 models were launched earlier this year and were available as four, six, seven and nine-inch diameter driving lights – the addition of EX2 LED bars including 10-inch single and double row, 20-inch single and double row, and 30-inch single and double row models, now broadens the range, making it suitable for even more applications and vehicle types.
As with Narva's driving light counterparts, the EX2 LED bars feature high power 5W 'Cree' LEDs that deliver an intense hybrid beam pattern, providing strong lighting penetration and width without dark spots or hot spots.
Output per bar ranges from 2,235 effective lumens and one Lux at 284m and one Lux at a width of 34m for the 10-inch single row model, to 15,084 effective lumens and one Lux at 724m and one Lux at a width of 100m for the 30-inch double row lamp.
A versatile three-inch pod light is also available within the range.
For many owners a major attraction of the EX2 is the high customisation levels they offer. The EX2 lamps and bars come standard with two interchangeable trim colours (Electric and Slate), with a further six trim colours available (Sunburst, Volcano, Juiced, Hyper, Bubblegum and Stealth) to order on-line at no extra cost, allowing owners to truly express themselves.
Narva says even more customisation is possible by selecting from the EX2R line-up with RGB, with options available across both driving lights and light bars.
Get the 'R' factor with EX2R
If the kaleidoscope of trim colours is not just enough, Narva also offers an 'R' spec which features an ADR-approved white front position light enabled with RGB technology.
RGB stands for red, green blue, and this technology allows many different light colours to be created by mixing the three.
Available via a 12V RGB Bluetooth Controller Kit, this technology allows up to 48 other colour selections for the front position lights when in use off-road. This customisation is accessed via a smart phone app to make changing the position light colours easy to match the driver's mood.
The 12V RGB Bluetooth Controller Kit features a pre-fused cable and is included within the pair of seven-inch (p/n 72174) and a pair of nine-inch (p/n 72184) EX2R driving lights kits and with the 20-inch (p/n 72844) and 30-inch (p/n 72852) EX2R double row light bar kits allowing users to change their position lights from ADR approved white when in use off road.
For all other EX2R LED Lamps and Light Bars available separately the additional 12V RGB Controller Kit is also available separately should customers wish to unlock the RGB capability.
Along with this impressive ability to customise, and high-quality lighting performance, prospective owners can rest easy knowing that the expanded range has been designed, engineered and tested in Australia to withstand demanding local conditions.
To achieve this, they feature a tough, pressure die-cast aluminium housing and virtually unbreakable, UV resistant, hard-coated polycarbonate lenses; they're also sealed to IP68 and IP69K for water and dust ingress.
Lightweight yet extremely durable composite mounting brackets and stainless-steel mounting hardware, further adds to the durability. Once fitted, simple tilt adjustment using an Allen key will soon have the lamps in their optimum position.
Another notable benefit of the EX2 range is its ease of installation for the DIY enthusiast.
The lamps and bars' revolutionary internal switching system (patent pending) does away with the need for a wiring harness or for any connecting wires to pass through the firewall. In many cases such as with positive switched vehicles the lamps are simply patched into the high beam wire and fuse directly to the battery; only three wires need to be connected to be up and running.
The new Narva EX2 and EX2R LED driving lamps and light bars are backed by a seven-year "no fault" warranty (see website for details) and can be purchased from leading automotive, four-wheel drive and transportation outlets nationwide.
For more information, visit www.narva.com.au/EX2