NEW NATIONAL DRAG RACING CHAMPIONSHIP LAUNCHED
The NDRC aims to unify Australian drag racing competition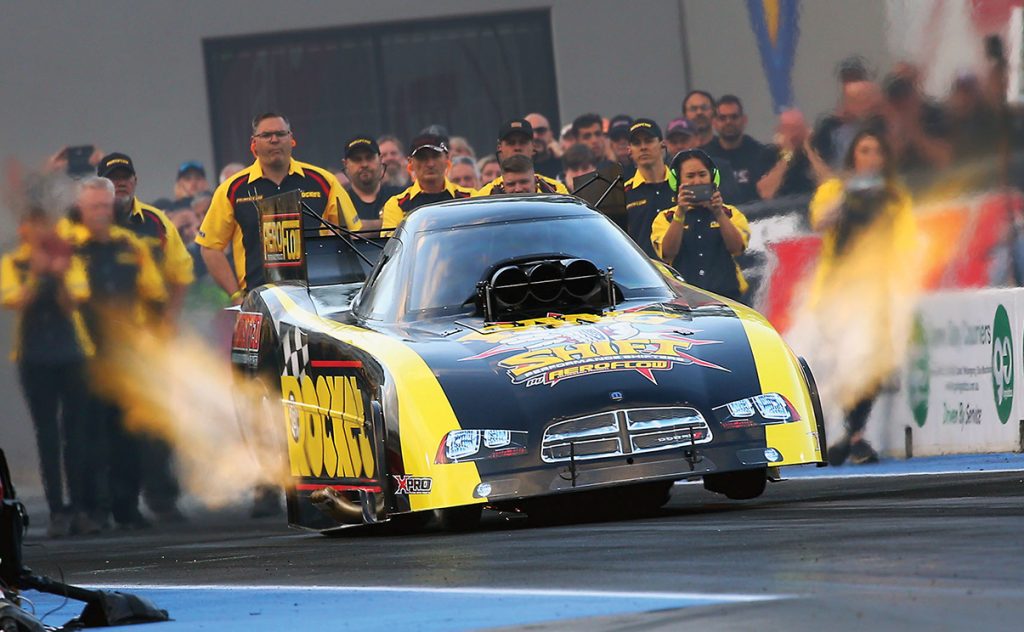 Andy Lopez and Nathan Prendergast, the team behind the Burson Auto Parts Australian Top Fuel Championship, recently announced the creation of the National Drag Racing Championship (NDRC) – a new, unified national championship for drag racing in Australia.
The NDRC represents a new era for drag racing in Australia, with Top Fuel, Nitro Funny Car, Top Doorslammer, Pro Alcohol, Pro Stock, Top Fuel Motorcycle, Pro Stock Bike, Pro Mod, and Sportsman all having the opportunity to race in one national championship series.
It will feature eleven championship events headlined by either the Burson Auto Parts Australian Top Fuel Championship or the Nitro Funny Car Championship, bringing more nitro racing to Australian drag racing fans than ever before, with a single Grand Final event for all professional categories in 2024 at the Winternationals at Willowbank Raceway. This mega event will see the Burson Top Fuel Championship and Nitro Funny Cars Championship come together with Group One for the first time.
"The National Drag Racing Championship represents a massive opportunity for the sport to go one way forward," NDRC Co-Promoter, Andy Lopez, said.
"The statement 'One way, forward' has become our mantra. We've taken the Burson Auto Parts Australian Top Fuel Championship to venues all over Australia, and that's given us a good chance to listen to what racers and fans want. And racers and fans want a positive drag racing scene where racers fight for a single national title in their category.
"What is really clear is that everybody wants what's best for the sport. We won't all agree all the time, but if we're respectful and positive, the sport will be in a good place.
"Drag racing is an awesome sport. Every day people head out to their track, put on a race suit and a helmet, and then belt down a racetrack as fast as they can.
"If you're a fan, every seat in the house is a great seat, and you can wander the pits and see the cars and the drivers. It looks amazing on TV and there's a racing win every couple of minutes.
"Drag Racing should become Australia's favourite motorsport, and to do that we have to win on and off the track. Once we get the Championship humming, we'll focus on other challenges like pathways into the sport."
"Unity is the most essential thing required for drag racing to succeed. Top Fuel is in a really good place right now, and it's going to be awesome to see that brought to all the racing categories," Reigning Burson Auto Parts Australian Top Fuel Champion, Peter Xiberras, said.
"Fans are coming back to the track in droves, the television package has never looked better, and things are looking up for the sport that I love."
In more great news, Aeroflow has thrown its support behind the national Sportsman Championship series. The Aeroflow Sportsman Championship will run at both NDRC Group One events and standalone shows at regional tracks. Regional tracks will be invited to host and manage the standalone events as they have done with previous championships, with strong marketing and communications support from the NDRC team.
"As both a sponsor and a racer, this is a really good day," Aeroflow's Morice McMillin, said following the announcement.
"With my racing helmet on, I just want to get out on the track and race for a single championship.
"As a sponsor, Aeroflow loves the Sportsman category as much as we love our Nitro Funny Cars, and I'm really happy to announce our partnership with this new sportsman championship.
"We'll also be continuing our Future Stars program which seeks to support the drag racing stars of tomorrow through mentoring in race craft, sponsorship, and other aspects of professional drag racing."
The NDRC is backed by the management team behind the successful Burson Auto Parts Australian Top Fuel Championship.
In more good news, all 11 rounds of the National Drag Racing Championship and all race day action will be broadcast live and free in Australia, and there will also be a number of post-produced highlight shows featuring Group One categories.
To learn more about the NDRC, visit www.nationaldragracing.com.au