POWERHOUSE MERCHANDISING DISPLAYS
ECCO is delivering fast-moving and profitable store displays that look great and enhance any retail space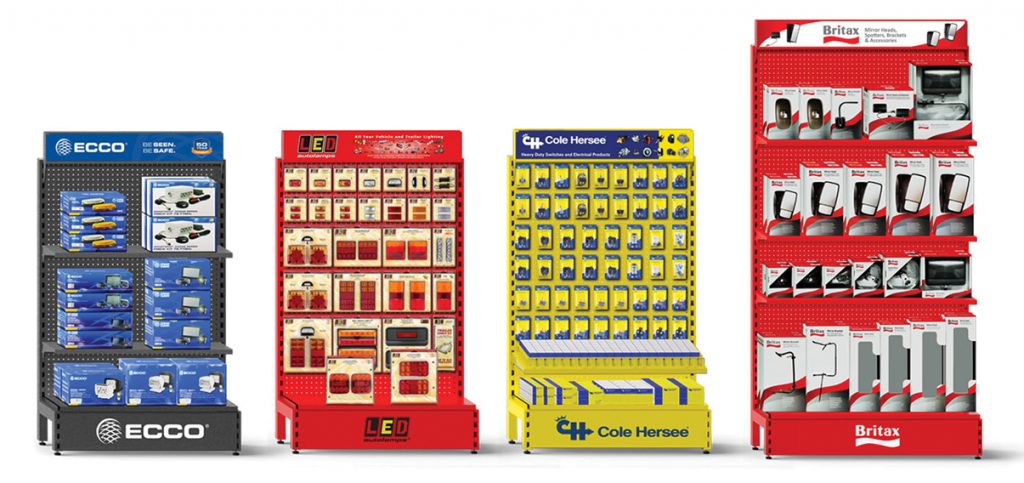 ECCO Safety Group states that its name is synonymous with the Vehicle Safety and Lighting industries.
Now with the added strength and 20 years of retail experience of the LED Autolamps brand, ECCO Safety Group says it can offer a powerhouse of combined brands, consisting of LED Autolamps for aftermarket vehicle and trailer lighting, ECCO for vehicle safety lighting and equipment, Cole Hersee for switches and electrical, and Britax for popular mirrors and truck accessories.
ECCO Safety Group says the secret to its success lies in its custom three-step process, aptly named "Build-a-Bay," which semi-automates and streamlines the method and includes the following approach:
Input and evaluation requirements.
Layout and optimisation of the display.
Final installation by a dedicated area representative, including follow-up to gauge the success of the installation.
ECCO Safety Group says this process ensures a seamless fit and rapid quoting tailored to your requirements.
Further, ECCO states that with its custom-designed Build-a-Bay system, all bays and leads are followed up and actioned, so the customer is never overlooked.
ECCO states that its determined and dedicated sales team is ready to work with your store managers and your customers to incorporate merchandiser displays into your retail environment.
It states that the benefits of working with ECCO Safety Group include stock rotations, new product alerts, and marketing and promotional assistance.
Picture re-order cards which come standard with every merchandiser display also take the stress out of the re-order process by giving you a clear indicator of the product and barcode which populated that location on the bay.
ECCO says that you can rest assured that its combined powerhouse of brands and 20-plus years of experience in retail displays, proven quality products, and competitive pricing will give you peace of mind and an edge over your competition.  
"We pride ourselves on delivering fast-moving, clean, smart, and profitable product displays that get excellent results," ECCO Safety Group Merchandising Manager, Paul Bridges, said.
"Years of fine-tuning and perfecting our Build-a-Bay and our new customised watch process have enabled us to cover more customers with less stress and have been a huge hit in the marketplace. We now have over 1700 installed bays across Australia."
No matter your sized merchandiser display, ECCO says the LED Autolamps brand offers a range of light-up displays that will reinforce the purchaser's decision and drive more sales for your business.
These striking displays instantly grab the customers' attention and, by adding matching signage, create the final package.
"We have created the perfect, uncluttered solution while also building strength with ECCO,
LED Autolamps, Cole Hersee, and Britax brands to our clients' customers' retail experience. We believe this will benefit everyone, and it is a win-win," Paul said.
ECCO Safety Group explains that its operation is certified to ISO9001:2015, while its main production facility is certified to IATF16949:2016 standards. But, more importantly, it says you are guaranteed conformity of production, exceptional service, technical expertise, supply reliability, and dedicated after-sales care.
Key benefits:
• Expert brand advice and support
• Brand signage and marketing assistance
• Fast moving product range 
• Merchandiser install assistance
• Product training and advice
• Visually pleasing clean layouts
• Stock protection refresh or turnover
• Generate more sales
"We provide an ongoing professional service to our customers as well as our customers' customers that is unmatched in the industry," Paul said.
"Faster-moving products and the ability to adapt consistently give us the edge. The key to our success is making sure every installation is a success!"
For more information, call ECCO Safety Group on 1800 815 800 or visit www.eccosafetygroup.com.au