RYCO INNOVATION RECOGNISED IN PRESTIGIOUS AWARD
The company has been recognised in the BOSS Magazine awards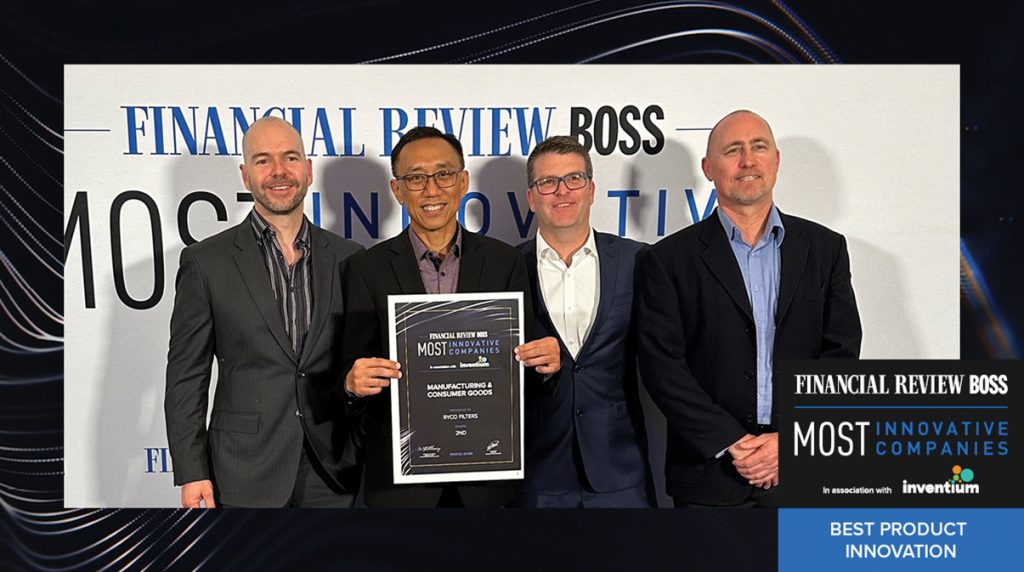 RYCO Filters has again been recognised as one of Australia's most innovative companies in the latest instalment of the Australian Financial Review's (AFR) prestigious BOSS Magazine awards.
The awards announcement in early October saw the company place second in the Manufacturing and Consumer Goods category with its RCC360 Catch Can – the fifth consecutive year in which RYCO Filters has been featured in the AFR awards.
The RCC360 Catch Can was three years in development and draws on RYCO's filtration expertise, technology advancements and the company's recent experience as the official filtration partner of Supercars, one of the most demanding motorsport categories in the country.
Specifically developed with hardworking four-wheel-drives in mind, the RCC360 Catch Can provides owners with additional peace of mind by helping remove oil droplets from the air before being recirculated into the engine.
By removing contaminants down to one micron in size from crankcase to emissions, the RCC360 Catch Can helps protect the engine, which can lead to improved performance and longevity.
Other benefits of the RCC360 include an internal bypass system and service indicator, that lets owners and mechanics know when it is time to change the filter.
Additionally, the RCC360 Catch Can features a 'Quick Connect' elbow fitting with 360-degree swivel motion, allowing for a range of mounting options, while a 12mm drain fitting provides faster draining.
In commenting on the BOSS Magazine award, RYCO Filters General Manager of Engineering and Innovation, Alastair Hampton, said the company had a strong culture of innovation and constant improvement.
"RYCO continually looks to push the boundaries with a view to developing the best and most innovative products possible for its customers," Alastair said.
"This is the fifth year in a row that we've ranked in the top ten. Our second placing in 2023 reinforces the hard work of our team and we're extremely humbled.
"The result also motivates us to continue working hard to deliver market-leading filtration solutions for motorists."
RYCO says it has been a market leader in filtration manufacturing, design and development for over 80 years.
Now owned by GUD Holdings, RYCO continues to innovate and expand its range of filters, catering to Australia and New Zealand's diverse automotive aftermarkets across passenger, light and heavy-duty segments.
For more information, visit www.rycofilters.com.au