TAFE NSW APPRENTICES PAINT POSITIVE FUTURE FOR SMASH REPAIR INDUSTRY
Two TAFE NSW students are bound for the WorldSkills National Championships in August
Two apprentices are encouraging young people to follow their lead and pursue a rewarding career in smash repairs as they set the standard for the next generation of panel beaters and vehicle painters at a national competition in August.
A national shortage of 30,000 smash repair technicians along with an increase in the number of cars on the road following COVID lockdowns means the industry is calling out for more skilled workers.
TAFE NSW Ultimo students Robert Polito, 23, and Nickolas Abela, 19, have been selected to compete among the best panel beating and vehicle painting apprentices in Australia at the WorldSkills National Championships to be held in Melbourne in August.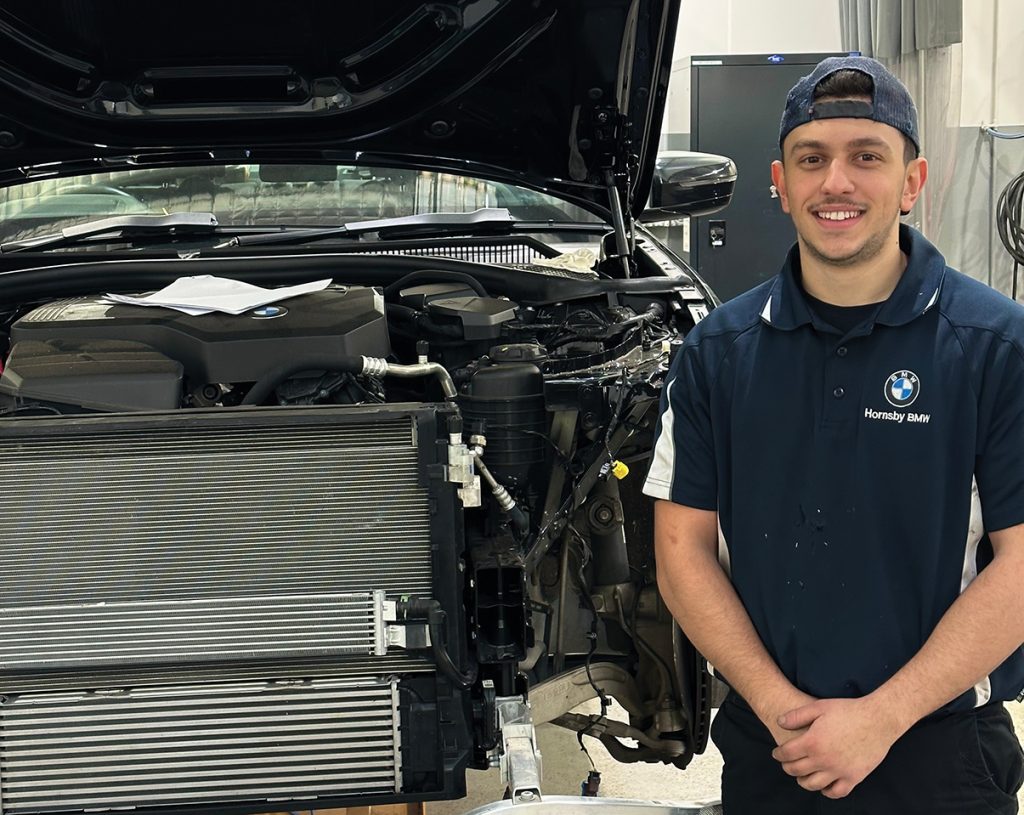 Robert is studying a Certificate III in Automotive Body Repair Technology while working as an apprentice panel beater at Hornsby BMW.
"I want to be a panel beater for the long run, and I'd love to get into restoration and work on old cars. For now, I'm just trying to learn as much as I can of the trade at work and at TAFE NSW so that I know how to do as much as possible in future," Robert said.
For Nickolas, selection for the national competition is as much a shock as it is affirmation he's pursuing the right career. The 19-year-old works as an apprentice spray painter at Penrith's The Smash Repair Centre while completing a Certificate III in Automotive Refinishing Technology.
"Everyone I was up against in the regional competition was older than me, like in their 20s and 30s, so I was shocked when I won," Nickolas said.
"The hardest part about spray painting is definitely colour matching, but at TAFE NSW we have a similar set up to at my work, so I get to practice and learn how to use the equipment before I do it on the job."
Students can develop their sanding and preparation skills using the latest technology, including the campus' new state-of-the-art Zambesi air prep bays.
TAFE NSW Spray Painting Teacher, William Rafferty, says the investment ensures the highest level of health and safety for students while giving them access to the latest technology.
"Although some panel shops operate with prep bays, less than ten percent of workshops in Australia are equipped with prep bays that meet the specifications and features of this unique bay," William said.
"The facilities clean up to 6000L of air per minute, ensuring the safest and cleanest possible working environment for students preparing vehicles and individual panels.
"Students in our Automotive Refinishing Technology and Automotive Body Repair Technology courses do a whole unit on safe working practices, and these facilities are helping to set them up for success in the industry."
The WorldSkills Australia 2023 National Championships will be held at the Melbourne Convention and Exhibition Centre from 17-19 August.
For learn more about TAFE NSW, visit www.tafensw.edu.au