THE NEW RYCO RCC360 CATCH CAN
The Ryco engineering team says it is constantly striving to make innovative improvements to its range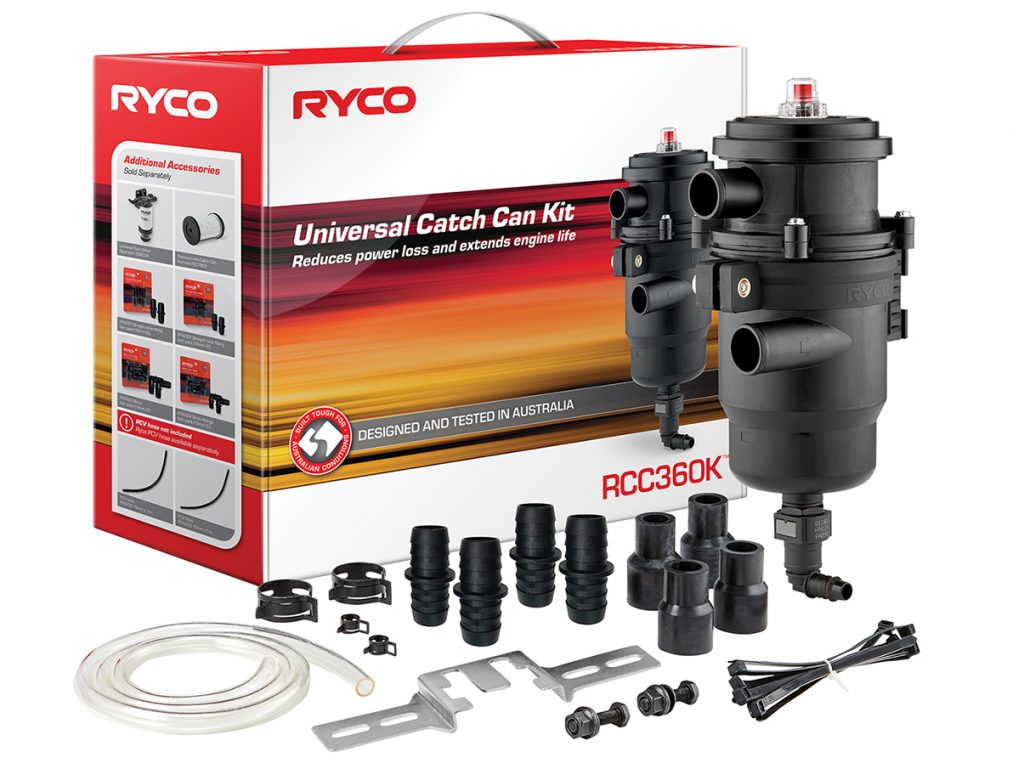 Since releasing its first Catch Can, Ryco says it has constantly been studying the market and improving its product offering.
The New Ryco RCC360 Catch Can is said to be a culmination of the advances in technology, customer feedback and technical knowledge, providing 4×4 owners with the confidence that when they push their 4×4 to the limit, it will "be Ryco Ready."
The New RCC360 Catch Can has some great new features but also includes everything that was great about the preceding RCC351:
• Internal Bypass
• Service indicator to show you when it is time to change your filter
• Upper outlet position to prevent contamination returning into the engine
• Removes contaminants down to one micron in size from crankcase emissions
• Suitable for petrol and turbo diesel engines with positive and negative crankcase ventilation
• Increased efficiency and lower restriction with larger filter element
• No external relief valve, no leaks when the unit is full or has a blocked filter
• Flexible 360-degree mounting – extending the range and orientation of mounting options
• Larger 12mm diameter drain hose connected to a quick connect fitting for convenience (increased from 8mm to 12mm)
• Simpler, more robust and higher flowing drain 'tap' with quick connect plug
• Improved serviceability utilising quick connect elbow fitting which enables quick disconnection and 360-degree swivelling
• 290ml sump capacity for longer drain intervals
• Tested to ISO17536 and Ryco Specification TS17
Unique Ryco Catch Can Service Indicator
Ryco says it has made maintenance simple by incorporating a service indicator, enhancing the user experience by providing more visibility to the customer on service intervals for servicing and filter element replacement.
Along the journey, Ryco says it has learned that every vehicle and driver combination is different, and you cannot predict the blowby that each individual vehicle will produce, and this is why it has incorporated the new Service Indicator.
When the service indicator continues to be raised after compression, it is time to replace the filter element. The filter element for the new RCC360 Catch Can, is the new Ryco RCC160F.
The RCC360 drain system
The RCC360 Catch Can drain has been designed to be simple, robust and offer high flow and good sealing. Key features include the following:
• Quick connects allow the drain hose to be disconnected from the Catch Can if the unit needs to be removed from the vehicle.
• Larger diameter 12mm hose provides faster draining.
• Transparent hose allows the user to easily see how much oil is left in the system to drain.
• Simple quick connect plugs provide an excellent seal and simple operation.
To drain, just pinch the buttons and remove the plug just like a regular quick connect connection, then push the plug back onto the quick connector once the system is draining.
RCC360K Universal Catch Can Kit
The RCC360K Kit comes complete with all the necessary filters, brackets and connectors to complete the installation (except PCV Hoses).
Additional accessories (sold separately)
Ryco invites you to further enhance your 4×4 experience with additional accessories sold separately, including Universal Fuel Water Separators, Replacement Filters, Straight Hose Fitting Twin Packs (19mm ID and 16mm ID), Elbow Hose Fitting Twin Packs (16mm and 19mm ID) and PCV hoses and joiners.
For more information, visit www.rycofilters.com.au