BENDIX BRAKE MODS FOR 4X4S
Bendix has a range of products available for 4x4s with bigger tyres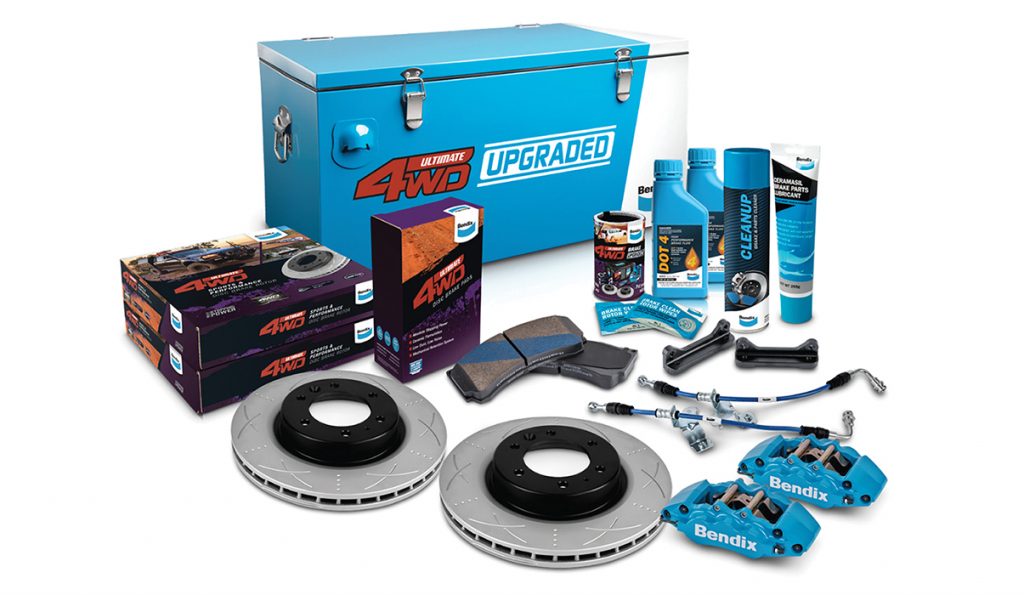 For avid off roaders, there are several good reasons to upgrade to larger tyres, as the capability of the vehicle will increase in most four-wheel driving situations.
One thing that's often overlooked when opting for a larger wheel and tyre package is how this modification will affect the vehicle's braking performance.
All states and territories have rules limiting the size increase of tyres and wheels, with reduced braking performance being the main concern.
As a general guide, if you increase the radius of your wheel and tyre combination by 10 percent, the amount of extra braking force needed to safely bring the vehicle to a halt will also be around 10 per cent.
Another consideration is the added inertia (rotating mass) that comes into play with larger wheels and tyres, which inevitably will be heavier than the OEM package.
Upgraded pads
Having fitted bigger tyres, the easiest and most cost-effective starting point to improving braking performance is to invest in upgraded brake pads, such as Bendix's Ultimate 4WD Disc Brake Pads.
These pads are engineered for extreme conditions and hardworking 4WD applications and also feature Bendix's premium Mechanical Retention System (MRS) for improved pad attachment strength, and a high-tech ceramic formulation for low dust and noise.
Braided brake lines
Another simple braking upgrade is to replace the OEM brake hoses with braided variants. Bendix explains that its Ultimate 4WD Brake Hoses feature PTFE (Teflon) tubing that is wrapped in woven stainless steel 304 braid. It says this tough construction means they won't expand under high pressure, ensuring a firm and responsive pedal feel.
Disc/drum upgrade
The next level in recouping and even improving factory braking performance is to upgrade the disc brake rotors or drum brakes.
Bendix says its Ultimate 4WD Brake Drum Upgrade Kit features High Carbon Metallurgy, SwiftFit protective zinc coating and Epoxy Coated Hub, leading to increased stopping power, added durability and increased aesthetics.
Bendix has also recently launched a standalone range of four-wheel drive performance disc brake rotors, to further increase braking performance.
Upgrade kits – all the gear in the convenience of a kit
Bendix's Ultimate 4WD Brake Upgrade Kit combines diamond tip slot Ultimate 4WD Disc Brake Rotors, a set of Ultimate 4WD Brake Pads, Ultimate 4WD Brake Hoses and ancillary products such as Heavy Duty Brake Fluid, Ceramasil Brake Parts Lubricant, Rotor Wipes and more, delivering all the benefits of these individual components with the convenience and cost effectiveness of a single kit.
Big brake upgrade with drum to disc conversion kits
For even more serious braking performance, Bendix offers its Ultimate 4WD Big Brake Upgrade Kits; a comprehensive package that includes larger diamond tip slot front rotors, powerful six-piston front calipers (front kit), a rear drum to disc conversion and all the associated parts required to complete the work (rear kit), along with Ultimate 4WD Brake Pads, Ultimate Brake Hoses and the ancillary products mentioned in the standard Ultimate 4WD Brake Upgrade Kit.
Bendix explains these kits are 100 percent legal and comply with ADRs. Some legal variances from state to state will mean that in certain locations (VIC, NSW, ACT, SA and TAS), an engineering inspection will be required to ensure the kits have been installed properly and are functioning correctly, after which a mod plate will be issued. For owners in QLD and WA, Bendix have a pre-authorised LG1 certificate, and all that's required after fitment is to advise the registration authority of the installation.
For Kiwi buyers, the New Zealand registration authority (NZTA) recognises ADR master reports for vehicles that are to be used on New Zealand roads. The compliance process is similar to VIC, NSW, SA and Tas, so a vehicle that's fitted with either front or rear (or both) Ultimate Big Brake Upgrade Kits will require a Low Volume Vehicle Certification (LVVC).
Brake booster upgrade
If even greater stopping power is needed, Bendix offers its ADR-approved Ultimate 4WD Brake Booster Upgrade, which it says can deliver up to 30 percent greater stopping power, thanks to its dual diaphragm design which reportedly significantly reduces pedal effort.
To learn more, contact your local Bendix stockist by visiting www.bendix.com.au/stockists