BENDIX BROADENS ULTIMATE 4WD BRAKE UPGRADE KIT RANGE
Kits are now available for more vehicles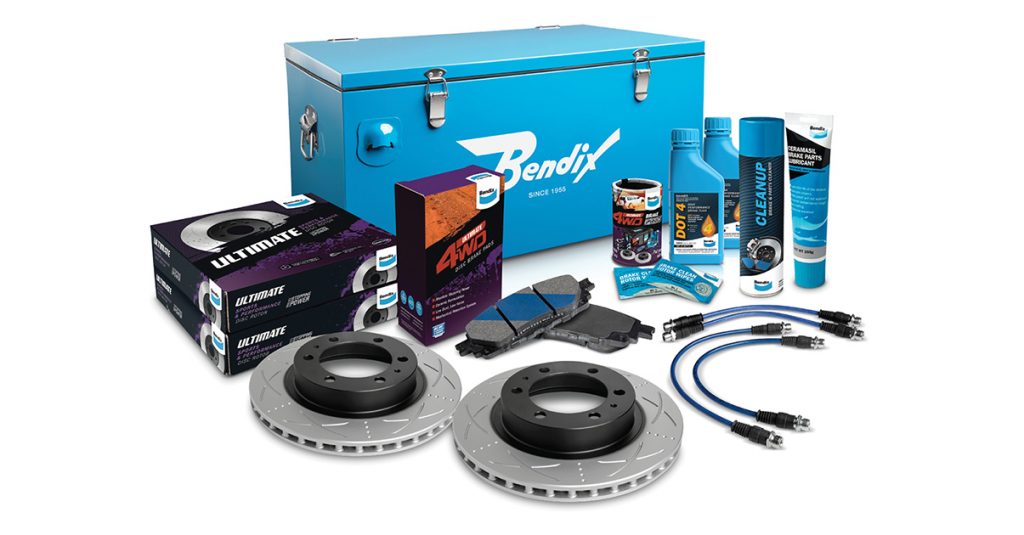 Bendix has expanded its range of Ultimate 4WD Brake Upgrade Kits for the VW Amarok, Mitsubishi Pajero and PXIII Ford Ranger.
For Pajero and PXIII Ranger, front kits are now available including options for standard ride height and two-inch (50mm) lifted vehicles. The latest additions also cover front and rear kit options for Amarok, again with both standard ride height and two-inch (50mm) lifted cars being covered.
The kits include two Ultimate Brake Rotors, a set of Ultimate 4WD Brake Pads, a vehicle set of Ultimate Brake Hoses, a litre of heavy-duty brake fluid, a can of Bendix Cleanup, a tube of Ceramasil Lubricant, and Bendix rotor wipes, with all contents packaged in a tough 60 litre Bendix Icebox.
The Ultimate Disc Brake Rotors feature four-wheel-drive specific metallurgy which increases rotor strength at elevated temperatures and Bendix's Diamond Tip Slot technology which helps expel gasses, dirt and water more efficiently.
The rotors also incorporate high efficiency cooling pillars, which have been designed to channel cool air into the rotor, expelling hot air faster and increasing the resistance to thermal cracks.
Along with more effectively and expelling heat, Bendix says the pillars minimise the chance of rotor distortion and deliver improved braking feel.
Complementing the rotors are Ultimate 4WD Disc Brake Pads. These pads are engineered for extreme conditions and hardworking 4WD applications; they also feature Bendix's premium Mechanical Retention System (MRS) for improved pad attachment strength, and a high-tech ceramic formulation that provides low dust and noise.
Another important component of the kit are Bendix's Ultimate 4WD Brake Hoses which feature PTFE (Teflon) tubing that is wrapped in woven stainless steel 304 braid. This tough construction means they will not expand under high pressure, ensuring a firm and responsive pedal feel.
The kits are ideal for four-wheel-drives that carry the additional weight of accessories and payload, run larger tyres – which require additional braking force to stop – or for drivers who regularly tow caravans and trailers.
Some owners of standard four-wheel drives may choose these rotors simply to provide them with the additional peace of mind of extra stopping power for everyday driving.
Other new releases
Additional Bendix releases include rear 4WD/SUV and Heavy Duty Brake Pads for Isuzu MUX (2021 onwards), front 4WD and General CT Brake Pads for Subaru Outback and Forester and front Euro+ Brake Rotors for BMW X3 (G01) and Toyota Supra (2020 onwards).
In other news, Bendix has also introduced front and rear CV Brake Pads for popular Mitsubishi Fuso Canter models from 2011 onwards.
To learn more, contact your local Bendix stockist by visiting www.bendix.com.au/stockists