CHOOSING THE RIGHT INVERTER
Selecting the right sized pure sine wave inverter for your customers is essential in making their remote travel aspirations a reality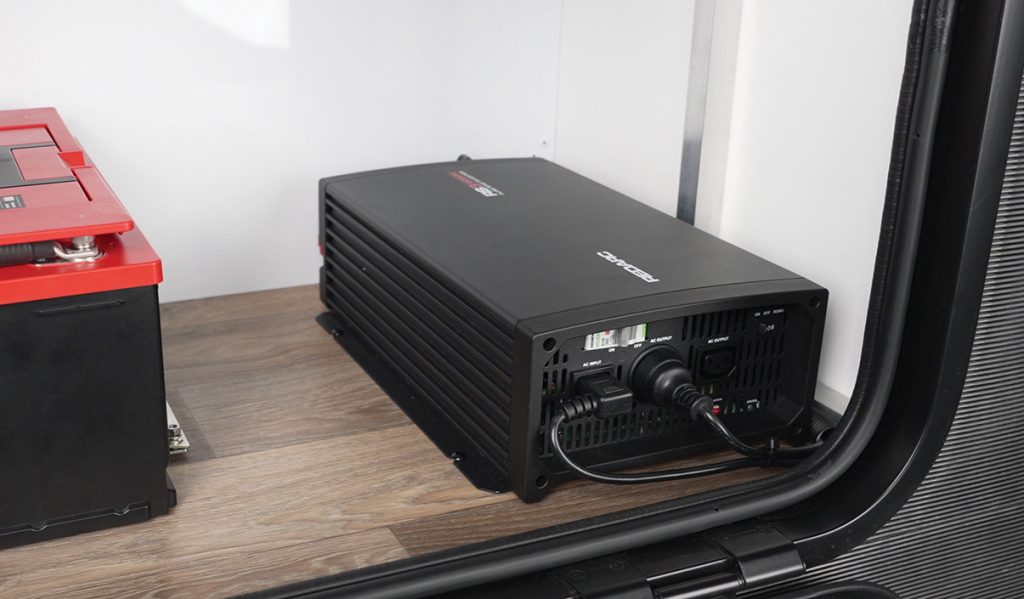 While it would be great to say it is a one size fits all situation, as with many aspects of 12V power, finding the perfect inverter for a customer's setup means taking several considerations into account.
When choosing an inverter, it is important to have a good idea of what your customer is looking to power as this will dictate the size of the inverter required.
Choosing an inverter that is too small will mean there won't be enough power to run necessary devices and can risk overloading their inverter, whereas choosing an inverter that is too big will draw unnecessary power from their batteries.
For smaller applications like power tools, phones, and laptops, a compact 350 or 700W inverter may be enough, however when customers are looking to run more power-hungry devices like toasters, hairdryers, coffee machines and air conditioners, choosing a larger capacity model is critical.
Once an appropriately sized inverter is selected, it is important to ensure your customer's battery bank and DC charger can keep up.
While having a little extra inverter capacity can be great, selecting an inverter that aligns with the other components involved will mean avoiding any future issues and maximising the longevity of equipment.
With built in Automatic Transfer Switching (ATS), REDARC explains that its range of RS3 Inverters goes a step further in protecting your customers' batteries, saving them from unnecessary damage by switching seamlessly between inverter and mains power.
When mains power is available, say at home or a powered campsite, the inverter detects this and seamlessly switches between sources.
This provides your customers with uninterrupted power and safeguards sensitive appliances from potential damage. It also means they are never wasting limited battery power when they don't need to.
Available in 1200, 2000 and 3000W variations across both 12 and 24V, the RS3 range is built to REDARC's strict durability and quality standards, with robust vibration resistance and integrated safety features.
Seventy five percent quieter than comparable models, REDARC says this range of inverters ensure they won't disrupt your customers quiet campsites.
RS3 Inverters integrate seamlessly with REDARC's entire range of off-grid power products including chargers, batteries and vehicle management systems.
Like all REDARC products, the new RS3 Pure Sine Wave Inverter range is backed by nation-wide support, including a "hassle-free" warranty, REDNetwork certified installer network and after-sales service to answer any questions.
To make choosing an inverter for your customer simple, REDARC has also created a handy inverter selection guide on its website.
For more information, please visit www.redarcelectronics.com/au/rs3-inverters