GLOBAL AUTOMOTIVE INDUSTRY GEARS UP FOR AUTOMECHANIKA SHANGHAI 2023
Expectations for this year's edition of Automechanika Shanghai are naturally high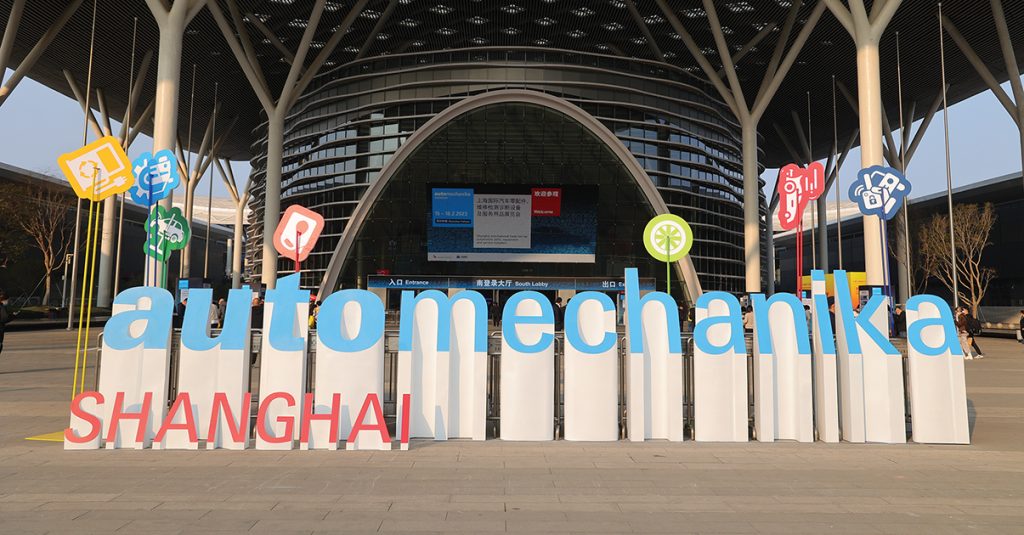 From the 29th of November to the 2nd of December 2023, Automechanika Shanghai 2023 expects to host 4,800 exhibitors in 280,000 sqm of the National Exhibition and Convention Center (Shanghai).
The 18th edition of Automechanika Shanghai will be the first time that many global buyers and suppliers can meet face-to-face in Shanghai since 2019.
Organisers have already seen an influx of exhibiting enquiries from participants looking to evaluate performance in 2023 and communicate upcoming plans for business development in the year ahead.
So far, companies from 32 countries and regions like Australia, Brazil, Belgium, Canada, China, France, Germany, Hong Kong, Italy, Japan, Malaysia, South Africa, South Korea, Taiwan, Türkiye, the UK, and the US have reserved their space on the show floor.
Innovation4Mobility showcase areas
Following a positive introduction to the Chinese market, Innovation4Mobility will continue to transcend through the fairground, providing a fresh perspective on the key trends dominating automotive reformation.
The Showcase is set to converge the latest innovations and research to provide a window into segments with long-term prospects. Displays will not only highlight technological breakthroughs but also upgrades in traditional solutions.
For instance, the scenario-based displays at the newly-formed Future Mobility Area will give prominence to rising business opportunities developing from new energy vehicles and connectivity.
The other debuting Customising x Tech Area will draw attention to the latest trends and advancements in the customising market, featuring a collection of customised cars, car wrapping, accessories, infotainment, lighting, and products for driving activities like car camping.
The Innovation4Mobility Mainstage and Green Repair Area will also return to complete the Showcase. Integrated facilities for product displays, start-ups and networking across the spaces aim to help foster meaningful business exchanges between exhibitors and prospective buyers. Moreover, lectures will touch upon the hottest topics on car technology and mobility solutions.
Year-round activities catalyse industry development
The collaboration between industry, academia and research during live demonstrations, buying missions, training workshops, open forums and other fringe events create an ideal environment to share new ideas and exchange technical information.
For example, Automechanika Shanghai is arranging a number of factory visits to car manufacturers in the build up to the show. Both local and overseas participants can gain a stronger understanding of the unique advantages that each manufacturing hub brings to the supply chain and generate a better picture of where the industry is heading.
During these activities, manufacturers will share insights on new energy vehicle development and solutions for autonomous driving, creating more opportunities to disperse knowledge about trends that are heavily influencing automotive transformation.
Players can also join Match Up, Buyers Group Programme, Premium Buyers Club and Auto Tech Club for highly personalised and targeted approaches to networking and business expansion.
In addition, the show will return with its renowned line-up of conferences, seminars and workshops. These include the International Automotive Industry Conference 2023 Powered by Automechanika Shanghai, Tomorrow's Service and Mobility Summit, and the Automotive Aftermarket Summit.
While many topics will place more focus on digitalisation, future technologies and services, speakers are set to also talk on wider global challenges relating to energy, sustainability, the supply chain, infrastructure and skilled labour.
Automechanika Shanghai is organised by Messe Frankfurt (Shanghai) Co Ltd and the China National Machinery Industry International Co Ltd (Sinomachint).
Also coming up for the Automechanika brand is Automechanika Ho Chi Minh City (20-22 June 2024), Automechanika Frankfurt (10-14 September 2024) and Automechanika Kuala Lumpur (8-10 May 2025).
For more information about Automechanika Shanghai, visit www.automechanika-shanghai.com