NEW FROM RACKSBRAX
Introducing the XD Side Twist Bracket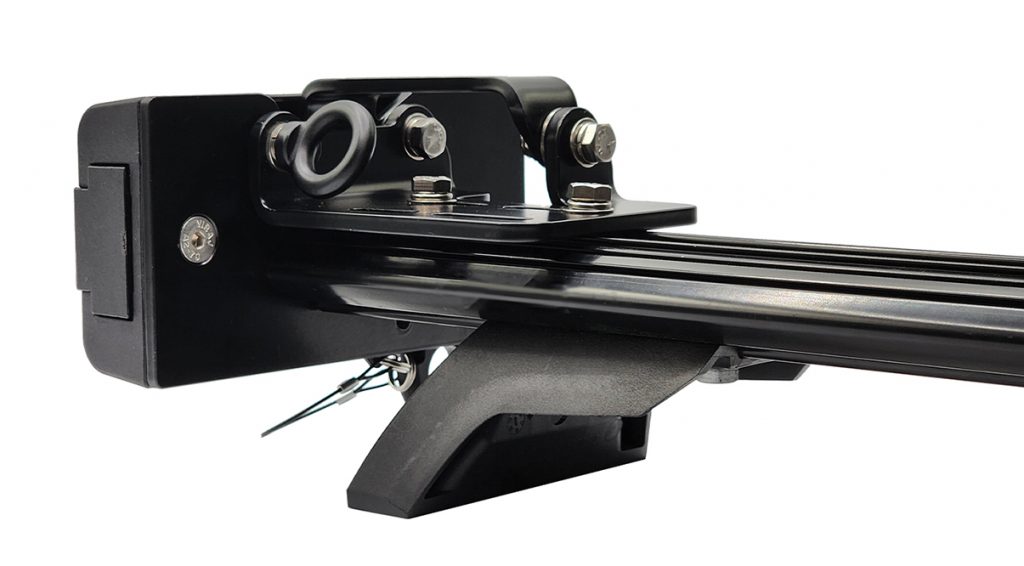 RacksBrax, an Australian 4WD accessories company specialising in the manufacture of quick release hitches and stainless-steel brackets for roof racks and roof rack accessories, recently announced a new product for the 4WD market: the XD Side Twist Bracket.
The XD Side Twist Bracket reduces the headroom above a roof rack fitted with an awning by 100mm once the awning is removed and the bracket stowed.
This bracket must be accompanied with the RacksBrax Quick Release XD Hitch.
Simply remove the awning in a few seconds using the RacksBrax Quick Release XD Hitch. To stow, unscrew the eyebolt, twist the bracket 90 degrees from the vertical to the horizontal reducing headroom to 50mm, and screw in the eyebolt. No tools are required.
Key features and benefits:
• Reduce headroom above roof racks from 150mm to 50mm in seconds.
• Unload accessory then twist the bracket sideways to stow in low headroom configuration, reversing to deploy.
• Stow and deploy with no tools required.
• Two-part stainless steel black powder-coated brackets.
• Stainless steel fasteners included to suit most roof racks.
• Rated to 20kg (44lb) per bracket.
• Engineered and manufactured in Australia.
Other things to note:
• Only works with the RacksBrax quick release XD Hitch (sold separately).
• The Long Foot version suits most platform style roof racks with longitudinal slat configuration (without perimeter lip).
• Platform style racks with a perimeter lip require bracket packers (not included).
• For roof rack bars or platform style racks with transverse slats use the Short Foot version.
• Both Short Foot and Long Foot versions are available in double and triple configurations.
The RacksBrax XD Side Twist Bracket is now available for sale and shipping from www.racksbrax.com/products/xd-side-twist-bracket
The XD Side Twist Bracket is also available for purchase from RacksBrax's dealer network across Australia, New Zealand, Asia, United Kingdom, North America, Europe, and the Middle East from early September.
For more information, visit www.racksbrax.com