NEW FROM TOLEDO
Introducing the newest addition to the world of cleaning from Toledo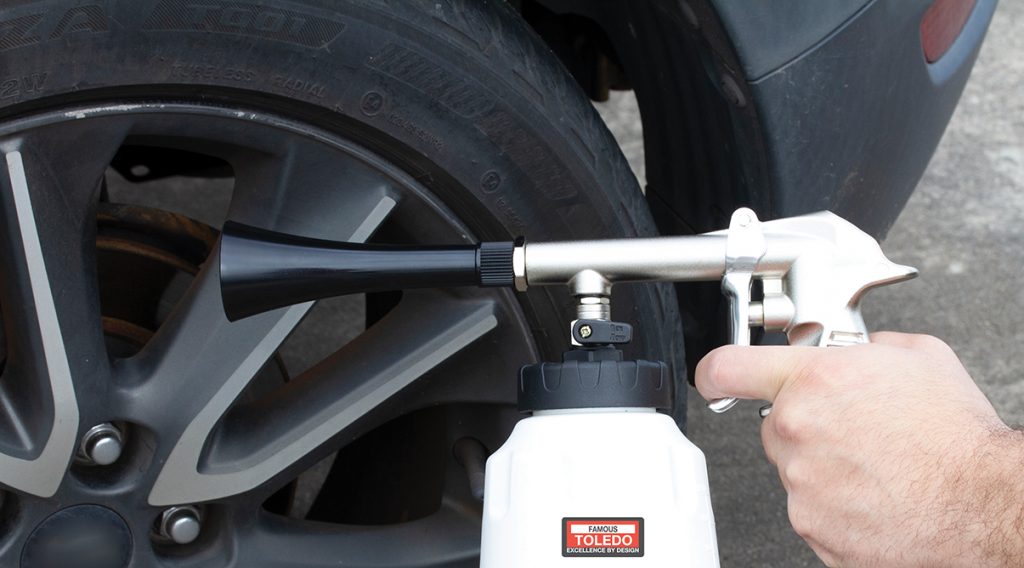 The Toledo Cleaning Gun – High Velocity (305168) is now available, with Toledo stating that it is the ideal solution and best choice for various cleaning applications.
Whether you need to clean your vehicle's interior or exterior, including floor mats, upholstery, door jams, or engine bay detailing, Toledo says the gun's high velocity, pneumatic design has got you covered.
The high velocity action provides a spiral whirlwind while spraying fine mist on hard or soft surfaces.
The cleaning solution, when combined with the fine mist, agitates and lifts dirt and grime without saturating the surface.
This ensures that your surfaces stay safe and unharmed, and the cleaning process is done more efficiently.
Toledo's pneumatic design is suitable for domestic and industrial cleaning of concrete floors, brick walls, windows, tiles, and other surfaces that require deep cleaning.
With its durable polyurethane container that can store up to one litre of cleaning solution, you don't have to worry about running out of cleaning fluid mid-cleaning.
Suitable for both wet and dry cleaning, the Toledo Cleaning Gun is versatile and convenient to use in different cleaning situations. Toledo says it provides a one-stop-shop for all your cleaning needs.
It is important to note that the recommended minimum air pressure for efficiency is 60 psi in order for the gun to operate properly.
At the same time, exceeding 110 psi can cause unnecessary wear and tear on the unit, so be sure to keep your air compressor within this range.
Toledo invites you to say goodbye to the tedious and strenuous cleaning methods you have used before and try its pneumatic design to experience "cleaning power like never before."
Toledo is a registered Tridon brand in Australia.
For the details of your nearest distributor, please call Tridon customer service on 1300 362 263.