ONBOARD CHARGING FOR YOUR LEISURE BATTERY
CTEK says it has the solution you need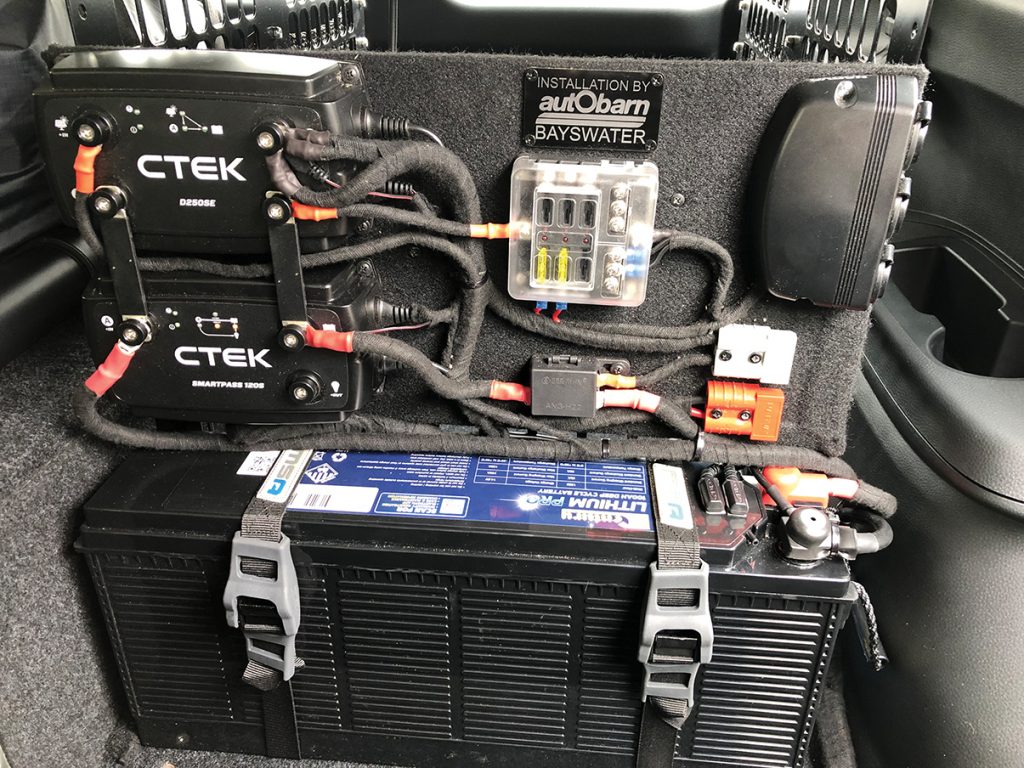 DC/DC chargers, also sometimes referred to as onboard chargers, are a great way to charge leisure batteries safely and efficiently from the power of a vehicle's alternator or solar panel, or a combination of both.
The benefit of a DC/DC charger is that it converts the output from the primary battery or solar panel and charges the secondary battery using optimal charging.
CTEK says a reason to encourage customers to invest in a DC/DC charger instead of a traditional relay charger is that generally their vehicle battery is a lead acid battery, so the alternator will be designed to charge a lead acid battery.
Meanwhile, the charging profile to charge the leisure battery is different. The DC/DC charger can be programmed to whatever type of leisure battery the 4WD may have and to what the charging requirements are.
It can also maximise charging to 100 percent and condition the battery to increase its lifespan – an important attribute if the customer is planning to travel remotely.
There are many important factors to consider when selecting a battery-to-battery charger to install, such as how quickly the leisure battery recharges and how it can do so safely.
The higher the current rating of a battery-to-battery charger, the faster the leisure battery will charge. However, the current rating is limited by the battery size and type as well as alternator output.
Lithium batteries can often handle much larger charge currents than lead acid batteries, so it is important to consider the type of battery you're charging when selecting the size of your battery-to-battery charger. CTEK says this is where it can help.
Powering 4×4 Australia Magazine
In 2022 CTEK supplied a 12-volt power system to 4×4 Australia Magazine to provide all the electric needs for its Isuzu MUX Project car.
The set-up used both a CTEK D250SE and a CTEK Smartpass 120S unit to give strong charge to the Century Lithium Pro battery while isolating the C starter battery from accessories current draw.
The D250SE is a 20amp DC-DC charger, but by partnering it with the Smartpass, the charging output is boosted up to 140A as required. This provided all the 12-volt power the 4×4 Australia team needed in their remote off-road adventures in the fully kitted up Isuzu.
Peace of mind
CTEK's DC/DC onboard charging system quickly charges your service battery and distributes power safely and reliably. It takes power from the vehicle alternator as well as solar power whilst on the move.
There are two different units, both of which can work independently or together as part of a powerful system.
The D250SE is a fully automatic, five-step charger that supplies up to 20A of power to any 12V lead-acid or lithium service battery from 40–300Ah.
It has selectable charge algorithms for flooded, AGM and lithium batteries and can use power from both the alternator and a solar panel. It is designed for use with solar panels rated at up to 300W, as long as the voltage from the panel is no more than 23V.
The D250SE can maintain a stable output up to 20A to vehicles fitted with smart, ECU controlled alternators and also has a temperature sensor for optimised charging, regardless of weather conditions.
It also features a starter battery maintenance function, which charges the starter battery via the solar panel when the engine is switched off. Ideal for use in campervans, particularly if they have smart alternators, the D250SE can be used standalone or with the CTEK Smartpass.
CTEK's D250SE is also easy to fit with just four cables requiring installation. Everything is built in, so there's no need for separate components such as diodes, VSR relays, solar regulators or battery watches, making it quick and easy to install.
The Smartpass 120S – a power management solution which distributes, controls and maximises up to 120A of power from the vehicle alternator and can also ensure that the charging of critical equipment takes priority – is also lithium compatible.
Both units can maintain a stable output to vehicles fitted with Smart ECU controlled alternators. CTEK says you can combine these two products together for a powerful and smart 140A charging and power management system.
For more information, visit www.ctek.com