STRIKING THE BALANCE OF MOBILE WORKSHOP FURNITURE
BAC Systems says it can help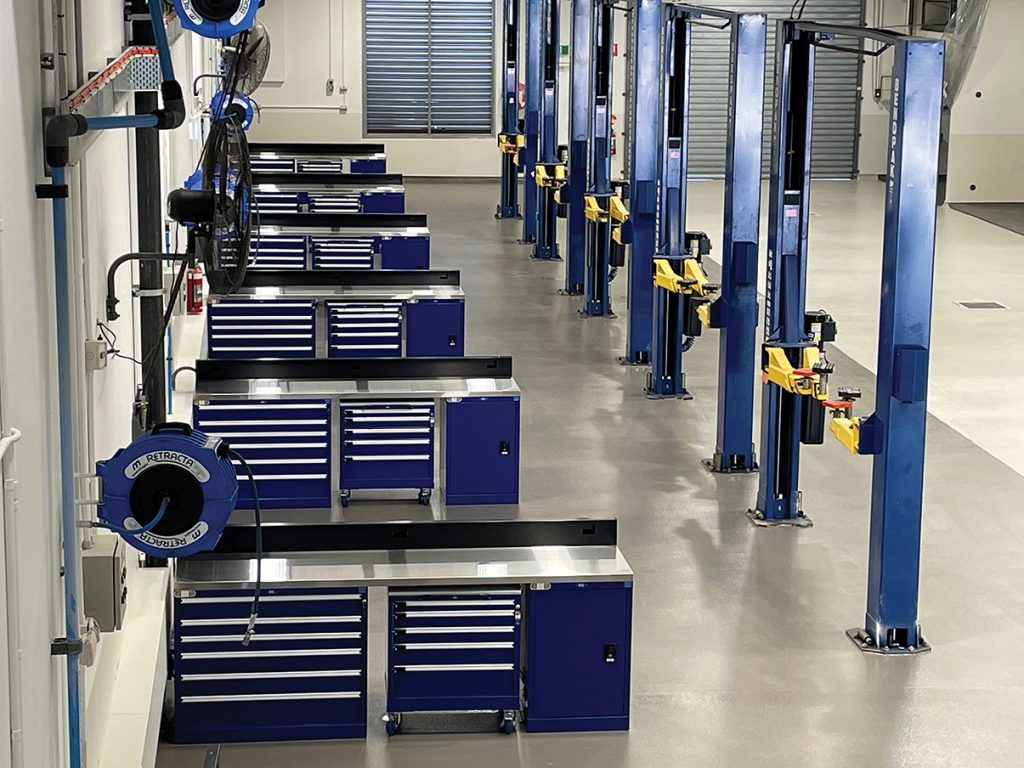 BAC Systems explains it is an Australian manufacturer of sturdy and reliable workshop furniture, including workbenches, toolboxes, tool storage solutions and integrated reel cabinetry.
One of the items commonly requested is the BAC Mobile Trolleys toolbox range. Occasionally, customers will also request BAC Mobile Workstations instead of fixed workbenches.
BAC Systems says of course these seem like understandable requests for a vehicle workshop. However, BAC states it has identified some key questions that need to be asked when looking at purchasing some Mobile Workshop Furniture for your vehicle workshop, in order to ensure what you purchase ends up being functional and sensible for your situation.
Firstly, a customer needs to identify if they actually have a need for mobile solutions.
One reason regularly stated is so the floor can be cleaned beneath the workbench or toolbox. BAC says it likes to point out the BAC fixed cabinetry sits down flat onto the floor, so rubbish and dust will not be able to make its way beneath the cabinetry. It says that most of the time, customers see this response as relevant to them and stick to the fixed furniture solution.
There are some occasions, though, when a customer has a high likelihood of fluids making their way beneath the cabinetry, and in this case, of course, mobile furniture is sensible.
Other common reasons for Mobile Workshop Furniture include the fact mechanics often need to work at locations other than in front of, or next to, the vehicle in their bay, or on a vehicle out in a yard, or that a mechanic is not allocated a permanent work bay but is instead regularly moved around.
The next question that is asked is, "do you have room to manoeuvre the unit around the workshop?" The placement of hoists can have a bearing on this. Of course, hoist arms can be lifted up to allow the passage of BAC Trolleys or BAC Mobile Workbenches, if appropriate.
In some workshops, the number of vehicles and parts positioned about the place also limits the ability to move a bench around the workshop.
In a clean and efficient workshop, this is not a problem and so the Mobile Workshop Furniture is still considered.
Finally, it must be considered whether it is worth losing the storage space in order to select a mobile option, as adding wheels to a BAC Trolley means that the toolbox loses one or two drawers to allow for the height of the wheels.
BAC recommends wheels or castors with a diameter of at least 100mm to allow for the storage load and also to account for imperfections in the  ground around the workshop.
It says if your need for a mobile unit is so rare that it is hardly to be moved, it might be more prudent to have a fixed unit that can be moved on those rare occasions with a forklift.
In a large percentage of workshops BAC visits, it says it finds toolboxes that have sat in the same place for so long that no one can remember seeing them anywhere else.
If you have asked questions like these, and still see a need and ability to have Mobile Workshop Furniture in your workshop, BAC encourages you to consider asking its team for a complimentary site survey where one of the BAC Technical Sales Team will come to your site and help you work out the best configurations for BAC Mobile Workbenches or BAC Trolleys in order to suit your space, how you wish to work, and your inventory of tools and equipment.
For more information, visit www.bacsystems.com.au