NEW FROM AEROFLOW
A range of new products have been introduced to the market by Aeroflow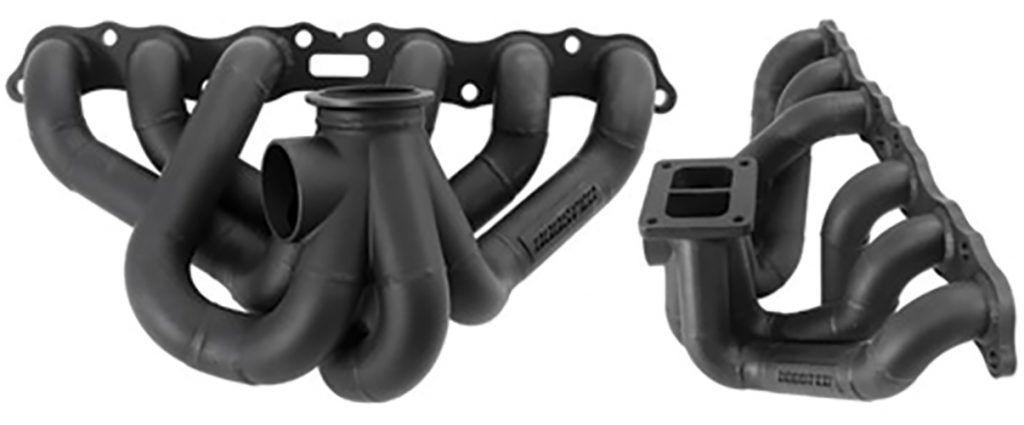 Since 2010, Aeroflow Performance Products has grown to design and manufacture close to 13,000 quality products. Amongst the latest releases are the following products.
Timing tapes
Accurate ignition timing is one of the most vital adjustments you can make to your engine.
The Aeroflow Timing Tape comes with eight different sizes to suit most factory or aftermarket harmonic balancers ranging 5.25" to eight-inch in diameter.
The tapes are marked in one-degree increments from 14 degrees ATDC to 64 degrees BTDC. They are printed on tough, chemical-resistant material with a clear coat over white background with black print to ensure an easy read.
Heater Hose T-Piece to suit Ford BA-BF and FG XR6
The plastic heater hose T-piece found in the Ford Falcon BA-BF and FG Barra engine is notorious for breaking down and causing engine coolant leaks, says Aeroflow, which notes this is due to the brittle nature of the plastic breaking down over time.
Being a discontinued item from Ford, Aeroflow Performance has made a new billet aluminium version to combat this problem, made from billet 6061 aluminium and black anodised for corrosion protection.
Replacement Nut for V-Band External Wastegate Clamps
This replacement nut has been designed to suit all Aeroflow external wastegates and will suit both inlet and outlet clamps.
Manufactured from 6061 alloy to withstand the extreme temperature, Aeroflow says these replacements nuts are handy to keep around for those that have damaged or misplaced them during removal or installation.
Boosted Parachute Safety Flag
The Boosted by Aeroflow Performance parachute safety flags are designed to mount on your parachute after it has been re-packed. They feature in yellow writing the phrase, "Remove Before Race."
These parachute flags keep your chute safely packed and from being deployed while you are working in the pits or waiting in the staging lines for your next pass down the quarter-mile. They are sold individually
Toyota 2JZ GE (Non-Turbo) Turbo Manifolds
Aeroflow Performance steampipe turbo manifolds are a series of pipes that collect exiting exhaust gases which can be channelled into Aeroflow's merge collector which are perfectly matched to its Boosted range of turbochargers.
Aeroflow says its merge collector design allows all pipes to enter at the exact same angle, and merge together at a point in the middle, pointing straight into the turbine.
No pipes enter across each other, so airflow is not disrupted, meaning a perfect balance between boost control and flow.
With minimal back pressure where the manifold meets the turbo, Aeroflow says you can be sure that you are getting the best flow possible from this turbo manifold.
Aeroflow further states that its turbo manifolds are finished to the highest of standards and constructed from thick wall 3mm mandrel bent steam pipe with CNC Machined header and turbo flanges. Each flange is milled after welding to ensure precise surface finish.
These manifolds are supplied with a short wastegate starter pipe designed to allow the fabricator to choose the size of the wastegate required, and the position the wastegate sits in.
Twist Mount Turbo Adapter to suit Subaru EJ20 and EJ25
This DIY Subaru twist mount turbo manifold adapter is specifically designed to suit the EJ20 and EJ25 Right Hand Drive vehicles.
This steam pipe turbo adapter will allow you to fit an aftermarket Boosted turbocharger or similar when the factory bolt on turbocharger can no longer fit in the OE position or you wish to upgrade and move away from the factory bolt on style turbochargers.
This adapter will only suit the factory Subaru 3-Bolt Single-Scroll Headers. On the other end it has either a single entry T3 flange or a AF8080-1016 V-Band flange to suit Boosted 4849 up to Boosted 6862 turbochargers.
This twist mount adapter features a 45mm wastegate flange and pipe already welded to this adapter to allow the perfect position for your external wastegate.
Female -20AN to Male -20AN Extension
This extension has a -20AN female on one side and male -20AN flare end on the other end.
Aeroflow says this makes it great for radiator hoses and custom applications that require -20AN fittings to be spaced out for clearance. These -20AN extensions are 1.5" (38mm) in length.
For more information, visit www.aeroflowperformance.com