UPDATED MARKS 4WD HIGH CLEARANCE TOW BAR
The updated bar sets new standards in safe vehicle recovery, says Marks 4WD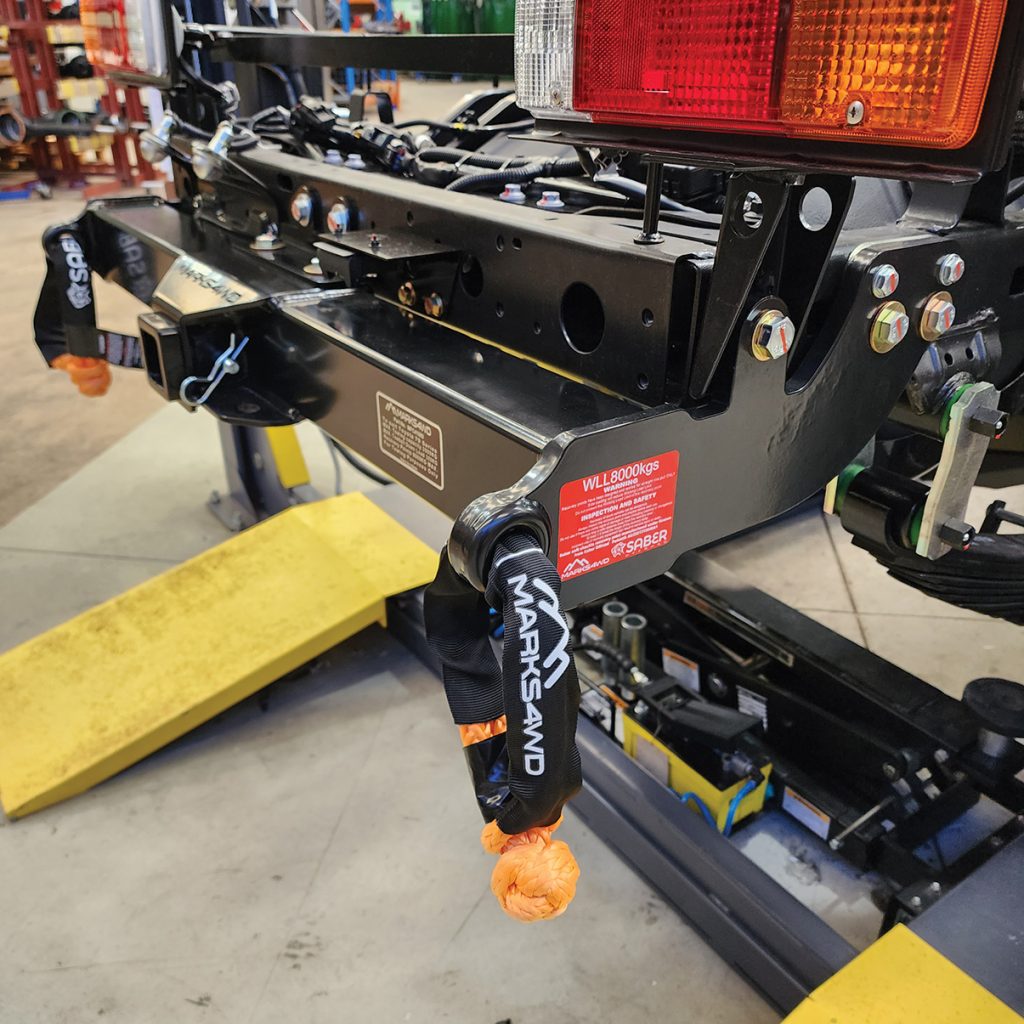 Marks 4WD has unveiled its updated High Clearance Tow Bar, incorporating Soft Shackle Recovery Points by Saber Offroad, for the VDJ79 series Toyota LandCruiser single and dual cab models.
Designed in collaboration with Saber Offroad, Marks 4WD says the addition of patented recovery points and soft shackles sets a new standard in safe vehicle recovery.
Unlike regular recovery points with their square edges, Marks 4WD explains that the Saber Offroad recovery points boast a doughnut design, allowing for a significantly improved bend radius to get the maximum performance from the soft shackle.
Marks 4WD says the included SaberPro Fibre Soft Shackles "guarantee unparalleled strength, enhanced safety, and unbeatable durability," with a 15,000kg minimum breaking strength and an abrasive resistant protective sheath.
Further, Marks 4WD states they are designed to be safer, stronger, lighter, and easier to use than metal shackles.
Marks 4WD says it remains committed to innovation and quality, and states that a
High Clearance Tow Bar with Saber Offroad soft shackle recovery points "is a must for those
79 Series owners looking for a Tow Bar that delivers reliability, clearance, performance and safety."
Key features and benefits:
Innovation: engineered to be mounted higher than factory or aftermarket alternatives, the tow bar integrates the receiver into the centre crossbar, delivering an "extraordinary" 95mm extra ground clearance.
Integrated 8T Recovery Points: equipped with two integrated Saber soft shackle recovery points, rated to a Working Load Limit of 8,000kgs each.
Lightweight build: the High Clearance Tow Bar weighs only 34kg in its bare form – which Marks 4WD states is a "staggering" 50 percent lighter than other prominent brands in the market.
Australian craftsmanship: designed and meticulously crafted at Marks 4WD Melbourne headquarters, using top-grade Australian steel and coatings, Marks 4WD says the tow bar promises uncompromising quality.
Durable finish: coated in UV stable Dulux powder coat, the tow bar is built to withstand the rigours of diverse terrains and weather conditions.
For more information, visit www.marks4wd.com or contact Marks 4WD on 03 9552 6555 or
sales@marks4wd.com