2023 BURSON AUTO PARTS MANAGERS CONFERENCE A MAJOR SUCCESS
The latest annual conference sought to support, reward and inspire Burson Auto Parts store managers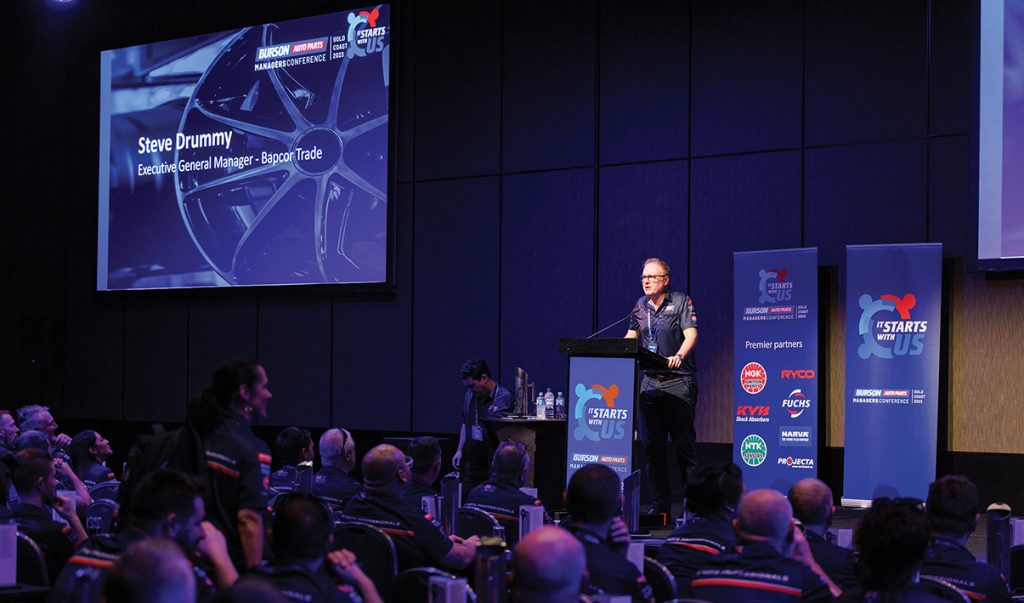 More than 200 Burson Auto Parts store managers from across Australia were united with their fellow Burson Auto Parts and BAPCOR leadership teams for five informative and action-packed days at the 2023 Burson Auto Parts Managers Conference held at the Gold Coast recently.
The theme for the conference was "It Starts With Us," with a major part of every Burson Auto Parts conference to focus on personal development and wellbeing.
The conference featured three amazing keynote speakers including Australia's first Winter Olympics Gold Medallist, Steven Bradbury, Mancave creator and Chief Executive Officer, Hunter Johnson, and the Explosive Expert who recovered the Beaconsfield Miners, Darren Flanagan.
All three delivered exceptional presentations that linked back to the conference theme, with each speaker highlighting the importance of positivity, and seeking and providing help to one another.
"It Starts With Us" was felt right across the business at this conference and on day three a challenging and fun competition highlighted the day.
Burson Auto Parts store and support office managers were split into smaller teams with the objective being to build a cardboard Formula One car from raw materials supplied.
The teams then raced against one another to build and see who could achieve the fastest time in a series of push-races.
The atmosphere was electric and event engagement was fantastic, with lots of laughs throughout the races and crashes. The top three winning teams won cheques for $5,000, $3,000 and $2,000 respectively, which were donated to Mancave, with this team building event proving to be an outstanding part of this highly inclusive conference.
Day four was Trade Show Day for the store managers, with over 40 suppliers exhibiting. This gave Burson Auto Parts suppliers the chance to chat one on one to store managers and share new product information and advice. Many suppliers donated door prizes, which were well received by several conference delegates who took home some epic prizes.
The day ended with the 'The Greatest Showman' themed 2023 Gala Dinner, featuring talented circus artists, singers and dancers.
BAPCOR Group Chief Executive Officer, Noel Meehan, also took part in this conference, making two special presentations highlighting the importance of Burson Auto Parts as the heart and soul of BAPCOR's automotive aftermarket operations.
According to BAPCOR Trade Executive General Manager, Steve Drummy, this was an incredible week.
"This conference saw a perfectly balanced business, social and personal wellbeing agenda for our store managers," Steve said.
"I am sure that all have gained personal and professional inspiration from each special guest speaker, by networking with other store managers, at our supplier presentations and from our own business development sessions.
"As an employer of choice in the automotive aftermarket industry, these detailed events held in idyllic locations seek to support and reward our store managers, while inspiring them to continue their personal and professional growth. It was great to spend so much time with our store managers once again."
Burson Auto Parts thanks its valued conference major sponsors, Brown and Watson International, Niterra, Fuchs and Ryco, for their support.
For more from Burson Auto Parts, visit www.burson.com.au