AC LINE DISCONNECT TOOL MASTER SET
Toledo offers a specialised disconnect set for an array of applications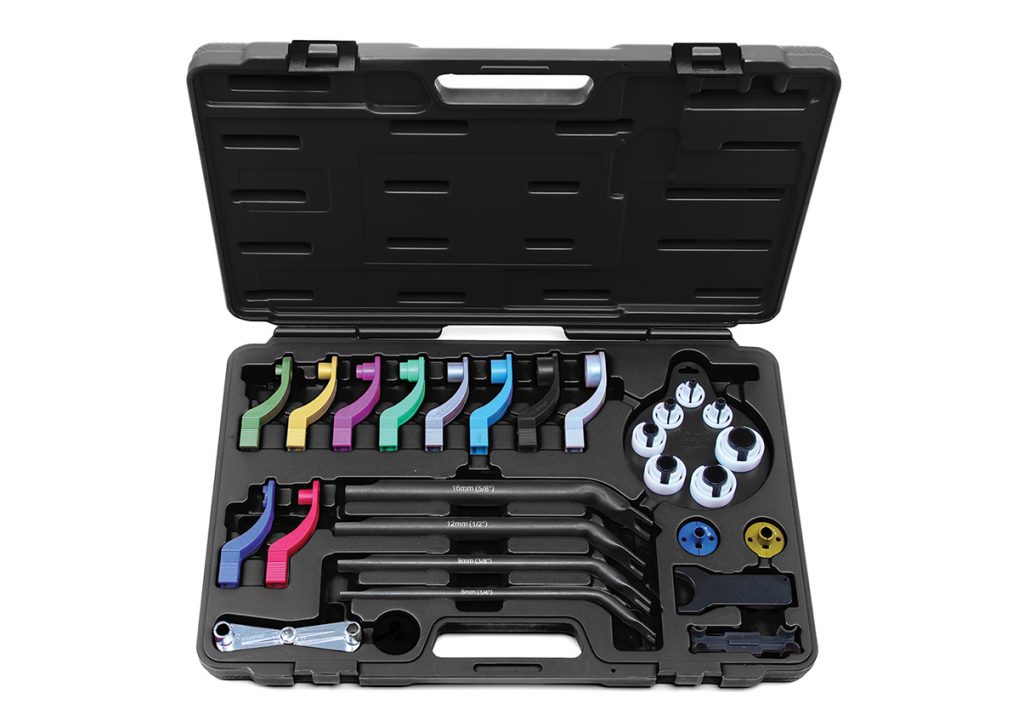 Modern light and heavy vehicles are fitted with complex connectors joining air conditioning lines as well as fuel, brake and air lines, which can make service and repair difficult.
Toledo offers a professional Master Disconnect Set (part number 307010) that features all popular specialist types of removal tools for these systems.
The kit simplifies the process of disconnecting and servicing air conditioning, fuel and brake systems by allowing you to safely detach those specialty connectors that are susceptible to damage or are typically difficult to remove.
After servicing, you can effortlessly re-establish these connections without needing replacements.
It is vital to utilise the appropriate tool for disconnecting automotive connection lines, particularly those relating to the air conditioning system.
This set covers all common applications including air conditioning line couplings, fuel line couplings, clutch connectors, transmission cooler line connectors and air supply lines.
The Toledo Master Disconnect Set is also suitable for air lines used in heavy-duty truck brake and suspension systems and is ideal for use on spring lock, quick connect and quick couplers and many other fittings.
This versatile kit caters to most vehicles, including light commercial to heavy-duty vehicles.
The professional master set offered by Toledo comprises a diverse range of disconnection tools that are suitable for a wide array of tasks.
Crafted from chemical-resistant materials, they are designed to withstand exposure to air conditioning gas, petrol, diesel, brake cleaner, and other associated chemicals.
The spring-loaded peg-style angled design ensures easy access and a secure fit.
Furthermore, each disconnect tool is colour-coded for effortless identification.
The Toledo Master Disconnect Set is conveniently supplied in a robust, blow-moulded case.
Toledo's Master Disconnect Set is readily available through leading automotive stockists.
For more information, visit www.tridon.com.au or contact Tridon customer service on 1300 362 263.