AIC LAUNCHES EV SERVICES
AAAA secures grant from Victorian Government to support the Aftermarket industry as it moves towards a zero emissions vehicle future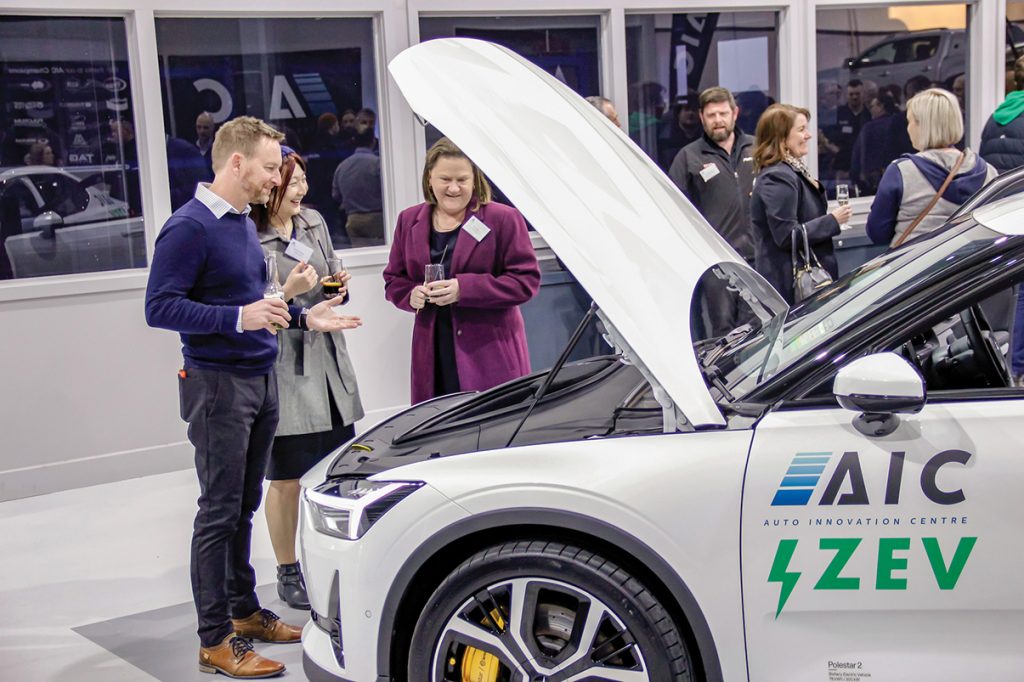 The Auto Innovation Centre (AIC), a wholly owned subsidiary of the Australian Automotive Aftermarket Association (AAAA), has secured a grant from the Victorian Government's Zero Emission Vehicle Fund to help the Aftermarket industry develop products for EV vehicles.
Talking at the launch of the AIC's EV services, AAAA Chief Executive Officer, Stuart Charity, told a large audience assembled at the Centre's headquarters, located in the Melbourne suburb of Mulgrave, that the grant had allowed the organisation to purchase a Ford F150 EV and a Polestar 2.
"The grant facilitated the purchase of these two vehicles and also a whole lot of equipment," Stuart said.
"We've got two wall chargers out in the car park and we have got all the PPE tools that you need to work safely on electric vehicles.
"This new initiative is part of a broader AAAA EV strategy, which is really designed to support our industry on that pathway to electrification."
Stuart explained that there are three parts to the AAAA EV strategy.
"The first one is to make sure that the AAAA has a seat at the table when both state and federal governments are developing policy to do with EVs," Stuart said.
"Because whilst a lot of the focus is on lowering the price of EVs and (improving) charging infrastructure, these vehicles have to be repaired and maintained for their useful life right across Australia. The needs and concerns of our industry must be factored into government policy.
"Secondly, we are committed to providing market intelligence, education and projections on EV adoption rates so that all of our members can make informed decisions about what is coming, when, and how best to prepare.
"The third part of the strategy and the one that we are bringing to life (at the AIC) is about combining engineering and technical expertise with the Auto Innovation Centre and providing the opportunity for all of you to use these vehicles for both product development, research, testing, and also training.
"We already have a huge demand, but we will work through those and prioritise those so that you get the chance to use these vehicles."
Stuart pointed out that the F150 is one of the first to arrive in the country and is still left-hand drive, which means that it can't be used on public roads, but can be put through its paces at testing facilities and proving grounds.
Stuart also announced that the AIC will soon host a new EV training course for mechanics and technicians, delivered at the Centre by training partners.
"With our training partners, we are going to see the AURETH101 course delivered right here at the AIC. In layman's terms, that's the course that trains technicians to be able to safely de-power and reinitialise battery electric vehicles," Stuart said.
"We are going to do that here in the Auto Innovation Centre and we are going to do it at a heavily discounted price for Victorian-based technicians.
"With the new data sharing regime, there is a requirement to actually undertake that training, to be able to access any information on hybrid or electric vehicles.
"It is in high demand, and we are really pleased to be able to help that along by getting technicians in through the Centre with the help of our training partners."
Stuart also revealed that the F150 and Polestar 2 would form a part of a major EV showcase at next year's Australian Auto Aftermarket Expo, which will be held at the Melbourne Exhibition and Convention Centre from April 11 to 13.
For more information, visit www.autoic.com.au or www.aaaa.com.au