MANAGING YOUR BRAND WITH INFLUENCERS
Breakfast seminar at Melbourne 4×4 Show deemed a huge success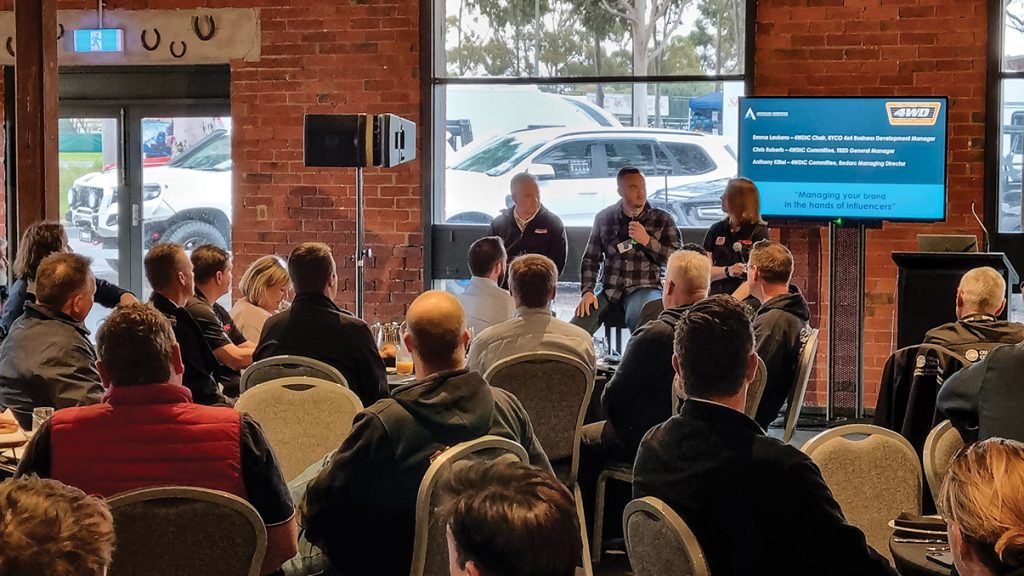 The 4WD Council (4WDIC) of the Australian Automotive Aftermarket Association (AAAA) presented a breakfast networking session at the recent Melbourne 4×4 Show at the Melbourne Showgrounds.
Hosted by convener Nigel Bishop, the morning included a panel session that discussed the topic of 'Managing Your Brand in the Hands of Influencers.'
Panel members were 4WDIC Chair and RYCO 4×4 Business Development Manager, Emma Laukens; 4WDIC Committee and TRED General Manager, Chris Roberts; and 4WDIC Committee and REDARC Managing Director, Anthony Kittel.
"The discussion was very informative and the audience members went away armed with unique insights into the ways in which industry can manage influencer marketing responsibly whilst ensuring ROI for their brand," Nigel said.
Nigel also took the opportunity to update the assembled audience on industry news and ongoing AAAA initiatives within the 4WD sector.
Amongst the subjects discussed was the new training pathway for automotive accessory fitting – an industry-led initiative which has been a seven-year journey involving extensive industry consultation.
The pilot program for this training pathway recently kicked off in Victoria, which led to a new qualification being developed (AUR 22021). The 4WDIC is currently working with registered training organisations nationally, with the MTAQi's first intake imminent.
Also covered was the release of the new Gross Combination Mass (GCM) Code LS16 and the amended Gross Vehicle Mass (GVM) Re-rating Code LS11.
These new codes included extensive consultation with the aftermarket industry's Technical Working Group and involved the Queensland Department of Transport and Main Roads (TMR) – which led the initiative – having major discussion with interstate regulators.
The 4WDIC, AAAA, and Queensland TMR are now working with other states to replicate the outcome. Nigel said the new regulations balance consumer need with engineering rigour and praised the TMR, saying it was a great case of industry and regulator working together to achieve a sensible outcome.
Nigel also updated attendees on the National Light Vehicle Modification Summit which took place at Autocare in Brisbane in June, with a major outcome of the Summit being the announcement of a review of the National Code of Practice for Light Vehicle Construction and Modification (NCOP).
For more information, visit www.4wdcouncil.com.au