AIR CONDITIONING CONDENSER FANS ARE NOT CREATED EQUAL
Air flow through the air conditioning condenser plays a vital role in determining the efficiency of an air conditioning system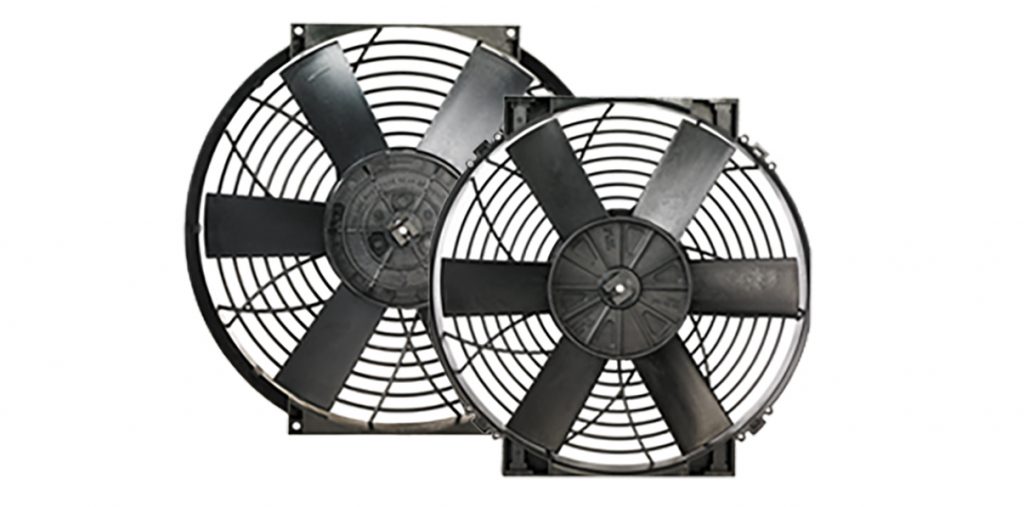 Many of us take it for granted when we switch on our vehicle's air conditioning unit, that it should produce a sufficient, cool air flow in the cabin that provides a welcome relief from the warmer, climatic conditions.
One very vital component which assists in this process is the electric fan which pushes or pulls air through the air conditioning condenser to assist with heat transfer.
The AC condenser is the major component and functions as a heat exchanger for the AC system, converting the refrigerant from a gas to liquid so it can flow through the AC system.
The heat generated can only be expelled if a strong efficient electric condenser fan is deployed to remove this heat quickly and efficiently.
If the condenser becomes too hot, it will not convert the refrigerant into cooled liquid form. The electric fan must always keep the AC condenser cool so it can continue to efficiently convert the gas into liquid and keep the AC system operating correctly.
The more heat one can remove from the condenser, the cooler the air in the cabin. A defective or inefficient electric fan can cause problems with the entire AC system.
Australian-owned and operated cooling technologies manufacturer, Davies, Craig warns that a proliferation of imported fans has emerged over recent years which are very similar in appearance but have dubious performance.
Consequently, Davies, Craig states they are not fit for purpose; not generating the effective CFM required to produce sufficient air flow through the system's condenser to deliver satisfactory air conditioning to overcome Australia's hot, harsh climate.
Davies, Craig designed and created the Thermatic electric fan back in 1971 and has been producing electric fans in Melbourne for over 50 years for both engine and air conditioning applications.
Every Thermatic Fan model has been put through exhaustive durability tests along with certified wind tunnel testing to ensure they deliver the accurate air flow, CFM, (ft3/min. Cubic Feet per Minute) and pressure specified.
There are several automotive/air conditioning condenser electric fans on the Australian market but not all meet their stated specifications.
Air flow through the air conditioning condenser plays a vital role in determining the efficiency of an air conditioning system and some fans fall short in their air flow capacity.
Front-line workshops are making the choice when it comes to air conditioning condenser fans for their customers and Davies, Craig says there are three vital fan specifications that need to be carefully considered: CFM, current draw and warranty.
Davies, Craig states that its Thermatic Fans are "highly regarded and very popular within the automotive industry worldwide, setting the benchmark by which other electric automotive fans are judged."
For the past fifty years Davies, Craig says the entire Thermatic Fan range, manufactured from strong, heat-resistant 66 Nylon/glass, offer outstanding air flow efficiency, low profile and low current draw.
Every model can be installed in either 'pusher' or 'puller' configuration by simply reversing the blade and polarity for bi-directional air flow improving cooling efficiency. Models offered include eight-inch, nine-inch, 10-inch, 12-inch and 14-inch slimline plus 10-inch, 12-inch,
14-inch and 16-inch High Performance.
Davies, Craig recently introduced four new high power 10-inch and 12-inch models to complement the existing range.
These four models deliver a 40 percent higher CFM than the standard 10-inch and 12-inch models and importantly, enjoy the same mounting profile. All models are available to suit 12V and 24V electrical systems.
All Davies, Craig Thermatic Fans offer reverse polarity which allows each fan to be mounted either in front (pusher) and/or behind (puller) the condenser.
All Davies, Craig Thermatic Fans are backed by a written three-year warranty. The Davies, Craig website also offers 24/7 access to comprehensive technical information, dimensions, specifications, a fan selection guide at www.daviescraig.com.au/fan-fitments as well as answers to frequently asked questions.
For further information, visit www.daviescraig.com.au