BILSTEIN TALKS AIR SUSPENSION INSTALLATION
The latest Suspension Fundamentals – Powered by Bilstein Academy – video addresses this important topic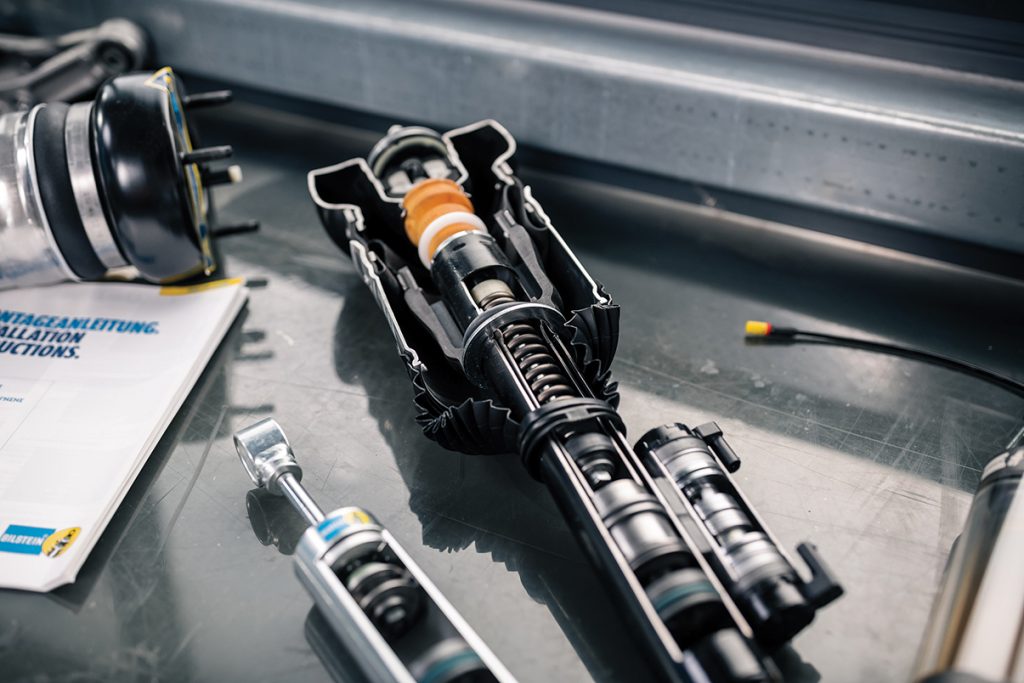 In its latest episode of the "Suspension Fundamentals – powered by Bilstein Academy" video series, Bilstein shows why the challenges of air suspension systems aren't that great – and has a little treat available again for automotive professionals.
Working with products such as the B4 air suspension module or the B3 air spring from Bilstein involves special requirements. Yet if mechanics and mechatronics engineers follow a few basics, the replacement of air suspension components can be mastered without any great problems, says Bilstein.
There are many components working on the inside of the air suspension module that are already familiar from conventional shock absorbers.
This is no surprise "because the basic tasks are the same," emphasises Mustafa Yavuz from Bilstein Technical Support, who states there is no need to be too apprehensive about working with air suspensions:
"Because the components are constructed cleverly and safely, you just have to know which test steps we use," Mustafa said.
The assessment and identification of defects is carried out somewhat differently than in the case of problems with a conventional suspension system.
Since the air suspension module is designed as an enclosed component, unlike the familiar suspension struts with open shock absorber and separate spring, oil leaks cannot usually be detected.
This makes further checks all the more important. In particular, a test drive to check for noises and driving stability.
In addition, automotive professionals can actuate the solenoid valves in order to check the condition of these components.
Bilstein Academy Head, Rainer Popiol, warns that automotive professionals should give cheap air suspension modules from dubious sources on the internet a wide berth.
He states that the low price is usually at the expense of safety – and often turns out to be a boomerang, stating "If you buy cheap, you quickly buy twice. At least."
He notes that cheap air suspension modules often look perfect from the outside. But in fact, they are not reconditioned OE replacement parts as good as new, but rather used parts in which individual components have been changed or which even have components missing.
For this reason, Rainer says car businesses should exclusively rely on Bilstein products.
"We produce air suspension modules for original equipment. And it is precisely this standard and this quality requirement that we also have for our OE replacement parts," Rainer said.
For more information, visit workshop.bilstein.com
Photos: Copyright BILSTEIN 2022