BOSCH CAR SERVICE CONFERENCE AND GALA AWARDS CEREMONY DELIGHTS
Sydney, Australia, was the venue for the valuable annual event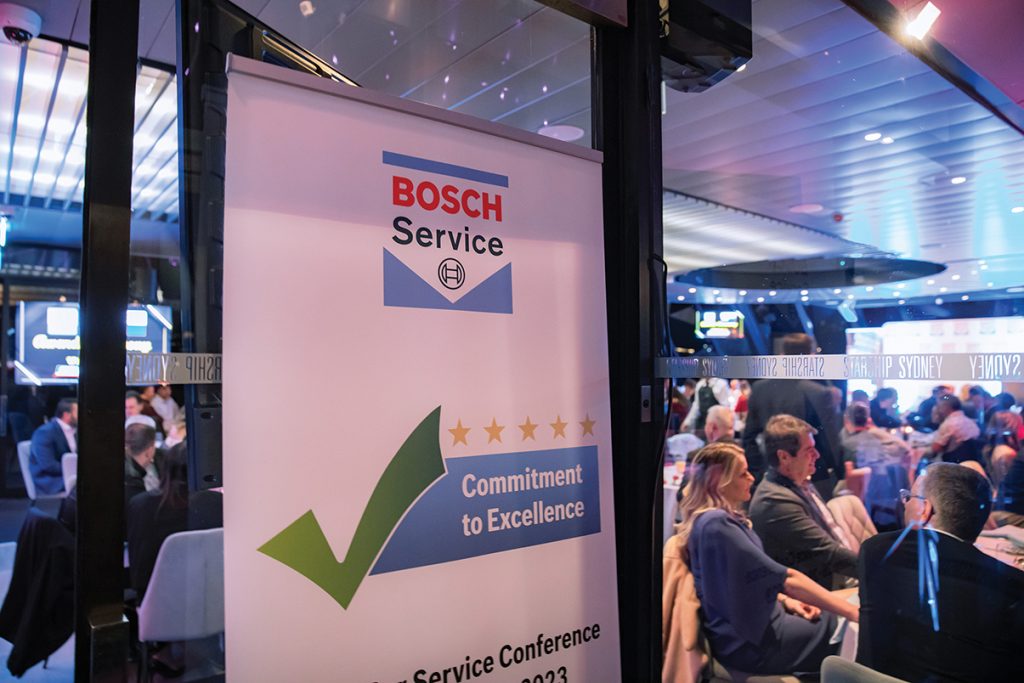 A hundred Bosch Car Service (BCS) workshops from across Australia and New Zealand recently joined together to attend the 2023 Bosch Car Service conference at the Hyatt Regency, in the heart of Sydney, Australia.
The conference is the one time of year where BCS workshop owners, managers, technicians, partners and children can step out of their daily lives and come together to be inspired by Bosch and a number of key-note speakers, to learn about the future direction of the automotive aftermarket industry and speak with like-minded people who are willing to help each other improve and grow.
The 150 strong network of BCS workshops in Oceania is part of a global network of over ten thousand independent premium workshops, with each benefiting from the support provided by partnering with Bosch.
After a very funny and musical introduction by the conference MCs, The Scared Little Weird Guys, all two hundred delegates were welcomed to the conference by the Bosch Car Service National Franchise and Operations Manager – Oceania, Angelo Di Lizio, before the three-day event got off to a great start with a stimulating presentation by Bosch Australia's President, Gavin Smith.
Gavin spoke about the meaning behind the conference theme, "Commitment to Excellence," and what this means to the Bosch Car Service network, their preferred suppliers and Bosch alike.
Gavin also referenced the catchphrase "Like A Bosch" and explained how each Bosch Car Service workshop is responsible for their own change to continue future business success.
Other influential speakers expressed the importance of stimulating business growth through digital marketing, using social media and then strengthening the complete customer relationship journey from start to end with a digital platform that guarantees workshop efficiency and customer satisfaction. Both are key to customer retention and the success of acquiring new customers.
This was followed with quick learning sessions from all sixteen sponsors and exhibitors, who support the BCS network as preferred partners. Their contribution not only assists the network financially where a product or service is concerned, but also provides valuable industry insights to aid with workshop improvements that will keep workshops relevant today and moving forward.
After a tremendous first day it was time for the network to relax at the Welcome Dinner sponsored by Capricorn and enjoy seeing their friendly peers from near and far, whilst also meeting new BCS owners, with Bosch welcoming twenty new workshops into the network since the last conference.
Day two saw the Bosch Car Service workshops entertained by more inspiring speakers, including athlete Steve Bradbury (sponsored by Castrol), who is living proof that with the right attitude, anything is possible.
Thomas Winter, head of BCS worldwide, provided an informed overview of where the network is going along with key initiatives currently under development for the network. This was followed with a panel of discussions about the challenges and opportunities in running an automotive aftermarket workshop.
After a very delicious lunch feast, it was back to more learnings from Michael Wentworth from Apprentices R Us, who showed how the BCS network can drive retention and business excellence with the power of action plans and refocused strategies.
The last presentation was delivered by Tiffany Conway of the Australian Automotive Aftermarket Association.
"Be ready for the future and embrace the changes that are coming our way. The future for workshops includes more EV; changing customer needs; and a very diverse car parc. With the correct advice and unity, the BCS network will continue to grow and prosper," Tiffany said.
The final evening was held on board the Star Ship Sydney, cruising past the dazzling display of Vivid Sydney, whilst celebrating the long service achievements and successes within the BCS network at the Annual Gala Awards Dinner.
Bosch had the pleasure of presenting the following BCS long service awards, thanking the BCS for their loyalty and commitment to the BCS network.
• 10+ years: ASF Rizzo Service Station, VIC; Bentleigh Automotive Services, VIC; and General Auto Electrics Melbourne, VIC.
• 30+ years: Fremantle Fuel Injection Pty Ltd, WA; and Sydney Diesel Centre, NSW.
• 40+ years: United Fuel Injection and Turbocharger Sales and Service, WA.
• 50+ years: Diesel Services Christchurch Ltd, NZ.
Exceptional BCS workshops who achieved a 100 percent score for their 2022 quality assessment were also acknowledged, with Anzac Automotive, NZ; Auto Care Hub, WA; Berwick Automotive Specialists, VIC; BHM Automotive Pty Ltd, VIC; Great Lakes Auto Centre Pty Ltd, NSW; Macarthur Auto Electrical Pty Ltd, NSW; Mornington Automotive Specialists, VIC; P and D Autos and Bunbury Automatics, WA; Riverland Auto and 4WD, SA; Seaside Automotive, SA; Southland Bosch Car Service, VIC; Specialist Auto – Brighton, TAS; Specialist Auto – Cambridge, TAS; UK Autocare Pty Ltd, WA; and United Auto, WA all awarded Bosch Car Service Quality Awards.
Bosch also recognised BCS apprentices for their academic and workplace performances. In first place was Chelsea Bowers from John Edwards Automotive, QLD, second place went to Benjamin Lodge of Mr Brakes, VIC, while tied for third place were Marcus Loesch (Anthony's Car and Head Centre, NSW) and Jacob Newham (Bosch Car Service Mandurah, WA).
From the 20 new BCS workshops, the Best New Business – Oceania Award, sponsored by Castrol, was presented to Ian Jeffery Motors of WA, which was judged as the top workshop based on its engagement levels in the BCS programs, events, communication, training, sales, and quality.
Workshop of the Year Awards, presented by Liz Carter from Burson Auto Parts, were awarded to the highest-ranking workshops in each region for their commitment and achievement in consistently delivering high quality standards throughout 2022.
Taking out the highly coveted Ultimate Oceania – Workshop of the Year title was Specialist Auto – Hobart (TAS), while regional winners were Specialist Auto Group – Hobart (VIC/TAS), Rincap Automotive (NSW), Andrew McClure Mechanical (WLD), Belair Road Auto (SA), ID Automotive (WA) and Anzac Automotive (NZ).
"Thank you……We are thrilled to be recognised as the top workshop in Oceania. This award is dedicated to my team. It's a testament to our hard work and dedication towards providing exceptional services to all our customers," Specialist Auto – Hobart's Michael Grubb said.
Bosch explains the final day hosted one last casual brunch and final farewells, before the BCS network went their separate ways to return to their workshops, knowing that they have the backing of a strong partner in Bosch and their network of workshops that they can always depend on for advice.
Click here to learn more about joining the Bosch Car Service network.