COOLDRIVE SHINES AT AUTOCARE
CoolDrive Auto Parts showcased its dedication to the local automotive aftermarket industry at the show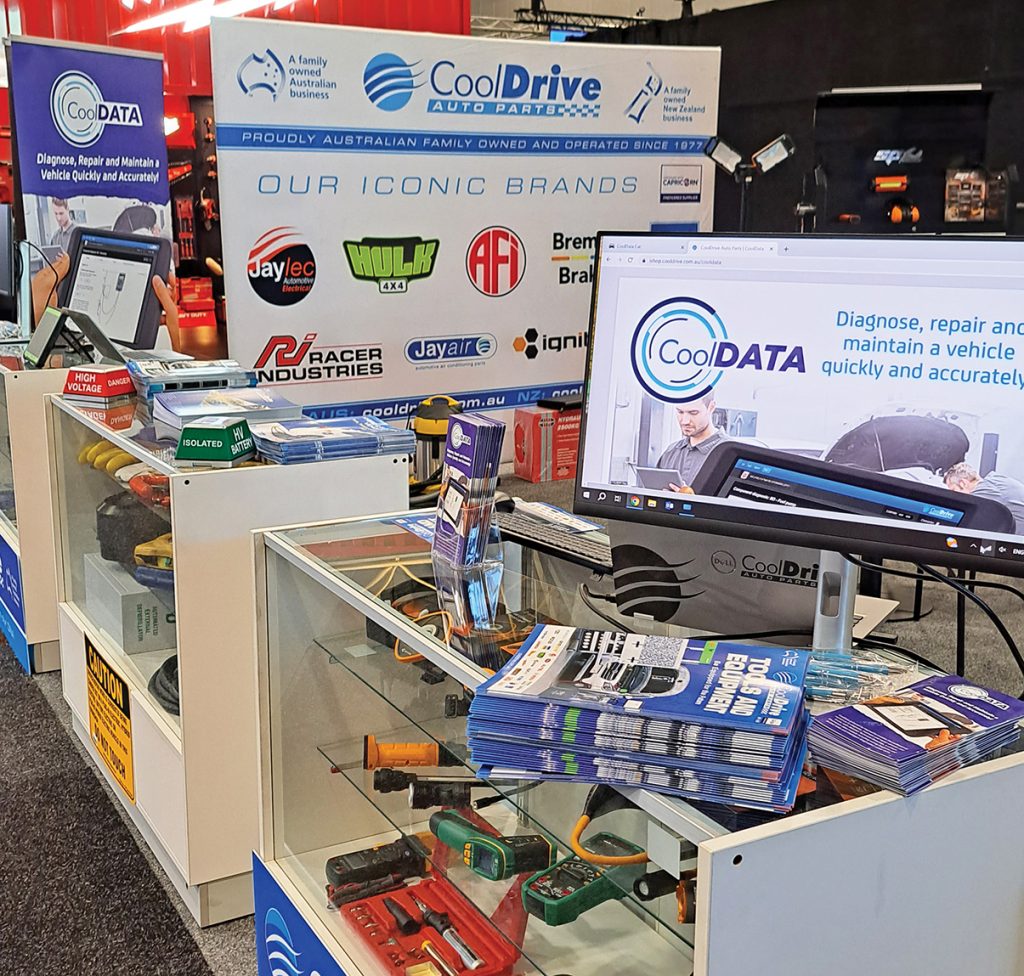 At Autocare, CoolDrive Auto Parts highlighted its comprehensive tools and equipment range and its technical training prowess.
In a nod to the evolving nature of the local automotive landscape, one of the most popular exhibits at CoolDrive's stand was one that focused on the hybrid and electric vehicle offerings available through what is one of Australasia's leading automotive aftermarket distributors.
This includes safety equipment, tools, chargers, and workshop apparel from leading brands including Bosch, Tolsen, Salisbury and Jaylec, as well as automated external defibrillators (AEDs).
Another focus for the team during Autocare was educating attendees on CoolDrive's diagnostics range, to enable workshops to diagnose and repair vehicle faults more efficiently.
Loan Bosser from GYS France was a special guest on the CoolDrive stand, discussing and demonstrating the benefits of GYS products including battery chargers and induction heating tools, along with representatives from SP Tools who showcased their workshop tool range.
"It was an incredible turnout to Autocare, Australia's largest automotive training event," CoolDrive Auto Parts Category Manager – Tools and Equipment, Matthew Douglass, said.
"The entire CoolDrive team thoroughly enjoyed connecting with attendees and fellow automotive industry personnel, to showcase our latest technology, tools, products and services.
"Attendees on the stand were also guided through CoolData, our technical resource platform, as well as the benefits of iShop and how it is a valuable tool for workshops."
CoolDrive was also proud to have members of its Technical Training Team, Clint Flower and Ken Fendle, take to the stage as presenters on Autocare's training schedule.
"The CoolDrive's training sessions hosted by Clint and Ken were very well-attended and the feedback from attendees of the sessions were incredibly positive, and we thank AAAA for providing us the opportunity to share our knowledge with the wider industry," Matthew said.
"Technical training remains a core focus for CoolDrive this year, and although Autocare has concluded, CoolDrive's commitment remains with a variety of training events currently on offer."
The 2023 Technical Training Program covers topics including Electrical and Electronics, Alternative Drives, Gasoline, Chassis and Braking, Diesel, as well as Diagnostics and Test Equipment.
Specialised training events will be held across the country and will be taught by CoolDrive's experienced team which utilises a mix of automotive industry trainers, trade teachers, dealership technicians and partnerships with industry associations.
For further information on CoolDrive Auto Parts and its Technical Training Program, visit www.cooldrive.com.au