KNIPEX TWINGRIP SLIP JOINT PLIERS
A powerful solution for damaged bolts and screws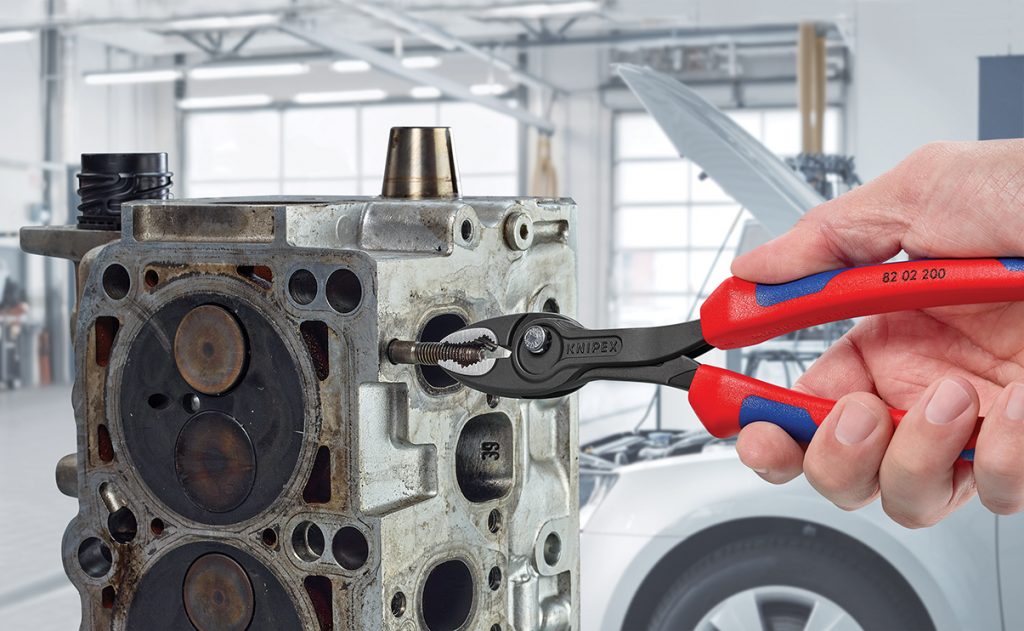 The new Knipex TwinGrip Slip Joint Pliers can be used to securely grip and reliably loosen stuck bolts and screws, even with a worn profile.
The unique design gives a Twin Grip, meaning a gripping surface with access from the front or side.
The slim, ergonomic pliers also have five adjustment positions thanks to convenient push-button adjustment, which ensures powerful gripping across the complete size range.
Thanks to the clever combination of front and side gripping functions, an extremely resilient box-joint and finely serrated push-button adjustment, the range of applications for this powerful tool is broad, with Knipex stating it will get you out of trouble when needed.
These very slim pliers with narrow turning zone for quickly tightening and loosening screws, enable powerful gripping while being ergonomically comfortable, working even in confined spaces.
The strong gripping front jaw has robust teeth and a high gear ratio at the tip of the mouth.
Serrated gripping surfaces in the pliers' axis support safe gripping from the front, while the high gear ratio allows the Knipex TwinGrip to easily grip, tighten and loosen even heavily worn screw heads.
Even flat workpieces can be reliably gripped from the front thanks to the asymmetrical pipe grip with its three-point system.
Side-gripping is just as powerful and handy with the Knipex TwinGrip – the serrated gripping hole also firmly grips round materials and hexagonal profiles in this position.
The geometry of the two-zone gripping jaws is optimised for maximum grip when loosening and tightening screws, thanks to the opposing alignment of the teeth.
A slip joint with five push-button settings can be precisely adjusted to large front and side gripping capacities for diameters and widths across flats from four to 22mm.
The push-button engages securely and thus prevents unintentional shifting. A pinch stop ensures safety against crushing injuries.
The Knipex TwinGrip is 100 percent made in Germany. Forged from chrome vanadium electric steel and oil-hardened; its teeth are also inductively hardened to approximately 61 HRC.
Tridon is the exclusive distributor of Knipex in Australia.
For the details of your nearest distributor, please call Tridon customer service on 1300 362 263.