MONROE SUPPLYING INTELLIGENT SUSPENSIONS FOR RIVIAN R1T AND R1S ELECTRIC VEHICLES
Just like Öhlins works with some of the world's most prominent manufacturers and racing teams in pursuit of exceptional suspension performance, Monroe says it continues to be at the forefront of suspension development for EVs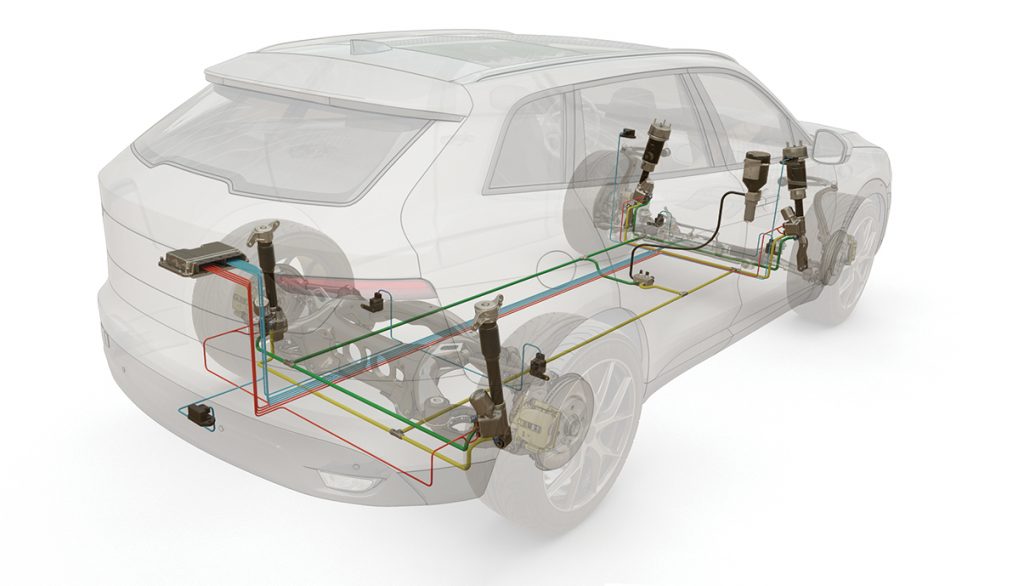 Monroe recently announced that it has been selected to provide intelligent suspension for US-based electric-vehicle manufacturer, Rivian Automotive.
Monroe's CVSA2/Kinetic H2 semi-active suspension technology, as part of the Monroe Intelligent Suspension product portfolio, will be featured in the all-electric Rivian R1T five-passenger pickup and R1S seven-passenger sport utility vehicle.
One of several electronic suspension technologies available through the Monroe Intelligent Suspension portfolio, the CVSA2/Kinetic H2 solution will be integrated with Rivian's flexible "skateboard" chassis, which also houses the vehicle's quad-motors, intelligent battery management system and other components.
Originally developed for sport and hypercar models but now also available for performance SUV and light truck platforms, the CVSA2/Kinetic H2 technology provides continuously controlled damping along with advanced, hydraulic roll control.
The suspension's Kinetic roll control system offers the driver excellent handling agility and comfort and delivers exceptional off-road performance, explains Monroe.
By eliminating the need for conventional sway bars, the technology helps reduce vehicle weight and decouples single wheel disturbances, providing better contact to the road.
Additionally, as compared to other damping and roll control systems, Monroe reports the Kinetic interlinkage concept consumes very little energy, thereby helping to extend battery vehicle range.
On June 25th, the CVSA2/Kinetic H2 technology helped carry Gardner Nichols' Rivian R1T to a new Production Light Truck record time of 11.23.983 at the 2023 Pikes Peak Hillclimb, just 17 seconds behind the unofficial production EV record set in a much lighter Tesla Model 3 in 2022.
To view the highlights of Gardner's climb in the Rivian R1T, visit the Monroe Intelligent Suspension YouTube channel.
Many vehicle brands including Audi, BMW, Ford, Infiniti, Land Rover, Mercedes-Benz, Nissan, Peugeot, Renault, Seat, Skoda, Toyota, Volkswagen, and Volvo offer models equipped with adaptive suspensions from the Monroe Intelligent Suspension product portfolio.
To ensure Australian automotive service workshops and suspension specialists have access to the most advanced replacement shock absorbers that are completely compatible with Monroe manufactured Original Equipment electronic suspension systems, Monroe Intelligent Suspension – RideSense was launched in 2020 and continues to grow.
Monroe Intelligent Suspension – RideSense shock absorbers connect directly to a vehicle's Electronic Control Unit (ECU).
The ECU sends the shock absorbers vehicle performance data, including acceleration, body displacement and steering angle.
Each RideSense shock absorber then uses this data to adapt its compression and rebound force settings within ten milliseconds to provide superior handling, comfort, and vehicle safety by ensuring constant tyre to road contact.
Featuring a host of Monroe leading-edge technologies including highly advanced valving, Monroe says these new shock absorbers ensure the continuation of an "as new" driving experience for motorists driving vehicles fitted with Monroe developed Original Equipment electronic suspension systems.
Monroe also explains that it provides its industry leading five-year product warranty on all RideSense shock absorbers.
For more information, visit www.monroeintelligentsuspension.com, the Monroe Intelligent Suspension YouTube channel and www.monroe.com.au/products/monroe-ridesense
MONROE SUPPORTS DRIVER SAFETY AND GROWS YOUR SUSPENSION BUSINESS
Monroe says it is committed to ensuring your business can service and repair Australia's broad variety of makes and models
It says it does this by providing the latest in ride performance technology, alongside what it describes as this country's largest range of general passenger, commercial/heavy duty, 4WD and SUV model ride performance replacement products.
An important vehicle safety factor that tends to be overlooked is the checking of worn shock absorbers.
According to independently sourced market statistics, Monroe says the current Australian industry standard for shock absorber replacement is eight out of every 100 vehicles serviced or inspected.
Based on known shock absorber wear rates and national averages for annual distances travelled, it is clear from these suspension replacement statistics that not enough vehicles are being checked for shock absorber wear.
If your workshop's shock absorber replacement rate is low, then your customers' vehicles may not be in the safest condition possible, and you are missing out on shock absorber replacement business.
All too often, many customers only learn their shock absorbers need replacement when something has gone terribly wrong.
By informing your customers of the increased emergency stopping distances, reduction of steering response and excessive tyre wear effects of worn shock absorbers, you are assisting them to make sensible and highly responsible vehicle maintenance decisions.
When you select Monroe, the brand says you are selecting the peace of mind that comes with more than a century of engineering in every shock absorber, and a global manufacturer who backs their quality "Built To Last" promise with a five year Monroe OE Spectrum range warranty that it says is "unrivalled by any competing ride performance products."
As most motorists rely on their mechanic's opinion in relation to the replacement of shock absorbers, Monroe says your reputation for providing total customer care can only be enhanced with Monroe's industry only five-year warranty, with every set of Monroe OE Spectrum shock absorbers fitted.
For more information, visit www.monroe.com.au