NARVA LAUNCHES POWERFUL NEW SUREFIT GEN II LED GLOBES
Offering 5000 Lumens per pair of crisp white light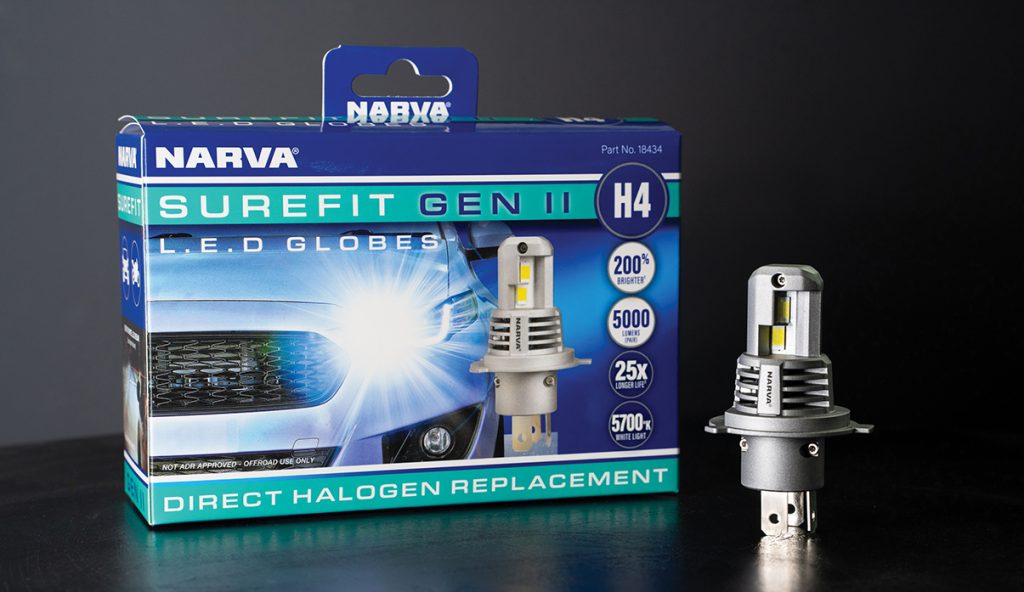 A powerful new range of LED headlamp globes is now available from Narva, providing a major increase in light output particularly for vehicles fitted with older halogen globes.
A key benefit of the new Surefit GEN II LED globes is that they feature the same dimensions as the halogen globes they are designed to replace, ensuring easy and hassle free installation in the workshop or for owners who prefer to DIY.
The Surefit GEN II LED globes offer an impressive 5000 Lumens per pair of crisp white light (5700°K), which more closely resembles daylight, reducing eye fatigue especially for owners who spend long hours driving at night or in low light conditions.
Another impressive feature of the new range is its precise beam cut-off, which ensures sharp cut off on low beam applications, directing the light to the road where it's most needed and reducing stray wasted light.
When high beam is engaged, Narva says the globes also offer increased beam width and distance combined with an extremely even pattern.
Lighting performance aside, Narva says a further area where the Surefit GEN II LED globes excel is in their longevity and reliability.
The globes feature a reinforced housing with no filament and are equipped with low-draw LEDs which produce less heat.
An in-built IP65 rated fan also assists cooling, and together Narva says this delivers an operational life that is up to 25 times higher than halogen counterparts.
Suitable for many car, motorcycle and truck models, the new globes are available in a range of fitments: H4, H7, H8/9/11 and HB3 for standard headlights and H7 for projector style headlights.
Narva's new Surefit GEN II LED globe range is backed by a three-year warranty and is EMC-approved, ensuring no radio interference when in use.
The globes are available from leading automotive, four-wheel-drive and transportation outlets nationwide.
Narva is Australian owned and is a leader in the development, manufacture and supply of automotive lighting and electrical components for the automotive, marine and transport industries.
For more information, visit www.narva.com.au