NEW BUILD FROM SIX WHEELER CONVERSIONS
The highly awaited Next-Gen V6 Ranger from Six Wheeler Conversions is ready for testing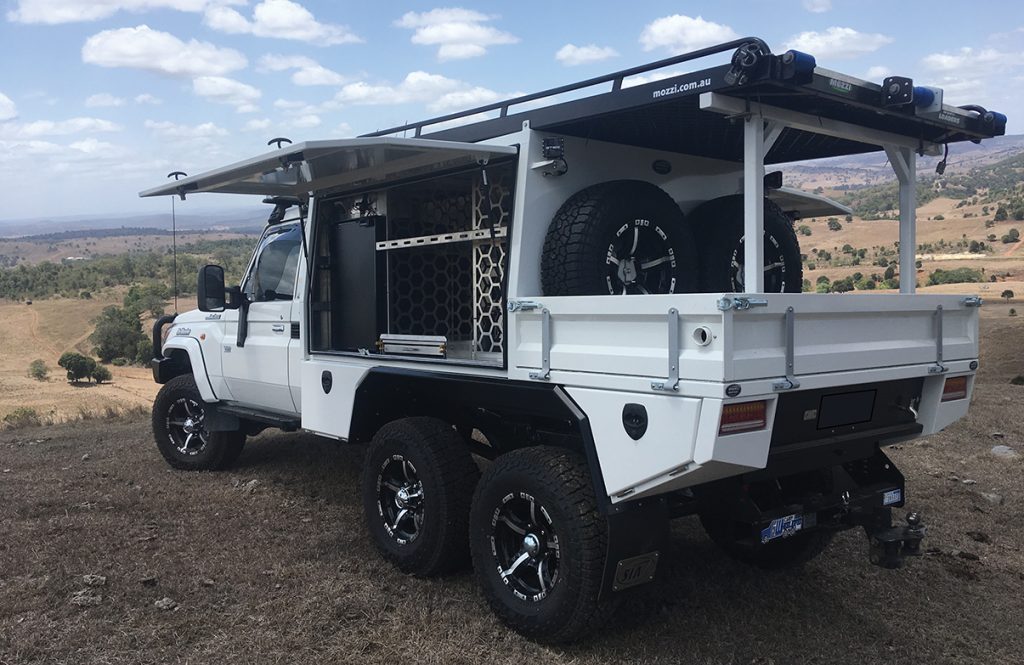 Six Wheeler Conversions, of Toowoomba in Queensland, reports it has completed some preliminary off-road testing of its Next-Gen V6 Ranger conversion at GVMs of around 4,500kg and 5000kg and states the results are impressive.
Six Wheeler Conversions says this modified Ranger workhorse will be available with two GVM options: 4495kg (NB1), and a light rigid (NB2) version, which will be just under 5000kg, and states that the new Amarok conversion should follow soon.
The company states that these new models will be a great addition to its current crop of conversions, which includes Landcruiser (79 and 200 series), D-Max, BT-50, Hilux, PX series Ranger, Amarok and some others.
These conversions are designed with leaf springs for simple practicality and utilise a braked, undriven "lazy" axle to convert 4x4s to 6x4s.
However, Six Wheeler Conversions explains that "lazy axle" seems a bit of a misnomer, stating that "with the vastly improved stability and weight distribution from Six Wheeler's unique 60:40 load share suspension and increased footprint and braking, the third axle is really anything but lazy."
"These conversions typically provide better stability and comfort than four-wheeled GVM upgrades, with a much lower build and maintenance cost than the 6×6 conversions offered by other providers," Six Wheeler Conversions Director, Mike Briggs, said.
"With 60 percent of the rear axle group load being carried by the rear drive axle and a healthy range of rear suspension articulation, these vehicles also retain very respectable offroad ability, compared to the original 4×4 variants."
A Queensland family business, the first Six Wheeler Conversion rolled out of the shed more than 37 years ago.
"We continue to provide strong workhorses with massive GVM (up to 5800kg) and GCM (up to 9300kg) options for a wide range of applications, from slide-on campers and caravanners to commercial, industrial, mining and fleet," Mike said.
"Six Wheeler has also launched a remote installation/reseller program, with installation kits able to be shipped to selected installers in Australia and overseas. The Six Wheeler Landcruiser 79 conversion package is even being utilised to build armoured vehicles in South Africa."
Six Wheeler Conversions is now looking for installers and resellers around Australia.
"If you have a well-equipped vehicle modification workshop with skilled, qualified welders and you're looking for a head-turning product with healthy product margins and a drawcard to sell complete vehicle fit-outs – with many Six Wheeler customers also opting for plenty of other accessories including trays, water tanks, long range fuel tanks, towing mirrors, brake controllers, and so on – or if you want one of these awesome conversions for yourself, get in touch to find out more," Mike said.
For more information, visit www.sixwheeler.com.au or contact 07 4662 5424 or sales@sixwheeler.com.au