SUPERPRO RELEASES WORLD-FIRST SOLUTION
SuperPro is tackling tyre wear on late model D-Max, MU-X and BT-50 vehicles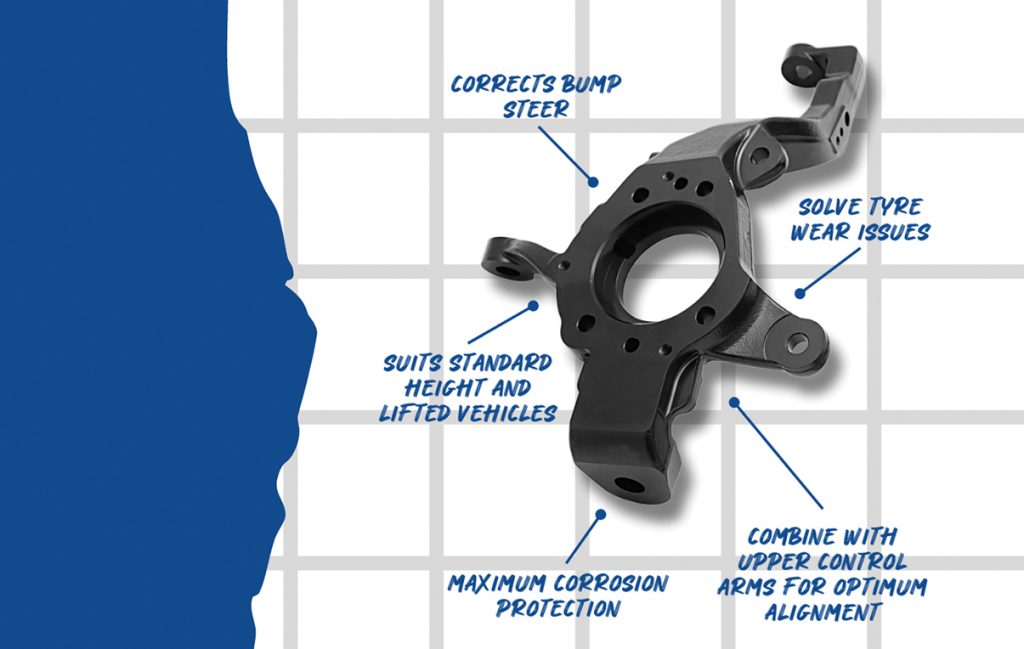 Late model Isuzu D-Max, MU-X, and Mazda BT-50s are commonly known to suffer from bump steer issues resulting in excess tyre wear, explains SuperPro.
The issue presents itself in standard height vehicles and becomes more prominent as you lift them or add additional weight, like accessories.
SuperPro says that prior to now, regular wheel alignments were the only tool available to owners to mitigate some of the excess tyre wear.
Now however, SuperPro says it has developed a world-first solution for the D-Max, MU-X, and BT-50, that when fitted to a standard height vehicle, is said to reduce bump steer almost entirely.
The new Steering Knuckle (TRC6680) bolts straight into the original mounting points in the vehicle and has been e-coated for ultimate corrosion protection.
Bump steer is the change in toe in or toe out as the ride height of a vehicle changes.
This occurs constantly while driving as a vehicle oscillates over bumps in the road. This movement is amplified by increased weight from towing, heavy loads, accessories, or when a suspension lift has been fitted.
An excessive amount of bump steer is known to cause premature tyre wear.
The SuperPro steering knuckle relocates the outer tie-rod pickup point to optimise the steering geometry of the vehicle, reducing the amount of bump-steer at a range of ride heights.
When fitted to a lifted vehicle, the steering knuckle reduces overall bump steer by around 75 percent.
This figure is reduced by a further 10-15 percent when combined with fixed upper control arms. When the knuckles are installed in a standard-height vehicle, bump steer is reduced to almost zero, says SuperPro.
Michael Sargent – Store Manager at Fulcrum Capalaba – worked closely with the SuperPro research and development team to test fit the product.
"We've seen a drastic improvement in the vehicles we test-fitted the steering knuckle to," Michael said.
"To say word spreads quickly is an understatement. We've got a backlog of people who want them fitted to their D-Max; yesterday.
"Now that the product has been officially released, we can get those customers booked in and fix the bump steer problems they've been having.
"I think people are fully aware how much the excess tyre wear is costing them every year and they want it fixed as soon as they can, especially with increased cost of living pressures."
The SuperPro steering knuckle is available to purchase through www.fulcrumsuspensions.com.au and local SuperPro stockists. Professional fitment at a suspension service centre is advised.
For further information, visit www.superpro.com.au or call 1800 385 278.
Trade customers should please contact 1300 360 922.