SUSPENSION UPGRADES FOR TOYOTA LANDCRUISER 300 SERIES
Pedders has a range of upgrades to suit this popular vehicle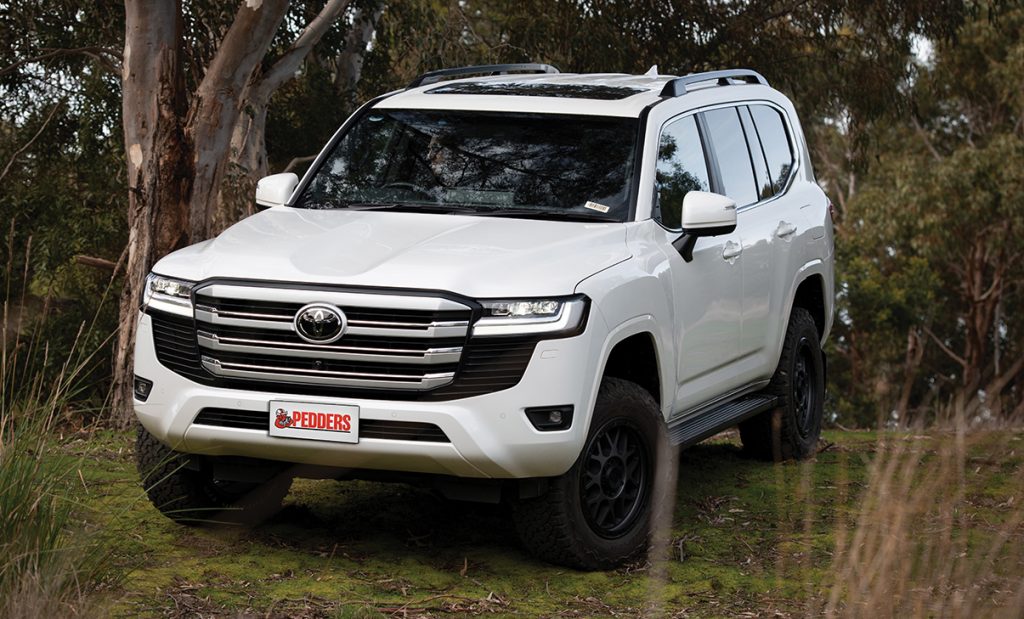 Pedders Suspension and Brakes recently launched an extensive range of suspension upgrade parts to suit the new Toyota LandCruiser 300 Series.
It says the LandCruiser 300 Series sets the benchmark for 4×4 passenger vehicles when it comes to towing, off-road performance, and general touring capabilities.
Pedders aims to enhance these characteristics through its new range of upgrade parts which are now available Australia-wide via Pedders outlets.
After significant testing and development, Pedders says it has raised the bar by offering one of the largest ranges of suspension lift kits available to suit the new 300 Series.
The 300 Series range starts with 30mm and 50mm raised height coil springs, available in regular, or heavy-duty form for those vehicles equipped with heavy accessories.
Pedders is also offering three levels of constant load raised rear springs at 200kg, 400kg and 600kg. Regular height levelling springs are also available to suit vehicles equipped with bull bars and heavy accessories.
The Pedders range also features three types of shock absorber to meet all customer requirements. The range starts with Pedders 4×4 Gas Shock Absorbers, then steps up to the premium Foam Cell Shock Absorber.
The Pedders Heavy Duty Gas Shock Absorber is also available to match the Heavy Duty coil spring options – designed for vehicles that regularly tow or carry heavy loads.
Those 300 Series LandCruisers that are used for towing duties can also benefit from a range of Pedders AirAssist air bag suspension kits which are now available.
Pedders AirAssist comes in three height levels to suit standard, 30mm raised and 50mm raised vehicles – and each kit is available in heavy-duty form for those carrying heavy loads.
Pedders also offer a GVM+ Upgrade Kit, meticulously designed to offer superior durability and a significant suspension performance boost when carrying heavy loads – taking the certified GVM Rating of the 300 Series to 4090KG. The kit includes robust components, all backed by a Pedders Two-Year/40,000kms Nationwide Warranty.
The kit includes heavy-duty springs, Foam Cell Shock Absorbers, and upper control arms specifically tailored to the LandCruiser 300 Series.
With 40-plus part numbers released, and more in development for the 300 series, Pedders invites you to come and talk solutions at your nearest Pedders Store.
For more information, visit www.pedders.com.au