TOW IT RIGHT
The right suspension set-up can make all the difference when it comes to towing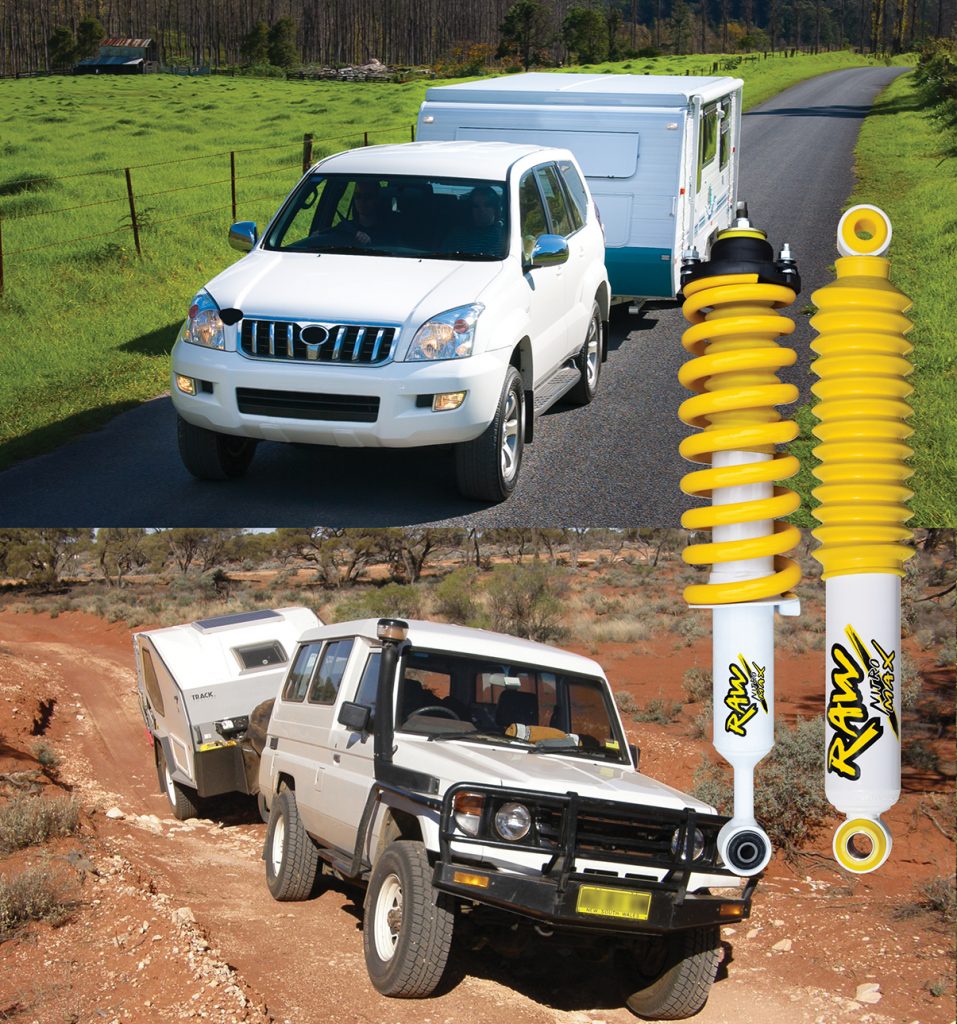 Caravanning and camping are a favourite past time for many Australians.
If they are to get the most out of their journeys however, it is crucial drivers get it right when it comes to their vehicle's towing capacity and capability.
Raw 4×4 says its team knows that towing changes the dynamic performance of a vehicle in terms of handling and braking performance.
It explains this means that compromises need to be made to balance the load carrying ability of the vehicle when towing, versus the comfort levels for everyday driving.
Setting up a vehicle for the occasional towing of a boat or caravan can result in a harsh and uncomfortable ride, and lead to the vehicle sitting too high.
It says this is why a clear understanding of the load being towed and how often this will occur, will assist in putting the best towing package together.
Raw 4×4 explains that a clever selection of spring type and damper technology can significantly improve vehicle handling and ride comfort for both loaded and unloaded conditions.
Raw 4×4 states it has a full range of coil and leaf springs designed with multi stage or progressive rate spring rates at various weight ratings to improve the weight carrying ability of the tow vehicle.
To further complement the suspension range, a tiered offering of shock absorbers and struts are matched to the suspension components to improve the ride and handling of the vehicle.
For towing, the Powerdown engineering team highly recommends the Raw Nitro Max shock absorber range, that is based on Powerdown's innovative truck shock absorber technology.
It says this design has proven itself over millions of kilometres and with a precision tuned speed sensitive disc valve design, it delivers the ultimate amount of control for towing, without sacrificing a comfortable ride.
Raw 4×4 explains that its engineering team is dedicated to researching and developing shock absorbers and suspension components using some of the most advanced testing facilities in Australia, including one of the largest dynamometers in the country, to accurately measure the dampening capabilities of a shock absorber.
Raw 4×4 invites you to contact its team for assistance in putting together a suspension package specifically for your customers' requirements or visit the RAW 4×4 kit builder to build your own package.
For more information, visit www.raw4x4.com.au