ACS RELEASES NEW SINGLE MASS FLYWHEEL KITS
For BT-50, D-Max and Hiace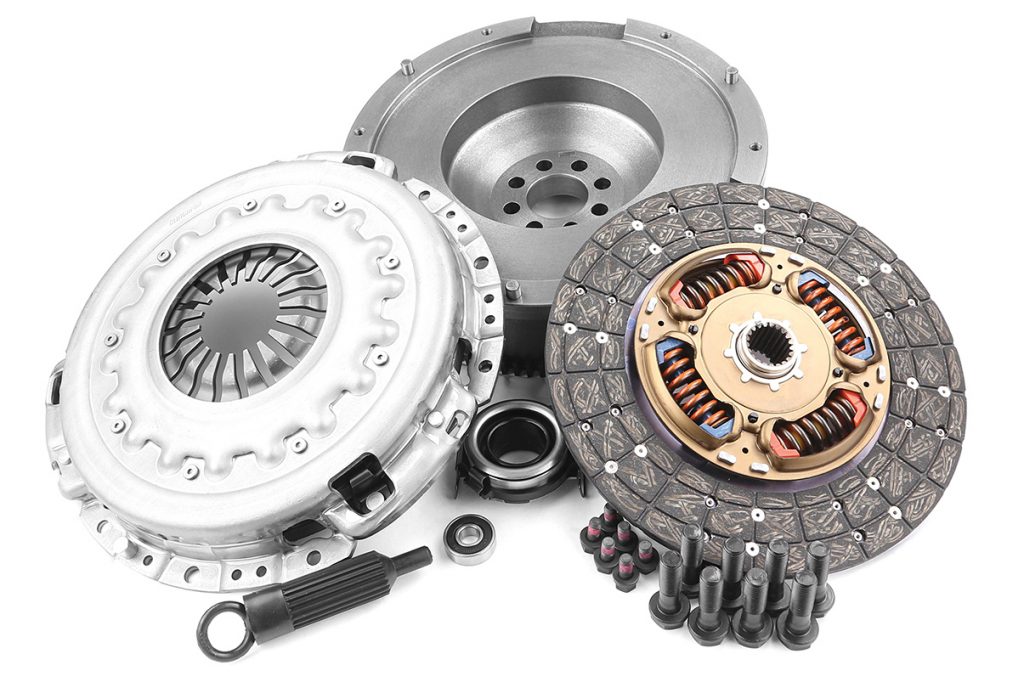 Australian Clutch Services has recently released a new range of standard and heavy-duty single mass flywheel conversion clutch kits for the 2020-on Mazda BT-50/Isuzu D-Max 3.0L and the 2019-on Toyota Hiace 2.8L.
These new kits are offered under the ClutchPro (Standard) and Xtreme Outback (Heavy Duty) brands and are available now through ACS' nationwide distributor network.
The new clutch kits for the 2020-on Mazda BT50 and Isuzu D-Max 3.0L have been designed as direct fit replacements.
The ClutchPro kit offers a single-mass flywheel conversion for improved strength and reusability along with a wide-angle damper organic friction disc which has been integrated to minimise the increased noise, vibration and harshness (NVH) that is often introduced by a reduction in dampening when converting from a dual mass style flywheel.
The kit comes complete with everything required for installation including flywheel bolts, pressure plate bolts, release bearing, spigot bearing and alignment tool.
ACS explains the new Xtreme Outback alternate for this kit offers all the kit inclusions found in the ClutchPro kit whilst increasing the clamping force by 35 percent, which it says is ideal for modified vehicles that require a higher torque holding capability.
"Our single mass flywheel conversion kits for the Mazda BT-50 and Isuzu D-Max help to fill a gap in the market for our distributor network who are seeing increased demand for these products," Australian Clutch Services Sales Manager, Colin Jevons, said.
"Like all ACS products, these kits have been through an extensive development process to ensure excellent performance and quality and we are proud to bring these exciting new kits to the market for such popular vehicles."
The new ACS Hiace single mass conversion kits also fill a gap in the market for these highly demanded products.
"Our standard replacement and heavy-duty clutch options for the previous generation Hiace models have always proven popular in the market," Colin said.
"With these vehicles being used for trade purposes and often having very high mileage under tough conditions, the opportunity to change to a single mass flywheel is a popular option and combined with our Xtreme Outback heavy-duty upgrade, we expect this to be a very popular option for our customer base."
Each kit for the Hiace comes complete with flywheel bolts, release bearing, pressure plate bolts, spigot bearing and alignment tool.
ACS explains these kits also integrate a wide-angle damper disc to minimise the changes to NVH and the Xtreme Outback upgrade offers an additional 18 percent clamping force for those using the vehicles for towing heavy loads regularly.
"Each of our new kits are offered as complete clutch solutions with everything required for the installation in one box," Colin said.
"We put a lot of work into ensuring that all of our ACS clutch kits, whether it is our standard replacement ClutchPro range, truck and bus ClutchPro Commercial range or our Xtreme Clutch and Xtreme Outback performance upgrades, are available as a complete clutch kit with all of the accessories the installer may need for ease of installation and to offer maximum durability to the new clutch."
ACS is a specialist in standard replacement and performance upgrade clutch components and systems.
A part of GUD Holdings Limited, ACS is the parent company of leading brands ClutchPro, Xtreme Clutch, Xtreme Outback, ClutchPro Commercial, AG Clutch and Classic Clutch.
Operating for more than 30 years, ACS is based in a purpose-built warehouse in the industrial hub of Adelaide, incorporating Manufacturing, Research and Development, Sales and Service, Warehousing, and Distribution into the one facility.
For more information, please visit www.australianclutch.com.au or call 1800 CLUTCH.