ENGINEERING FOR EXCELLENCE
MEYLE HD solves Tesla noisy control arm issues
The effort that goes into creating one of the world's most technologically advanced electric vehicles is staggering, and the engineers at Tesla who developed the Model 3 and the Model Y should be proud.
However, they also should tip their caps to the engineering team at MEYLE HD that has made these cars even better, says MEYLE HD Head of Steering and Suspension, Stefan Bachmann.
"Electric vehicles such as Tesla's Model 3 and Model Y offer the promise of relaxing, noise-free driving. When those expectations are instead greeted with an annoying squeak and irritating creaking noise, however, drivers are quick to complain," Stefan said.
Without engine sounds to mask it, suspension noise from the upper control arms can be amplified throughout the passenger cabin.
Stefan explains that today, more than 700,000 Tesla vehicles worldwide are affected by the issue, which can make these vehicles sound and feel more like an old Conestoga wagon than the cutting-edge vehicles they are.
The problem is simple enough to identify: the water channels from the Tesla windshield drain directly onto the control arms on the left and right front corners of the vehicles.
Because the OE control arms are a plastic and steel composite component, and had been designed with insufficient moisture protection, the plastic overmold can crack or delaminate, causing water to seep into the ball join – eventually impacting the lifespan of the part and, in rare cases, compromising steering precision.
Re-imagining an OE Control Arm
The solution was more challenging, says Stefan, who states the only chance to solve the leakage and noise issue of this Model 3 OE control arm was to re-develop a completely new version of it.
The MEYLE engineering team produced a prototype with a new design and performed sound development work. Unlike Tesla's original control arm, MEYLE's control arm is made from high-strength, forged aluminum, which reduces weight and increases stability.
The ball joint itself has a larger diameter than the original part and can distribute forces across a bigger surface, which is essential for a durable spare part, considering the large and frequent loads the high-performance vehicles are exposed to.
But more importantly, the design forgoes the use of crimping, which prevents water from penetrating the HD control arm and thus eliminates the source of the squeaking sound.
"Being able to hold the first prototype in our hand after having identified a weakness, looking into the causes and performing development and engineering work and countless tests is a special moment for us every time – especially for a premium car like a Tesla. After all, moments like these are precisely why we do our best every day," Stefan said.
"In general, MEYLE and its Engineering Team are always focusing on supporting the parts distributor, the repair facility and, not least, the end consumer in trying to find the best possible or smart solution for a repair job on any steering and suspension system.
"In some cases, as with the Tesla control arm, we cannot provide a single solution to avoid changing complete assemblies.
"On the other hand, for some applications, we have bushing kits for front and rear axles in our portfolio. Instead of changing the complete control arm or rear axle beam, the technician can use our single bushings.
"These kits include special mounting material needed for each repair job and are one of our strongest moving products when it comes to smart repair solutions.
"Those aftermarket solutions are sometimes critical, because the OE doesn't always get things right the first time. This is normal and can happen, as we experienced with the Tesla Model 3 control arm for example.
"What we see in the market at the moment is that a lot of the OEs use conventional combustion engine steering and suspension components like rubber or hydraulic bushings on their first electric vehicles although they are actually made for combustion engine vehicles.
"Due to the higher weight of the E-cars, these bushings – or the suspension components in general – tend to fail quickly, especially through braking and accelerating."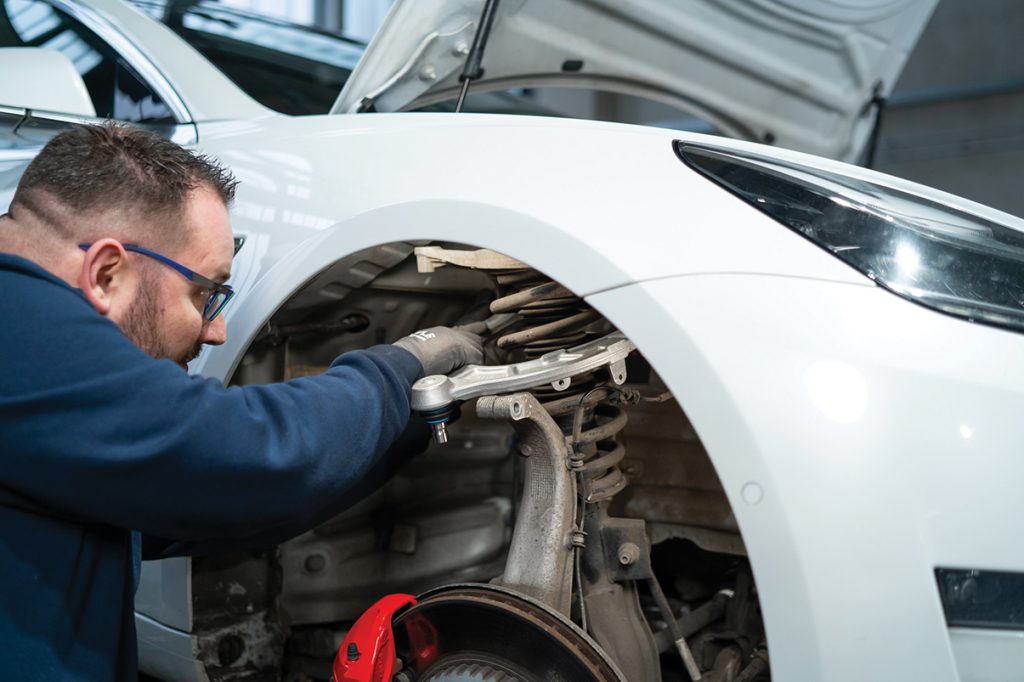 HD = High Durability
MEYLE states that its engineering expertise in all aspects of noise, vibration and harshness allows MEYLE HD to address the misunderstood challenges in servicing today's vehicles with appropriate solutions.
"Another aspect that is often misunderstood is that the name MEYLE HD does not stand for heavy-duty – it means high durability," Stefan said.
"This means that, in addition to solving the strength demands of the vehicle, we take care of the comfort offered by the parts – not only steering and suspension, but also brakes, strut and top mounts and transmission.
"Based on our history, which actually started in South America where our founder discovered a lack of spare parts in this region for his own race cars, we have 'better spare parts' solutions in our company DNA.
"We offer these parts to the market with a four-year warranty (www.meyle.com/guarantee) and without any limitations.
"We feel this warranty fully belongs under the umbrella of sustainability to help the people keeping the cars rolling longer on the streets, because it is more sustainable to keep an existing vehicle going instead of buying a new one.
"We take sustainability quite seriously, that is why our MEYLE HD steering and suspension parts have been the first climate-neutral product range in the independent aftermarket since June 2022. To go even one step further: our company plans to be climate-neutral with its full line of products by 2030."
Different needs, different solutions
MEYLE says it takes care to keep vehicles as quiet as possible, offering a wide array of steering and suspension parts for fully Electric vehicles as well as Hybrids.
The MEYLE eSolutions portfolio carries 1,500 parts, 600 of which are steering and suspension parts especially for electric vehicles.
It has also developed solutions for many of the world's most popular vehicles, from Asian car brands to European brands and, of course, specifically German brands.
In total, MEYLE offers more than 1,600 HD products in the field of steering and suspension, drivetrain and cooling, as well as continuing to engineer solutions for race cars.
For more information, visit www.meyle.com or contact local distributors, Repco and Welch.