TERRAIN TAMER: LEADERS IN AUSTRALIAN INNOVATION
Fifty-five years is a long time to have been facing the challenge of designing, manufacturing, exporting, and improving on automotive spare parts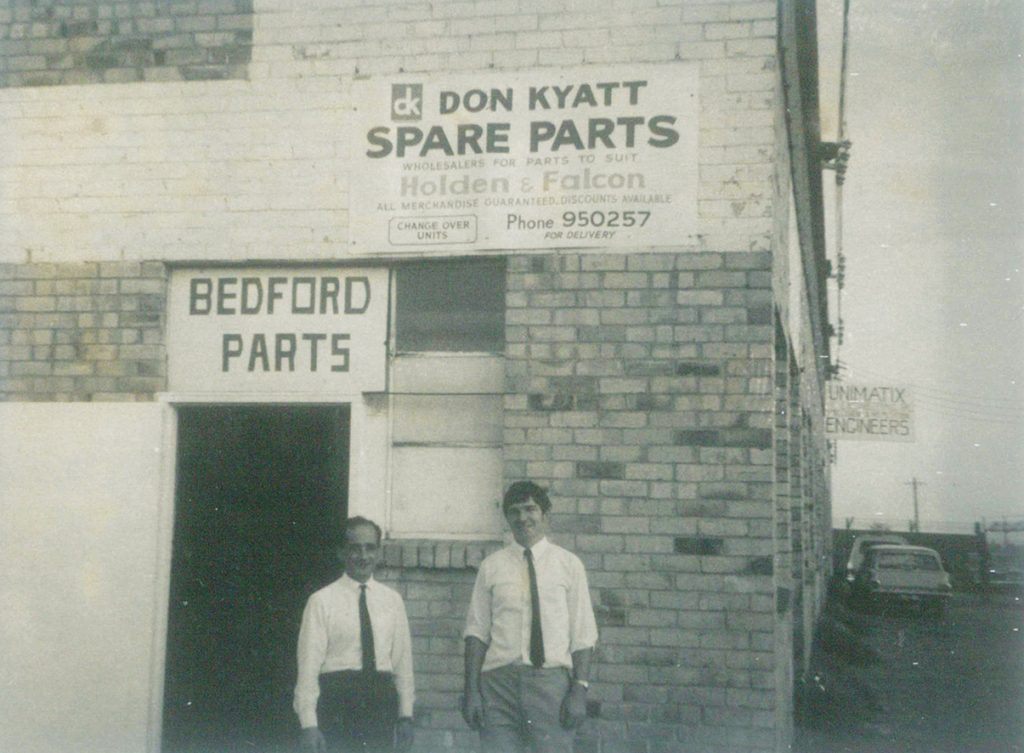 Don Kyatt Spare Parts have been doing just that through its Terrain Tamer 4WD brand since its beginnings in 1969.
In the company's early years, Managing Director Frank Hutchinson recognised the need for strong, durable parts, when he met tour operator Bill King, who pioneered tour groups through the outback in the 1970s with Bill King's Northern Safaris, and eventually formed what is today known as AAT Kings.
If Bill ever experienced breakages and needed a service or replacement parts, and he did with most trips through Australia's harsh and unforgiving outback, he would come straight to Don Kyatt Spare Parts.
He liked the service there and Frank was able to provide him with parts that would not only fit his vehicles, but last the distance.
From there, Terrain Tamer's journey began – not only supplying standard replacement parts, but researching, designing, testing, and manufacturing 4WD parts that are equal to or stronger than their original equipment equivalent, finding practical solutions to the common problems that customers like Bill would report.
Such solutions included increasing the strength of the Toyota Landcruiser 79 series gearbox by up to three times, with a specially designed input shaft – one of Terrain Tamer's earliest innovations to improve on its OE counterpart.
"No-one was really improving on parts back when we started," Frank said.
"I had mentioned the idea to many people and was always met with the same reply – why would you? Genuine was the pinnacle and they were not interested in fixing what they didn't think was broken, but so many of these parts just weren't standing up to what they needed to do."
As 4WDs have increasingly become the vehicle of choice for industries and drivers, the problems that Frank assisted Bill King with all those years ago have now become the problems of mine operators, cattle station owners and drivers around the world, constantly presenting Terrain Tamer with new parts to modify and new challenges to solve.
With this, Terrain Tamer's innovations have also evolved to address the challenges of the modern 4WDriver and industries like mining, where vehicles work all night and day in extremely harsh conditions, and the constant maintenance of vehicles comes at a considerable expense.
The most recent of these innovations comes in the form of the Terrain Tamer Fortified Plus Clutch Kits, which come several years after the release of the brand's original Fortified Clutch range, and extends on the company's existing catalogue of standard replacement and heavy-duty clutch kits.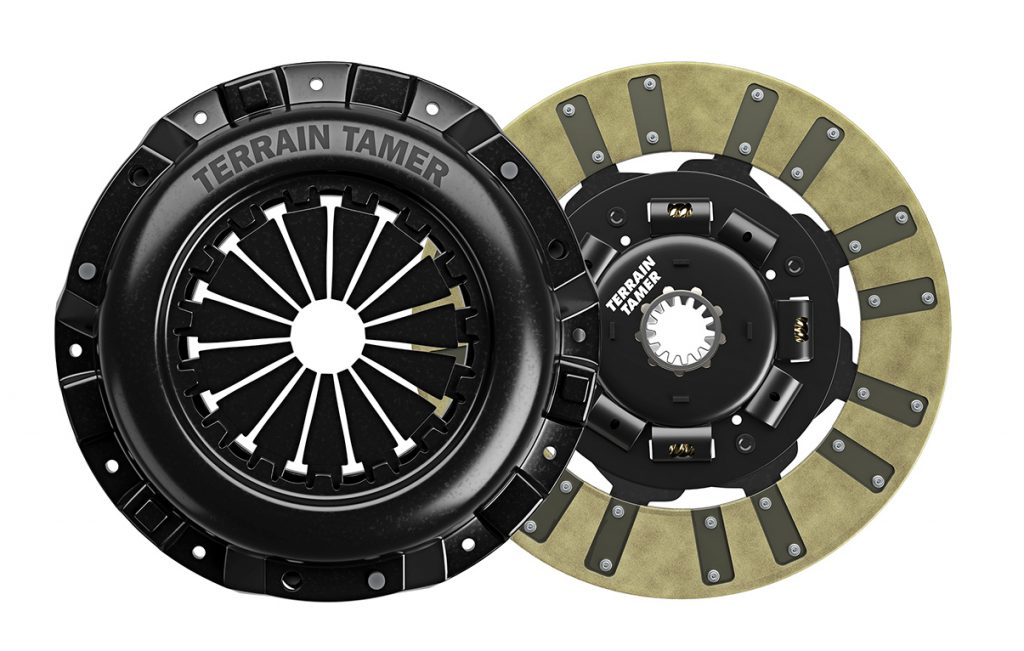 Following the company legacy of producing stronger, improved parts, the Fortified Plus clutch was purposely designed with the extreme weight and engine capacity of armoured vehicles in mind.
It offers up to an impressive 80 percent increase in torque capacity, making it perfect for vehicles with GVM upgrades, where the clutch is often the weakest point; or for those carrying extremely heavy loads or with increased power from upgrades such as chips, aftermarket exhausts and turbos.
After many years of developing and testing a variety of designs and friction materials, the Fortified Plus Clutch range employs exclusive Terrain Tamer tooling, and all components have been made in Japan – including an innovative clutch disc design that utilises Clutchtex Kevlar material on both the engine and transmission facings, to combat shuddering, a technology not previously used in the 4WD industry.
This Kevlar compound offers a significant increase in strength, and a longevity of up to two to three times the OE counterpart, paired with smoother engagement and a softness that ensures the flywheel and pressure plate remain unmarked.
This design also features an increase in damper spring capacity, friction material coefficient and the burst strength of the facing. Where applicable, it also features a three-stage damper design.
The Fortified Plus Clutch cover assembly is anodised for maximum corrosion resistance and features a spheroidal graphite anti burst pressure plate casting in order to both assist in the extended life of the clutch, and allow it to run cooler in extreme situations. It offers higher clamp loads and additional drive straps for strength, where required.
Possibly the most notable example of Terrain Tamer's ground-breaking releases in recent times, however, has been its 4WD Parabolic Leaf Springs, which have been attracting positive attention for their truly innovative nature in the category, ever since their release in 2018.
Containing fewer leaves than standard leaf packs, the springs get their name from their tapered 'parabolic' design, which is thicker in the centre and thinner toward the ends, rather than the usual linear style.
This design directly addresses the issues that come with traditional leaf packs being thick, heavy, and clunky; essentially adding to the weight of vehicles that are often dangerously close to their GVM limit.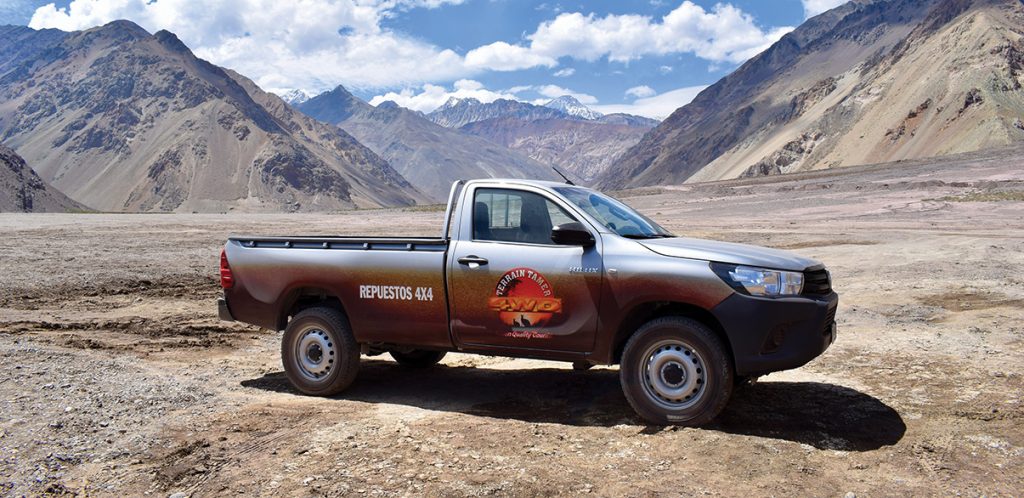 Traditional leaf springs can also be uncomfortable, loud and can create a safety issue, offering little to no flex when a driver hits a bump, or finds themselves in a rough offroad situation, with the rigidity of the pack causing the opposite wheel to lift and lose traction, effectively endangering the driver.
Essentially, Terrain Tamer Parabolic Springs use new technology on an old trucking design idea to provide a quieter, more comfortable ride with a strength not afforded to traditional springs.
Reducing the unsprung weight of the vehicle not only frees up the weight needed for practical use, but also acts to create a quieter and more comfortable ride when the vehicle is unloaded, addressing the varying and ever-changing applications that the modern day 4WD is used for and ensuring it is comfortable whether empty or loaded.
Additionally, the flex afforded with a Parabolic Spring allows it to give a little, allowing the differential housing to rotate with the springs and effectively providing a smoother ride.
This reduces the shock transferred to the crown wheel and pinion, stopping the wheel from spinning, and maintaining safety and drive.
Terrain Tamer states the same force with a standard leaf pack would almost certainly cause more shock to the vehicle and driver.
Terrain Tamer says its Parabolic Springs have become so popular and widely praised that the range has been expanded, on request, to include Heavy Duty, Extra Heavy Duty and Armoured versions, for vehicles such as those used in military and mining applications requiring a load of up to, and in some cases upward of 700kg.
Similarly, Terrain Tamer's Heavy-Duty Wheel Bearing Kits were specifically designed and manufactured to extend the service life of wheel bearings in vehicles used for heavy towing or operating in extreme conditions.
It is not unusual to find evidence of heavy contamination during a wheel bearing service. Operation in sand, water, and dust or with unsuitable lubricants can dramatically shorten the life of a good quality bearing and lead to the replacement of bearings, seals, grease, or even spindles and housings.
It is costly, messy, and time-consuming, but needs to be done to ensure safety and reliability. In response to this, Terrain Tamer developed Heavy Duty Bearing kits.
These include all components for a wheel bearing overhaul, such as gaskets, nuts, gear lever seats and bushes, boots, washers etc, but more importantly, they come with two major Terrain Tamer innovations, utilising exclusive tooling.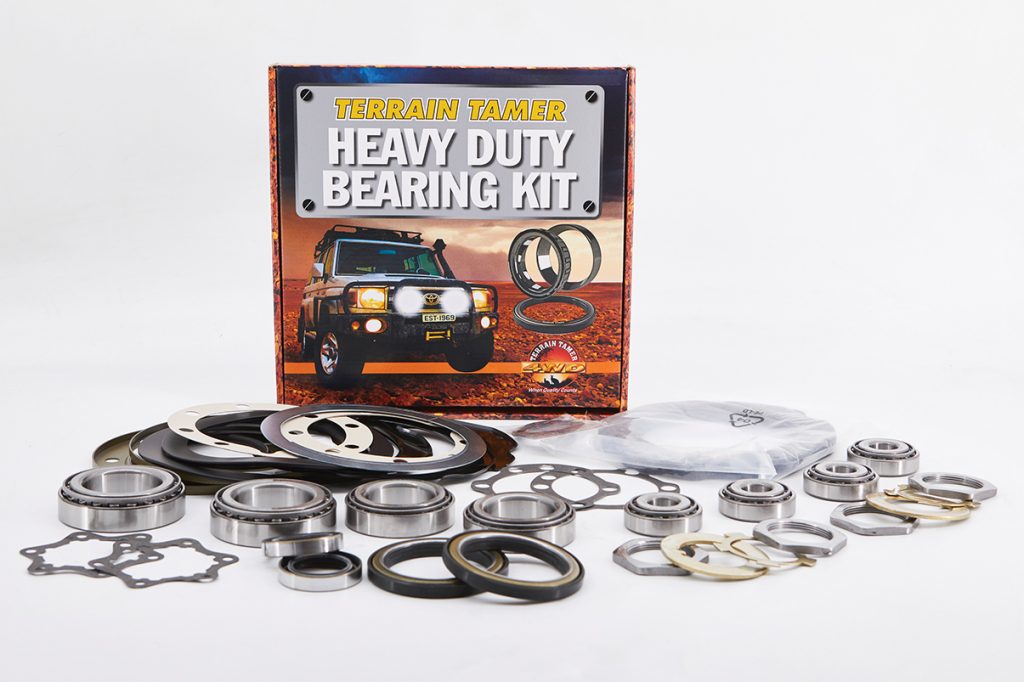 The first of these is a Heavy-Duty hub seal which rotates on its own internal surface, without relying on the condition of the shaft and thus eliminating wear on components that would prove expensive to replace.
Again, taking inspiration from trucking, the seals utilise a labyrinth construction with four sealing surfaces, to better prevent the loss of oil and lubricating fluids and better protect against the ingress of dirt and other contaminants, making them perfectly suited to harsh conditions.
The second is a heavy-duty bearing with a Rockwell hardness rating 2.5 points higher than the OE equivalent. These bearings are made in Japan and combine a new forging technique with an upgraded heat treatment procedure to enable a longer service life.
The new technologies used to create these bearings mean they hold up to contaminants better, and for longer, doubling the service life of their OE equivalent in clean grease, and up to 10 times the longevity in contaminated lubricant.
When tested in an underground mine operating in heavy slush, who were previously changing bearings every 10,000km, Terrain Tamer's new Heavy-Duty Bearings were checked at 20,000km and, due to uncontaminated grease, were able to continue being used until 40,000km of use.
With bearing replacement being up to a full day's mechanical work, this increased service time saved the customer an exorbitant amount of money and downtime of vehicles.
Ultimately, Terrain Tamer's history of innovation has always been driven by customer feedback, and by recognising and meeting a need in the 4WD industry.
However, working in the parts industry since the beginning of the rise of 4WD culture, being far enough away from the rest of the world that problem solving is a necessity, and having access to develop and test parts in Australia's distinctly isolated and harsh environment is what has facilitated these ongoing product advancements, and has seen the Terrain Tamer range grow, part by part, to now exceed 60,000 unique lines, each benefiting 4WD owners the world over.
Exporting its Australian parts since it first expanded into New Zealand in 1986, the brand has recently opened its eighth international branch in Chile in early 2023, and is now regularly shipping into 80 countries worldwide, wherever a need for such innovative and heavy-duty parts is recognised.
For more information on Terrain Tamer's range or brand, visit www.terraintamer.com