WHICH BILSTEIN SHOCK ABSORBER IS SUITABLE FOR WHICH APPLICATION?
The seventh episode of "Suspension Fundamentals" answers this question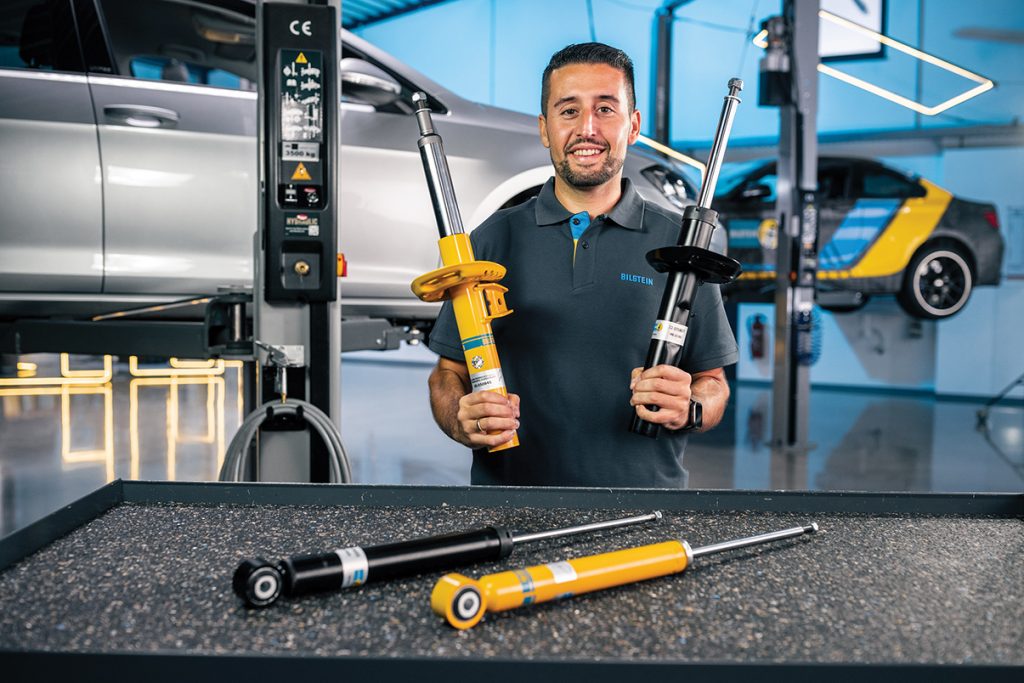 What characterises Bilstein B4, B6 and B8? In the seventh episode of the "Suspension Fundamentals – powered by Bilstein Academy" video series, shock absorber experts Rainer Popiol and Mustafa Yavuz give important tips on how automotive professionals can offer their workshop customers the right shock absorber from Bilstein.
Bilstein B4 OE replacement shock absorbers
Bilstein Master Mechanic Mustafa Yavuz says Bilstein B4 OE replacement shock absorbers offer a driving experience just like on the first day.
"In most cases, our Bilstein B4 OE replacement shock absorber is the right choice," Mustafa said.
"If the customer was satisfied with the driving characteristics of the intact OE suspension, then the B4 is exactly the right shock absorber for them. After all, it restores the optimal driving experience, just like on the first day.
"This shock absorber offers the highest OE quality and has a high market coverage and availability, so workshops cannot go too wrong with it."
Bilstein B6 shock absorbers
The Bilstein B6 shock absorber offers higher performance reserves for a variety of demanding everyday situations.
With its special damper setting, it is particularly suitable for vehicles that are often heavily loaded, for trailer operation (caravans) or for cars with a gas tank.
The use of BILSTEIN B6 shock absorbers is also recommended for external loads such as a bicycle carrier with heavy e-bikes.
This is because the additional weight in the rear area greatly increases the drawbar load acting on the rear axle, which impairs driving stability.
But even dynamic drivers benefit from the improved driving characteristics, says Bilstein, which notes a particular advantage is that an additional spring change is not necessary, and thus no lowering.
Since 2022, there has also been a special product line, Bilstein B6 Camper and B6 Camper Advanced, especially for camper vans.
"For all these applications, we have our Bilstein B6 high-performance shock absorber, which offers better damping performance and thus maximum driving stability and comfort," Mustafa said.
"Just like the Bilstein B4, the Bilstein B6 can be installed according to the plug-and-play principle."
Each vehicle application for the Bilstein B6 shock absorber is developed in the so-called Bilstein road test and has to pass an extensive range of tests, as the head of the Bilstein Academy, Rainer Popiol, reveals.
"The tests we run are unique in the aftermarket," Rainer said.
"Many other manufacturers of shock absorbers solely increase the damping force to enable higher loads.
"Bilstein, however, tests the handling extensively in a wide variety of driving situations to be able to work out the perfect characteristic curves."
Bilstein B8
Based on the B6 shock absorber, Bilstein has also developed the B8 shock absorber, which it says is the perfect OE replacement shock absorber for lowered vehicles.
"It is the perfect high-performance shock absorber for especially racy driving," Mustafa said.
"It is shortened and can thus ensure the preload of lowering springs or sports springs.
"The Bilstein B8 shock absorber is designed for almost all lowering spring sets and OE sports suspensions and offers a noticeable advantage in terms of safety and sportiness."
To view the episode in full, visit Bilstein's YouTube channel.
For more information, visit workshop.bilstein.com
Photo: Copyright BILSTEIN 2022